Connectivity
Rockwell Collins has been awarded a seven year contract with the FAA to provide the company's oceanic data link (ODL) service to enable real-time data communications between pilots and air traffic controllers, allowing aircraft to fly more efficient routes to save fuel and enhance safety.
The Rockwell Collins ARINC data link service enables standard procedural requests, like altitude changes, to be communicated via data transmissions between the FAA's air route traffic control centers in Anchorage, New York and Oakland and flight crews on future air navigation system equipped aircraft. The service also allows aircraft to automatically transmit periodic position reports, enabling the FAA to track an aircraft's location when traveling over the ocean and out of radar range.
Rockwell Collins' ODL service provides a direct data communications link between the FAA oceanic controllers and a flight deck resulting in operational efficiency and better service to the flying public – not… Continue reading →

Rockwell Collins has signed an MOU with OneWeb Ltd. to be the exclusive developer and provider of SATCOM terminals for OneWeb's global aviation high-speed broadband service. Rockwell Collins will also be an authorized Value Added Reseller of OneWeb connectivity services. Under the agreement, OneWeb will team with Rockwell Collins to develop and certify the SATCOM terminals, which will utilize electronically scanned array (ESA) antenna technology developed by Rockwell Collins' Advanced Technology Center. Using rapid beam movement and reconfigurable antenna patterns, ESA antennas provide high levels of performance to ensure that aircraft stay connected during flight.
"The antenna is a fraction of the size and weight of a traditional airborne SATCOM antenna, which means significant long-term cost savings for airlines from reduced fuel consumption," said John Borghese, vice president, Advanced Technology Center for Rockwell Collins. "In addition, the unique design and scalability of our Ku-band ESA technology matched with the OneWeb… Continue reading →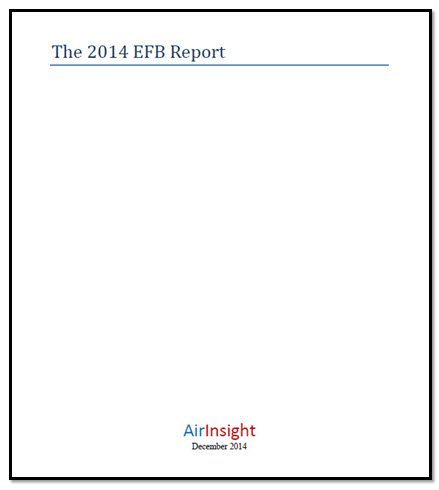 AirInsight is pleased to announce publication of its 2014 EFB Report.
With a foreword by Kevin Hiatt SVP Safety & Flight Operations IATA, Montreal, Canada, the report is packed with 56 pages of content.  The report contains 59 charts and tables.  Among the findings are issues of concern to airline flight operations departments concerning cyber-security, especially with respect to tablet EFBs.
This report is based on a lengthy survey completed by 57 airlines.  The report is available for $495.  Please contact us for your copy.
Many airlines have been deploying tablets as EFBs and more recently as cabin devices for flight attendants to handle customer facing issues.  Its good  to see that United Airlines is handling its 23,000 flight attendants each an iPhone 6+.
United's flight attendants will be able to use these for email and access internal documents like training manuals – and of course access in-flight WiFi. United isn't the first airline to issue smartphones to its flight attendants; Delta gave its flight attendants Nokia Windows phones last year.
Since Delta handed its pilots Microsoft Surface tablets, the airline is moving to the Windows standard.  The win at United for Apple is significant.  United's pilots have been using iPads as EFBs since 2011.
We updated our un-scientific survey, asking respondents how much they value in-flight access to the Internet.  Click the link to see how we ask about this.  Please feel free to participate if you're interested.
Clearly results vary by many factors – like flight length for example.  But to keep things simple, we ask respondents to only consider a 60 minute period.
The chart below illustrates what we see in 2014 compared to 2013.  With the caveat that the survey is not scientific, we see that people are not willing to pay as much in 2014 as they were in 2013.  On an anecdotal basis this appears rational.  Of course this means airlines (and their vendors) are going to see growing pressure to derive value from connectivity by exploiting connectivity for flight operations.  Connectivity models need to exploit everyone and everything on the… Continue reading →
Its not like Boeing Connexion is coming back.  But here's an interesting piece of news.  Connectivity is making a comeback.  Boeing announced plans today to allow forward and retro fit of a radome that can handle multiple satellite data traffic types.
OEMs are clearly seeing rising interest from airlines for connectivity. The idea of offering a solution that works with any satellite is the way to go.  In our view the growing connectivity options is playing out in a way that could allow airlines to get out of the hardware business.  Of course there are those who will stay with the hardware because of a perceived advantage.
However, as we are seeing on the ground, consumers are moving away from established content channels.  As content continues to fracture, staying with any fixed idea looks out dated.  Providing airlines with a solution that allows for the system to pipe in content and allow data uploads looks smarter. Passengers are bringing their own devices anyway.  Continue reading →