Connectivity
Our society depends on cyber security; the issue is at the very heart of our daily lives. How will we react when threats lead to interference with aircraft, airports or ATC?  How can we be prepared to thwart such an eventuality?
The London Center and AirInsight have organized a conference bringing together leaders from the global aerospace industry, government and the intelligence community. This 1½ day conference will focus on what can be done to eliminate cyber-threats to commercial air transportation.
We have drawn key figures from government, the intelligence community, and industry to focus on these issues. Our currently scheduled speakers include:
Congressman Joe Wilson* (SC-2), Chairman of the Emerging Threats Subcommittee
Congressman Trent Franks (AZ-8)
Pascal Andrei, Chief Product Security Officer at Airbus
John Craig, Chief Engineer, Cabin & Network Systems Boeing
Deneen DeFiore, IT Risk and Security Leader at GE Aircraft Engines
Larry Volz, Chief Information… Continue reading
American Airlines was forced to ground flights for a period earlier this week when their Electronic Flight Bag (EFB) on which pilots carry instrument approach charts, navigational data, and other aircraft information, including manuals, using an Apple iPad, rather than carrying a large suitcase of paper manuals and charts. A total of 74 of the company's 6,700 daily flights were affected before a solution could be communicated across the airline. The use of iPads by pilots as Electronic Flight Bags was implemented at American in 2013 and is estimated to save $1.2 million annually through lower weight and fuel bills.
American uses standard iPads with a third party application to manage the data and updates of that data. Pilots connect their iPads to a centralized system to download updated charts, replacing the tedious process of manually updating and replacing paper charts in notebooks and ensuring that everything is up to… Continue reading →
Rockwell Collins has been awarded a seven year contract with the FAA to provide the company's oceanic data link (ODL) service to enable real-time data communications between pilots and air traffic controllers, allowing aircraft to fly more efficient routes to save fuel and enhance safety.
The Rockwell Collins ARINC data link service enables standard procedural requests, like altitude changes, to be communicated via data transmissions between the FAA's air route traffic control centers in Anchorage, New York and Oakland and flight crews on future air navigation system equipped aircraft. The service also allows aircraft to automatically transmit periodic position reports, enabling the FAA to track an aircraft's location when traveling over the ocean and out of radar range.
Rockwell Collins' ODL service provides a direct data communications link between the FAA oceanic controllers and a flight deck resulting in operational efficiency and better service to the flying public – not… Continue reading →

Rockwell Collins has signed an MOU with OneWeb Ltd. to be the exclusive developer and provider of SATCOM terminals for OneWeb's global aviation high-speed broadband service. Rockwell Collins will also be an authorized Value Added Reseller of OneWeb connectivity services. Under the agreement, OneWeb will team with Rockwell Collins to develop and certify the SATCOM terminals, which will utilize electronically scanned array (ESA) antenna technology developed by Rockwell Collins' Advanced Technology Center. Using rapid beam movement and reconfigurable antenna patterns, ESA antennas provide high levels of performance to ensure that aircraft stay connected during flight.
"The antenna is a fraction of the size and weight of a traditional airborne SATCOM antenna, which means significant long-term cost savings for airlines from reduced fuel consumption," said John Borghese, vice president, Advanced Technology Center for Rockwell Collins. "In addition, the unique design and scalability of our Ku-band ESA technology matched with the OneWeb… Continue reading →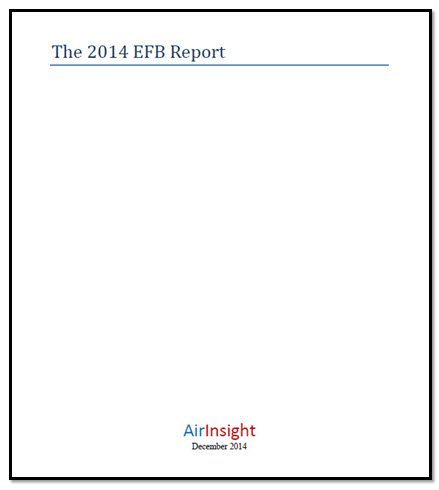 AirInsight is pleased to announce publication of its 2014 EFB Report.
With a foreword by Kevin Hiatt SVP Safety & Flight Operations IATA, Montreal, Canada, the report is packed with 56 pages of content.  The report contains 59 charts and tables.  Among the findings are issues of concern to airline flight operations departments concerning cyber-security, especially with respect to tablet EFBs.
This report is based on a lengthy survey completed by 57 airlines.  The report is available for $495.  Please contact us for your copy.
Many airlines have been deploying tablets as EFBs and more recently as cabin devices for flight attendants to handle customer facing issues.  Its good  to see that United Airlines is handling its 23,000 flight attendants each an iPhone 6+.
United's flight attendants will be able to use these for email and access internal documents like training manuals – and of course access in-flight WiFi. United isn't the first airline to issue smartphones to its flight attendants; Delta gave its flight attendants Nokia Windows phones last year.
Since Delta handed its pilots Microsoft Surface tablets, the airline is moving to the Windows standard.  The win at United for Apple is significant.  United's pilots have been using iPads as EFBs since 2011.