Connectivity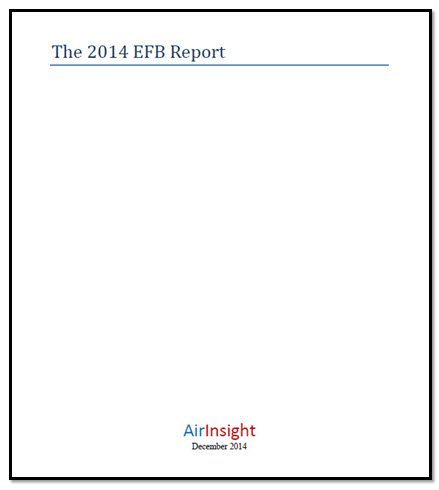 AirInsight is pleased to announce publication of its 2014 EFB Report.
With a foreword by Kevin Hiatt SVP Safety & Flight Operations IATA, Montreal, Canada, the report is packed with 56 pages of content.  The report contains 59 charts and tables.  Among the findings are issues of concern to airline flight operations departments concerning cyber-security, especially with respect to tablet EFBs.
This report is based on a lengthy survey completed by 57 airlines.  The report is available for $495.  Please contact us for your copy.
Many airlines have been deploying tablets as EFBs and more recently as cabin devices for flight attendants to handle customer facing issues.  Its good  to see that United Airlines is handling its 23,000 flight attendants each an iPhone 6+.
United's flight attendants will be able to use these for email and access internal documents like training manuals – and of course access in-flight WiFi. United isn't the first airline to issue smartphones to its flight attendants; Delta gave its flight attendants Nokia Windows phones last year.
Since Delta handed its pilots Microsoft Surface tablets, the airline is moving to the Windows standard.  The win at United for Apple is significant.  United's pilots have been using iPads as EFBs since 2011.
We updated our un-scientific survey, asking respondents how much they value in-flight access to the Internet.  Click the link to see how we ask about this.  Please feel free to participate if you're interested.
Clearly results vary by many factors – like flight length for example.  But to keep things simple, we ask respondents to only consider a 60 minute period.
The chart below illustrates what we see in 2014 compared to 2013.  With the caveat that the survey is not scientific, we see that people are not willing to pay as much in 2014 as they were in 2013.  On an anecdotal basis this appears rational.  Of course this means airlines (and their vendors) are going to see growing pressure to derive value from connectivity by exploiting connectivity for flight operations.  Connectivity models need to exploit everyone and everything on the… Continue reading →
Its not like Boeing Connexion is coming back.  But here's an interesting piece of news.  Connectivity is making a comeback.  Boeing announced plans today to allow forward and retro fit of a radome that can handle multiple satellite data traffic types.
OEMs are clearly seeing rising interest from airlines for connectivity. The idea of offering a solution that works with any satellite is the way to go.  In our view the growing connectivity options is playing out in a way that could allow airlines to get out of the hardware business.  Of course there are those who will stay with the hardware because of a perceived advantage.
However, as we are seeing on the ground, consumers are moving away from established content channels.  As content continues to fracture, staying with any fixed idea looks out dated.  Providing airlines with a solution that allows for the system to pipe in content and allow data uploads looks smarter. Passengers are bringing their own devices anyway.  Continue reading →
Great news for commercial aviation out today. Kudos to Inmarsat taking the lead here. Of course it is excellent PR for the firm, but it is huge news for airlines and passengers.
In advance of the conference on aircraft tracking being hosted by ICAO in Montreal on today, Inmarsat confirmed that it has proposed to ICAO a free global airline tracking service over the Inmarsat network, as part of the anticipated adoption of further aviation safety service measures by the world's airlines following the loss of flight MH370.  This service is being offered to all 11,000 commercial passenger aircraft, which are already equipped with an Inmarsat satellite connection, virtually 100% of the world's long haul commercial fleet. Continue reading →
It is quite common to see airlines deploying EFBs.  These devices need no introduction.  There are a number of airlines that are even deploying tablets in the cabin, e-Enabling cabin crews.  But at Icelandair they are doing some really special things.  Because off operational demands requiring the airline to fly very far north, a hybrid solution has been deployed to allow connectivity with two systems, totally independent of each other.  Project manager Einar Ingvi Andresson explains the approach and talks about the expected impacts on operations.