Air Arabia's latest subsidiary airline, Fly Arna of Armenia, is preparing to roll out plans in the coming weeks and to launch services later this spring. It is optimistic that it will receive an Airline Operator Certificate (AOC) in due course and source its first two aircraft. Air Arabia subsidiary Fly Arna step closer to launch.
The new airline was announced in July last year as an initiative of Air Arabia and the Armenian National Interest Fund (ANIF), which own 49 and 51 percent respectively. The name was revealed in September and on January 14, Fly Arna launched its website and unveiled the livery of its aircraft.
Based at Armenia's capital Yerevan, Fly Arna intends to shake up air travel in the country by introducing the low-cost model to stimulate air travel. Its home-base competitor is Armenia Airways, which operates with a Boeing 737-300 and -500, plus a single British Aerospace BAe-146. The joint venture plans to operate a domestic network within Armenia as well as an international schedule within Central Asia, to Russia, and to the Middle East, where it will find competition from flydubai and Wizz Air Abu Dhabi (from February).
Fly Arna, which stands for Armenian National Airlines, will start operations with two Airbus A320neo's and grow its fleet organically from there. It is no foregone conclusion that the aircraft will be sourced from Air Arabia but could also come from lessors. As Air Arabia CEO Adel Al Ali said in an interview with AirInsight during Dubai Airshow: "Always when we set up any hubs we can either lease or bring in additional aircraft. But we aren't an aircraft leasing trade. We have a technical team that will help them source aircraft but we don't necessarily have spare airplanes. Our motivation of opening hubs isn't providing aircraft."
The start-up carrier has started recruiting pilots, cabin crew, flight operations officers and managers, and a customer services manager.
Also this spring, Air Arabia's other new subsidiary in Pakistan plans to launch services, Al Ali said in November. Fly Jinnah is a joint venture with Lakson Group. No details of its network have been shared since the announcement in September. Adel Al Ali said that Air Arabia will have a reduced role in managing the new airline: "It's not Air Arabia investing, we offer technical management facilities and services. The airline is a Pakistani airline run by the Pakistani people."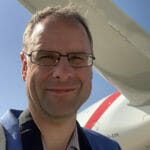 Active as a journalist since 1987, with a background in newspapers, magazines, and a regional news station, Richard has been covering commercial aviation on a freelance basis since late 2016.
Richard is contributing to AirInsight since December 2018. He also writes for Airliner World, Aviation News, Piloot & Vliegtuig, and Luchtvaartnieuws Magazine. Twitter: @rschuur_aero.