Today, Air Canada and Aeromar have announced the launch of an interline partnership. This alliance aims to offer seamless connectivity for customers flying between Mexico and Canada. The ATR-based Aeromar has several partnerships with global carriers like Emirates and Iberia. 
Aeromar and Air Canada have launched an interline partnership for customers between destinations in Mexico and Air Canada's global network via Mexico City, Puerto Vallarta, and Cancun. 
Passengers can now book flights on both airlines on a single-ticket itinerary and experience a seamless check-in, boarding, and baggage transfer throughout their entire journey. 
Currently, Air Canada serves seven destinations in Mexico (Mexico City, Cancun, Puerto Vallarta, Los Cabos, Cozumel, Ixtapa Zihuatanejo, and Huatulco) from Toronto, Montreal, Vancouver, Calgary, Ottawa, Halifax, Quebec, and Winnipeg. 
Air Canada expects to exceed its pre-pandemic levels in Mexico by the summer.
Meanwhile, Aeromar's connecting destinations include Acapulco, Aguascalientes, Colima, Ciudad Victoria, Guadalajara, Havana, Ixtapa/Zihuatanejo, Ixtepec, Piedras Negras, Puerto Escondido, Tepic and Villahermosa in Mexico and Flores/Tikal in Guatemala. 
More will come
This interline partnership between Air Canada and Aeromar is only the first step; both carriers are committed to exploring deeper cooperation in the form of a codeshare relationship and are currently working on the launch of Aeromar as a partner of Air Canada's Aeroplan program.
Aeromar's customers will be able to earn miles through Aeroplan before the summer, said Air Canada. This cooperation will be Aeroplan's only partner airline based in Mexico, offering members even more options to accrue and redeem Aeroplan points on all Aeromar operated flights.
The Mexico-Canada market
Due to the impact of the COVID-19 pandemic, the Mexico-Canada market is not fully restored. Nonetheless, as travel restrictions are eased, more travelers are flying between both countries. 
Up to February 2022, 465,000 passengers have traveled between Mexico and Canada. These numbers are a 948% increase compared to 2021 but are also a 31% recovery compared to 2020's levels, prior to the impact of the pandemic. 
Fabricio Cojuc, Aeromar's Chief Network Officer, said: "Aeromar's restoration of international connectivity in Mexico continues in full force with the launch of our latest interline cooperation agreement involving Air Canada. Second, only to the USA transborder in traffic flow density, the Canada-Mexico market is of compelling bidirectional importance to all travel segments and is poised for even stronger future growth." 
Mark Galardo, Senior Vice President of Network Planning and Revenue Management at Air Canada, added: "Mexico is an extremely popular market for Canadian leisure travelers as well as a significant business market due to our countries' trading relationship. We are very pleased to partner with Aeromar because it allows us to offer our customers convenient access to a wider range of destinations throughout Mexico. Moreover, this agreement will advance our strategy to strengthen our major Canadian hubs with connecting traffic. We look forward to deepening our partnership with Aeromar to the benefit of both airlines' customers."
"Canada and Mexico share very intense commercial and tourism ties, with air travel a key enabler for growth. We expect our collaboration to develop rapidly and are grateful to Air Canada for its trust and commitment to Aeromar. As Mexico's leading regional carrier, Aeromar continues to add value to travelers by further expanding our portfolio of interline agreements with world-class airlines such as Air Canada," added Fabricio Cojuc, Aeromar's Chief Network Officer.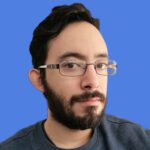 Daniel Martínez Garbuno is a Mexican journalist. He has specialized in the air industry working mainly for A21, a Mexican media outlet focused entirely on the aviation world. He has also published on other sites like Simple Flying, Roads & Kingdoms, Proceso, El Economista, Buzos de la Noticia, Contenido, and Notimex.