Malaysian long-haul low-cost AirAsia X is on the way back to recovery, reporting improvements in revenues, profits, and costs after some very difficult years during the Covid crisis. The carrier expects to benefit this year from the relaunch of its most profitable routes and gradually grow the fleet again, it said on February 22. AirAsia X continues to recover quarter by quarter.
After changing the accounting period for its financial year 2022 from July instead of January, FY22 includes six quarters between July 2021 and December 2022. This makes comparisons with previous years meaningless. The net profit for FY22 was RM 33 million, with revenues of RM 878.2 million as it carried 417.195 passengers at a 78 percent load factor. Almost all of that was generated in the second half of 2022 when lockdowns and travel restrictions in most of its key markets in Asia were lifted. The airline already reported a profit for its September quarter.
As far as a fifth or sixth quarter says anything, they at least confirm that the airline is further recovering. Revenues grew from RM 100.1 million in Q5 (July-September) to RM 339.3 million in Q6 (October-December), with a net profit from RM 25.1 million to RM 153.5 million. Just for reference, in Q4 (October-December) FY19, AirAsia X produced an RM-95.8 million net loss, revenues of RM 1.196 billion, and carried 1.6 million passengers.
RASK up, CASK down 
Passengers carried grew significantly quarter on quarter, from 79.557 to 337.638. That had a positive effect on revenues per available seat kilometer (RASK), which improved from RM 17.62 to RM 19.96, while costs per available seat kilometer (CASK) excluding fuel went down from RM 6.95 to RM 1.42. AirAsia X resumed services to Australia (Perth, Melbourne, Sydney), New Zealand (Auckland), Japan (Tokyo Haneda and Sapporo), Taiwan (Taipei), Saudi Arabia (Jeddah), and Indonesia (Bali) in the final quarter of 2022, growing the network to fourteen destinations.
AirAsia X has high hopes for the reopening of China, although bookings are currently below expectations. It recently resumed services to South Korea (Busan) and will launch flights to Turkey later this year. Istanbul was already announced as a new destination in June last year.
The airline currently operates a fleet of seven Airbus A330-300s with seven more to join shortly but has an appetite for three more. "As we rise up to meet the ever-thriving demand for flights, we are diligent in ensuring that aircraft within the Company's fleet will be operational within the stipulated timeline, with all safety requirements met. As we speak, we are also in varying degrees of engagement with third-party aircraft lessors for the induction of additional aircraft within its fleet. By the year 2024, we expect to have a total of seventeen A330s within our fleet, active and operational," CEO Benjamin Ismail said in a media statement.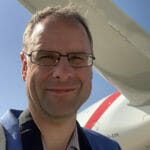 Active as a journalist since 1987, with a background in newspapers, magazines, and a regional news station, Richard has been covering commercial aviation on a freelance basis since late 2016.
Richard is contributing to AirInsight since December 2018. He also writes for Airliner World, Aviation News, Piloot & Vliegtuig, and Luchtvaartnieuws Magazine. Twitter: @rschuur_aero.