Airbus has returned to positive results again in the first quarter, announcing a EUR 362 million net profit for the period compared to a EUR -481 million loss last year on April 29. The results "mainly reflect our commercial aircraft delivery performance, cost and cash containment, progress with the restructuring plan as well as positive contributions from our helicopter and defense and space activities," said CEO Guillaume Faury.
EBIT Adjusted of Airbus Group was EUR 694 million compared to 281 million last year. EBIT Reported was EUR 462 million versus EUR 79 million. It includes EUR 29 million in additional program costs related to the termination of the A380, EUR 177 million in pre-delivery payments mismatch and balance sheet revaluation, and EUR 26 million in other costs.

Group revenues fell by two percent to EUR 10.460 billion. R&D funding was about flat at EUR 620 million. Airbus has some EUR 30 billion in cash available, of which EUR 5.6 billion in net cash, EUR 6.2 billion on standby through an undrawn facility signed in March plus another EUR 6.0 billion credit facility. Total financial liabilities stand at EUR 17 billion.
Full effects headcount reduction visible later this year
Free cash flow saw a dramatic change for the good from EUR -8.501 in Q1 last year to EUR 1.164 billion in the first three months of 2021. This reflects stronger working capital and cost containment measures. Free cash flow before mergers and acquisitions was positive for the first time since 2011. Net cash position also improved, by 29 percent to EUR 5.575 billion, but there will be some headwinds later on in the year.
The restructuring of the Group has resulted in a reduction of three percent in employee numbers to 127.814 as of late March or some 3.500. While some savings from the headcount reduction are already visible, the effects will become more evident later in the year. Airbus has planned to reduce staff by some 16.000 compared to early 2020-levels.
Commercial Aircraft reported an EBIT Adjusted of EUR 533 million, up from EUR 191 million, which reflects a favorable mix of delivered aircraft. However, revenues were four percent lower to EUR 7.272 billion, mainly reflecting lower volume in services, Airbus says. Gross order intake was 39, but after cancelations the quarter ended at -61 net orders, reducing the backlog by nine percent to 6.998 aircraft.
In Q1, 125 aircraft were delivered, almost identical to the 122 last year, including 105 A320neo-family aircraft, ten A350s, nine A220s, and one A330. No A380s were handed over this quarter.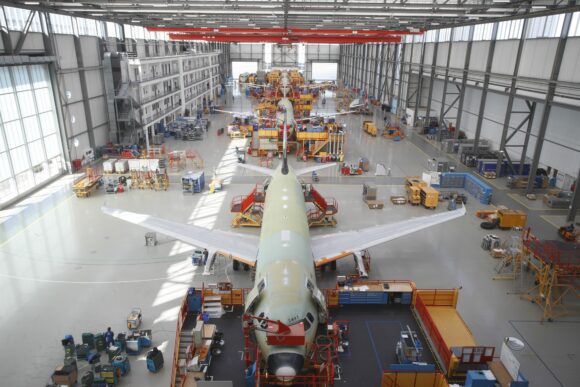 Production rates of the A320neo-family will go up to 43 in Q3 and 45 in Q4. (Airbus)
Plans for ramp-up A320neo production continue
Airbus continues to prepare for the ramp-up of production of the A320neo range from rate 40 now to 43 in Q3 and 45 in Q4. "The plan for a ramp-up in Q3 and Q4 hasn't changed", Guillaume Faury said. Discussions with suppliers are ongoing for further ramp-ups in 2022 and 2023, but Faury said it is too early to specify what the next step in rates will be. The A220-rate will stay at five per month. Widebody rates will remain unchanged for some time.
However, it's premature to say that there is already a beginning of a recovery of orders. "A recent forecast from IATA for this year remains negative, so generally speaking, there is a lot of headwind for the industry. In North America, we see signs of recovery of orders progressively looming, but I won't be calling it a recovery at that stage. I call it volatility and uncertainty."
Airbus keeps its outlook for 2021 unchanged compared to January's guidance, with deliveries on par with the 566 in 2020, EBIT Adjusted of EUR 2 billion, and breakeven of free cash flow before mergers and acquisitions. This is wholly dependent on how Covid develops, with the airliner market remaining uncertain as uncoordinated travel restrictions continue on various continents. "The path to recovery will not necessarily be linear", says Faury. "The travel situation in Europe is by far worse than elsewhere, which is very worrying. India too is a very worrying situation, but there is no impact on us yet, but we are very prudent when it comes to the scenarios of recovery."
Airbus Spain will retain future workshare
The airframer recently announced the transformation of its aerostructure business, forming two new entities in Germany and France around existing divisions plus a separate entity for detail parts. Excluded from the plan so far is Airbus Spain and its Porto Real site, which has worried politicians and Spanish media.
Faury said discussions with working councils and the government are still ongoing. What makes it complicated is that Spain used to have a big share in the A380 and produced the aft fuselage sections and tailplanes, which has left a void as the program has been discontinued.
Faury stressed that Spain will retain a core role within Airbus. "For the planes of the future, there will be a workshare as today. We are defining for Spain a good workshare as well as for other countries. It has to rely on competitiveness, it has to rely on innovation. That's we are working with governments on research and technology, but there is a very clear scenario for Spain that from my perspective that makes a lot of sense for Spain." Discussions will take time, but Faury said they will have to be accelerated to get a situation of clarity.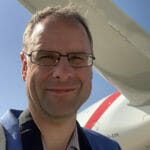 Active as a journalist since 1987, with a background in newspapers, magazines, and a regional news station, Richard has been covering commercial aviation on a freelance basis since late 2016.
Richard is contributing to AirInsight since December 2018. He also writes for Airliner World, Aviation News, Piloot & Vliegtuig, and Luchtvaartnieuws Magazine. Twitter: @rschuur_aero.