Airbus has started fuselage-equipping in Tianjin. Sections of A320neo-family aircraft will be equipped at its Chinese assembly plant. This work was previously done in Europe, but from now on will happen in China on aircraft that will be delivered to Chinese customers.
The equipping includes sections 11/14 (forward), which are produced at the Saint-Nazaire site in France, and sections 15/19 (aft) produced in Hamburg. Until now, they were outfitted with systems and equipment in Europe before being shipped by sea to Tianjin for final assembly.
From now on, the sections will go empty to China and will be equipped on-site in Tianjin, Airbus announced on June 22. For this, Airbus started a partnership with Xian Aircraft International in 2018. A development team was created between the Chinese, French, and German fuselage teams to prepare the new equipment line. Xian and Airbus have been partners on the equipment of the wings since 2009.
The first A320neo-family with Xian-equipped fuselage sections will enter final assembly soon and is set for delivery in the third quarter. The Tianjin assembly unit will ramp up its production to rate 6 per month in the near future, which is in line with Airbus' aggressive growth strategy for its single-aisle family. As reported before, worldwide A320neo-family rates will go up from the current 40/month to 64 in the second quarter of 2023. Further ramp-ups to rate 70 in Q1 2024 or rate 75 in 2025 are being studied.
Since Airbus started assembling A320s in Tianjin in 2008, the Chinese assembly plant has delivered over 540 aircraft to Chinese and Asian customers. Its single-aisle market share in China has increased from 30 percent in 2005 to 53 percent right now.
Tianjin also has a cabin furnishing and delivery center for wide-body aircraft. It recently received the first all-white A350s for further finishing and painting, before they are delivered to customers.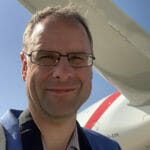 Active as a journalist since 1987, with a background in newspapers, magazines, and a regional news station, Richard has been covering commercial aviation on a freelance basis since late 2016.
Richard is contributing to AirInsight since December 2018. He also writes for Airliner World, Aviation News, Piloot & Vliegtuig, and Luchtvaartnieuws Magazine. Twitter: @rschuur_aero.