Lessor Air Lease Corporation (ALC) isn't ruling out it has to make further material changes to its delivery schedule if current market circumstances continue to be weak for a prolonged time. ALC has reduced its order book since January from 413 to 393 firm orders and purchase rights from 70 to 25.
Like all lessors, ALC has been in contact with all its lessees about accommodations. With 59 percent of them, accommodations have been made that include deferral of lease payments worth $189.9 million as airlines lack the liquidity to fulfill their obligations. The majority of payments have been deferred for the next twelve months. In many cases, contract extensions have been agreed upon.
ALC is unable to "reasonably estimate" the impact of the Covid-crisis, nor that of the trade war that has made Airbus aircraft built outside the US but delivered to US-customers 10 percent more expensive. Therefore, the lessor is unable to give guidance for FY20.
Payment deferrals impacted ALC's cash flow and represented some three percent of liquidity. Nevertheless, revenues in HY1 grew by 10.2 percent to $1.0 billion and income before taxes by 6 percent to $355.602. The owned fleet grew from 292 to 301 aircraft with a value of $19.1 billion. By the end of Q2, ALC had $6.9 billion in unrestricted liquidity and $14.6 billion in debt.

Looking at its order portfolio, this has come down from 413 in January to 399 in May to 393 in July worth $26.1 billion. Of this, 90 percent is placed on long-term leases through 2022.
The biggest change is the cancelation of five Boeing MAX after customers canceled contracts. ALC exercised its right to cancel the order with Boeing. This change is reflected in the delivery schedule for 2021 (four fewer deliveries) and 2022 (one) compared to May.
Already last March, ALC said that purchase options for 45 MAX had expired on January 1. "It is unclear at this point if we will cancel more of our 737 MAX delivery positions with Boeing or attempt to find replacement lessees. We are currently in discussions with Boeing regarding the mitigation of possible damages resulting from the grounding of and the delivery delays associated with the 737 MAX aircraft that we own and have on order."
The schedule for the 787 remains unchanged.
ALC has also canceled one Airbus A320neo-family aircraft since May but still plans to take 153 until 2024. The delivery mix has been revised, however, with 14 this year (plus 1), 22 in 2021 (minus 2), 23 in 2022 (minus 3), 25 in 2023 (minus 1), and 29 in 2024 (minus 3). There are now 37 (plus 1) scheduled beyond 2024. ALC has 47 A321LRs and 29 A321XLRs on order.
"Airbus has told us to continue to expect several months of delivery delays relating to such aircraft scheduled to deliver through 2022. These delays also have impacted airline operations and the profitably of certain airlines."
The mix of the A220-300 has also changed: only three in 2022 (minus 5), 14 in 2023 (plus 1), 11 in 2024 (plus 1), with 22 scheduled beyond 2024 (plus 3). ALC has options on 25 A220s which, if exercised, will be delivered between 2023-2028.
The delivery schedule for the Airbus A330-900 remains unchanged at 15 between 2021-2023, but the mix of the A350 has changed: 3 in 2020, 4 in 2021 (plus 1), 3 in 2022 (minus 3), 4 in 2023 (plus 2), 5 in 2024 (minus 1), with one delivery pushed out beyond 2024.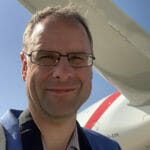 Active as a journalist since 1987, with a background in newspapers, magazines, and a regional news station, Richard has been covering commercial aviation on a freelance basis since late 2016.
Richard is contributing to AirInsight since December 2018. He also writes for Airliner World, Aviation News, Piloot & Vliegtuig, and Luchtvaartnieuws Magazine. Twitter: @rschuur_aero.