Europe's airlines have sent out a clear message to policymakers and air traffic service providers to urgently address inefficiencies in airspace control.
Airlines 4 Europe (A4E) members were united on this on March 6 at their 2019 Aviation Summit in Brussels.
"2018 was one of the worst years, with delays caused by air traffic control up 27.9% compared to the year before", said Willie Walsh, International Airlines Group's (IAG) CEO. The latest figures provided by Eurocontrol made Walsh and his colleagues most unhappy. Delays affected 334 million passengers, resulted in €14.2bln indirect costs (+24%) and €3.4bln of cancellations.
Walsh lashed out to Germany's ATC provider DFS, which is understaffed at its Karlsruhe control center after 'miscalculating' traffic forecasts. "They should be ashamed of themselves. It's a disgrace. We call out to DFS to improve", he said, supported by Carsten Spohr (Lufthansa), Johan Lundgren (EasyJet), Michael O'Leary (Ryanair), Pieter Elbers (Air France/KLM), as well as Martin Gauss (airBaltic) and Oscar Munoz (Volotea).
With 90% delays, last January and nothing was done at Karlsruhe or that other bottleneck in Marseille, A4E fears they are in for another year of hell. And with airlines legally obliged to pay passengers compensation for delays under EU Regulation 261/2004, that will cost them dearly.
With elections for the European Parliament on May 23 and a new European Commission in place in June, the airlines issued a set of proposals for the new commissioner (current commissioner Violeta Bulc was absent from the summit because of illness).
A4E wants aviation to be given full political priority. They signed the Efficient Airspace Declaration, calling for a seamless European sky without ATC disruptions. Upperspace international traffic should not be the victim of national strikes. The EU ATC network should be managed centrally.
Training of air traffic controllers should be shortened from 2-3 years to 6 months, which according to O'Leary is feasible.
Air Navigation Service Providers should also compete to make the system more efficient. And not the airlines should pay for delays caused by ATC disruptions, but the service providers. By shifting the obligation that follows out or Rulemaking 261 to them, they are incentivized to improve services.
"The EU must take responsibility to fix these fundamental problems rather then endlessly talking about them. We have come up with real solutions and are pushing the EC", O'Leary said. Or as Walsh put it: "If I was the new commissioner, I would finally do what the current one promised but failed to do".
The Declaration has been signed by the Civil Air Navigation Services Organisation (Canso) and Eurocontrol, which oversees ATC in most of Europe. At the same time, Canso's Director-General Jeff Poole said the key-issue is fragmentation: "It's right to call-out for strikes in France and Germany, but you also need to call out to the individual states. Air traffic management has come a long way, we have huge new technologies coming up to make the difference, but they are useless if we keep sitting in our silos".
Eurocontrol's DG Eamonn Brennan called for a central manager to make the European system work as a network.
A4E also warned not to make airlines a cash cow by implementing a tax on tax. Discussed here were airport taxes, which have gone up
133% since 2006 while tickets have become 11% cheaper, said Spohr.
As far as environmental taxes are concerned, A4E wishes to stick to only one system: the ICAO-agreed Corsia system.
In the end, all at the Aviation Summit came back to that single message: something must be done about the ATC delays.
Or as Carsten Spohr put it: "Nobody cares that delays cost Lufthansa lots of money. But when I tell people that delays result in CO2-emissions comparable to a mid-sized town, then to them it makes a difference".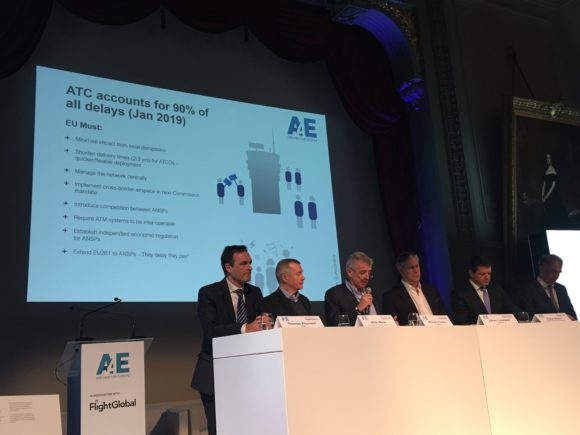 ATC worries were to topic of the A4E Aviation Summit. (Richard Schuurman)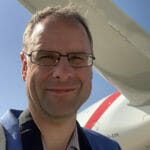 Active as a journalist since 1987, with a background in newspapers, magazines, and a regional news station, Richard has been covering commercial aviation on a freelance basis since late 2016.
Richard is contributing to AirInsight since December 2018. He also writes for Airliner World, Aviation News, Piloot & Vliegtuig, and Luchtvaartnieuws Magazine. Twitter: @rschuur_aero.