While most other airliner manufacturers have been happy to announce firm orders, Letters of Intent, or Memorandum of Understandings at this week's Dubai Air Show, one of has been quiet. We are talking ATR here, the French/Italian turboprop maker. It only has a stand within the exhibition hall but nothing to show on static display.
Tarek Ben Omrane, head of Airline and Product Marketing, wasn't too worried about that when he presented a market forecast for the Middle East and Africa. At least he didn't show any concern. "Let's not forget that ATR had won a good number of orders already this year at the Paris Air Show, 75 in total. More recently we got an order for three from Tunisair Express. And we launched the new ATR 42-600 STOL, the short take-off and landing version which increases our market potential. It's not every day that we can announce a new version."
Still, the lack of orders was somewhat contrasting to the fortunes of its main rival De Havilland Canada, which announced orders or LoI's for a total of 37 Dash 8-400 turboprops. Many of these will be placed with lessors or airlines in Africa, which DHC Chief Operating Officer Todd Young earlier described to Airinsight as a market of major importance for the turboprop market.
On this, De Havilland Canada and ATR share their view on the market, as Ben Omrane showed during the ATR market forecast for the region. He gave some updated numbers of the 2017-2037 forecast released in June 2018. ATR thinks there is a worldwide need for 3.020 deliveries in the next two decades, of which 40 percent will be for replacement and 60 percent for growth. In this period some 2.770 new routes suited to turboprops are expected to be opened up.
ATR expects 80 percent of the aircraft to be 70-seaters, with the remaining 20 percent 50-seaters, although the company is flexible on seat-count. Cebu Airlines in the Philippines and IndiGo in India have recently started operating the high-density 74-seat version of the ATR 72-600.
Africa has an appetite for props
While Asia (740) and Central America/Caribbean (420) are to be the biggest turboprop markets, don't rule out Africa and the Middle East with a combined need of 350. ATR currently operates 100 aircraft in 30 African countries, but the hunger for new aircraft is huge as seat capacity is set to double from 15 to 30 million. Kenya and Tanzania are real growth-markets.
Adding to the need for aircraft is the fact that 60 percent of all turboprops in Africa are of models that are out of production, including older ATRs and Bombardier Dash 8-100s, -200s, and -300s. Of these, 40 percent is even older than 20 years and becomes expensive and inefficient to operate, says Tarek Ben Omrane. The need in Africa will be for 280 deliveries, of which 210 in the 70-seat category.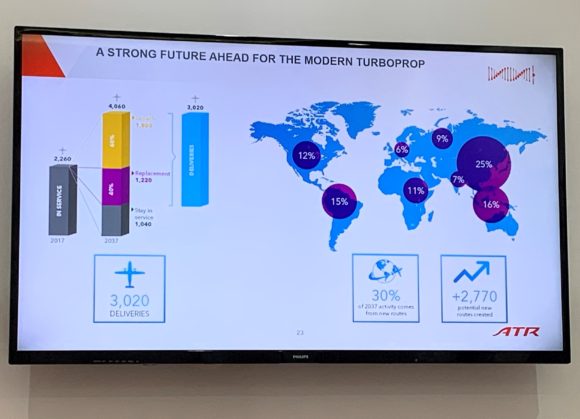 The Middle East accounts for the remaining 70 aircraft in the market. Ben Omrane admits that the market is rather small, "but we see a potential for non-optimal jet replacements that do flights under 250 nautical miles with limited frequencies." Turboprops could help to open up some 120 new routes in six countries with distances up to 500 nautical miles, especially in Saudi Arabia and Iran where ATR already has customers.
The regional forecast presented in Dubai also includes India, which counts for 412 new routes of which 57 were created by ATR-operators. Some 44 percent of the airports in India are exclusively served by turboprops as jets are uneconomical to use or can't operate from these airports. Of all regional flights in India, 99 percent is done by turboprops. India is listed in the forecast as 'South Asia' with 260 deliveries expected, of which 220 in the 70-seat category. The fleet will triple to 360 in 2037.
To conclude with other regions, Western Europe and North America account for 350 deliveries each, China for 300, and Central Europe, Russia and CIS for 200 turboprops. So while the lack of orders in Dubai is a bit surprising, the forecast shows that ATR has some reason to be optimistic about the future and other air shows to come.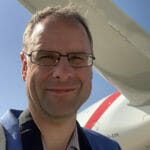 Active as a journalist since 1987, with a background in newspapers, magazines, and a regional news station, Richard has been covering commercial aviation on a freelance basis since late 2016.
Richard is contributing to AirInsight since December 2018. He also writes for Airliner World, Aviation News, Piloot & Vliegtuig, and Luchtvaartnieuws Magazine. Twitter: @rschuur_aero.