News from Sydney today reports that Qantas is going to put a hold on their Project Sunrise.  The report states: "Qantas has rejected Airbus and Boeing's proposals for new aircraft that can fly non-stop from Sydney and Melbourne to New York and London, saying they need to lower their prices to make the business case stack up."  The article goes on to say: "The airline says it also needs pilots to agree to a pay deal that would deliver "productivity improvements" of about 30 percent, which are currently under negotiation."
Analysts were not surprised by this outcome from the two research flights.   Suggesting that the OEM offerings were not priced right for a deal is amusing.  What, exactly, was Qantas offering by way of a deal?  How many aircraft were they looking for?  For Airbus and Boeing, Project Sunrise had to be of marginal interest.  A sub-fleet was the best they could hope for.  Perhaps a half-dozen aircraft.  Even in a slow twin-aisle segment, that does not excite either firm.  Moreover, Airbus already has a ULR performing as advertised. Boeing's 777LR could also meet the distance required.  Perhaps the pricing issue is not the whole story?
The attraction of flying nearly 20 hours non-stop is not something any road warrior considers with anything less than trepidation.  In the typical economy seat, this is an invitation for DVT.  And that can kill you.  The exercise on the research flights will not happen on typical flights because there is not enough space for it.
But this is not a medical-focused site, so let's get to the information we better understand.
Starting with the UK-Australia market; here is what the Australian Government BITRE reports. Their 2019 data is through August.  Both tables list the top city pairs in the Australia/UK market.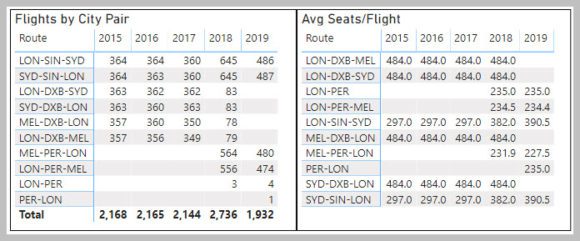 Qantas flies non-stop between Perth and Heathrow now.  As the left table shows, this is not a big market. Sydney-London would be larger, it's true, as the table shows.  But as a non-stop it might not be that much larger, i.e. also a single flight/day.  And 235 seats looks too high though.  Seating would likely be focused on premium-economy and business, which means that on a 787-9 it could be closer to 200 seats.
As a guide, the Singapore Airlines A350-900ULR seats 67 in Business Class in a 1-2-1 configuration and 94 Premium Economy class in a 2-4-2 and 1-4-1 configuration.  This spacing provides passengers with the ability to get up, move around and stretch.
Next here's what the Australia/US market looks like. We list the top fifteen markets. The tables show this is a bigger market than Australia/UK.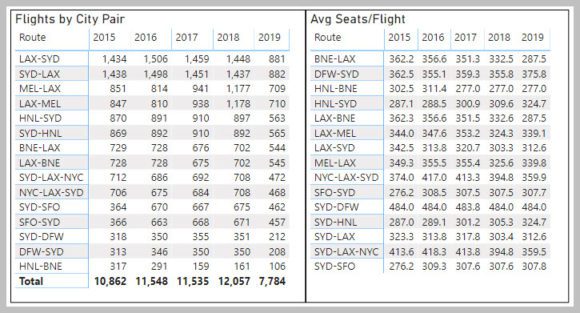 The Australia/New York market is as big as Australia/London.  That suggests, at best, one daily flight as well.  This supports our view that Qantas' fleet requirement is small – perhaps not even six aircraft for Project Sunrise.
As further evidence that, perhaps, Project Sunrise needs to sunset for a while, here are traffic numbers.  Once again, 2019 is through August.  Here are the two markets Qantas is looking at for Project Sunrise.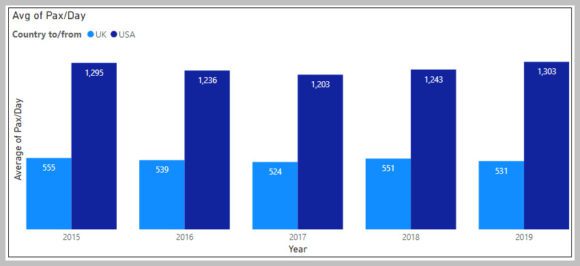 The chart shows the average daily traffic between Australia and the US/UK.  On an average passenger per day basis, the market is small for non-stop flights from two cities outside Australia to Sydney.  If Qantas were to operate a non-stop flight from London or New York to Sydney with this traffic volume it might be able to do so bi-weekly. At best, and hope for good load factors.
Qantas says it expects to charge 30% more for the non-stop flights.  The recent London-Sydney flight "saved" just under two hours compared to the one-stop through Singapore.  Any business traveler is going to have a tough time getting a 30% more expensive fare approved to save two hours.  Looking at fares we see that $5,000 appears to the market rate.  Increasing that by 30% takes the fare to $6,500 – how many people are worth $750/hour?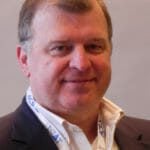 Co-Founder AirInsight. My previous life includes stints at Shell South Africa, CIC Research, and PA Consulting. Got bitten by the aviation bug and ended up an Avgeek. Then the data bug got me, making me a curious Avgeek seeking data-driven logic. Also, I appreciate conversations with smart people from whom I learn so much. Summary: I am very fortunate to work with and converse with great people.