Just five months after amending its Boeing order and adding more MAX 9s, Alaska Airlines has again announced fleet updates on May 12. Both Boeing and Embraer benefit from Alaska's order.
The airline has exercised options with Boeing on thirteen MAX 9s, which come from the 52 it had on option since the December 22 announcement. Back then, Alaska Airlines ordered 23 -9s that brought its firm orders to 68. Deliveries of the aircraft on firm order run until 2024 and those on option between 2023 and 2026.
Deliveries of the latest batch will be spread over two years: nine in 2023 and four in 2024. The fresh order will bring the MAX fleet to 81 in 2024, as Alaska Airlines is also committed to thirteen leased aircraft from Air Lease Corporation (ALC). The lessor will trade in the Airbus A320s that Alaska inherited when it took over Virgin America.
Embraer order for seventeen E175s
Alaska Airlines has also gone shopping in Sao Jose dos Campos and ordered seventeen Embraer E175s, the best-selling model so far. They will be operated by its regional partners Horizon Air and SkyWest Airlines. Horizon has exercised options for nine that were part of a 2016 order. Five aircraft will be delivered in 2022, four in 2023. This will bring Horizon's E175 fleet to 42 and includes an existing order for three aircraft. All aircraft will wear the Alaska Airlines livery.
Skywest Airlines will purchase eight E175s for delivery in the first half of 2022 to bring its E175 fleet to forty. The new aircraft will be operated for twelve years under a new capacity purchase agreement with Alaska. SkyWest has a fleet of 193 E175s, making it the largest operator of the type.

The combined order is valued at $449.1 million at list prices, Embraer says. With the order for seventeen, the E175 has cleared 800 and now has 815 firm orders.
"As our network expands, regional aircraft connect smaller communities to our larger hubs providing critical feed to assist in the development of new markets", Alaska's Nat Pieper, senior vice president fleets, finance, and alliances said on the Embraer order. On the MAX deal, he added: "It's another indication that we're ready for growth."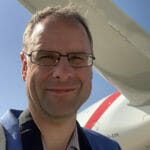 Active as a journalist since 1987, with a background in newspapers, magazines, and a regional news station, Richard has been covering commercial aviation on a freelance basis since late 2016.
Richard is contributing to AirInsight since December 2018. He also writes for Airliner World, Aviation News, Piloot & Vliegtuig, and Luchtvaartnieuws Magazine. Twitter: @rschuur_aero.