UPDATE – Taiwan's China Airlines has selected the Boeing 787-9 as the replacement for its aging Airbus A330-300 fleet. The carrier has placed a firm order for sixteen Dreamliners with Boeing plus eight options, it said on August 30 in a stock exchange filing. The news was first broken by Reuters. Boeing confirmed the order only a month later on September 28. China Airlines selects 787 as A330 replacement.
Deliveries of the 787-9s will start in 2025, but China Airlines has the option to convert its order to the larger -10. The airline has selected the General Electric GEnx as the power plant.
The Taiwanese airline has been investing in its fleet for the past six years. It took delivery of its first of fourteen Airbus A350-900s in September 2016, taking delivery of the last one in October 2018. Between November 2021 and June this year, it inducted eight A321neo's on lease from Air Lease Corporation (ALC). Another four will follow, while the airline has eleven A321neo's on direct order since the 2019 Paris Airshow. These will replace the airline's Boeing 737-800s, of which six from the original sixteen are currently in service. China Airlines also operates eleven Boeing 747-400Fs, ten 777-300ERs, and four 777Fs. CA has another six 777Fs on backlog.
The 22 Airbus A330-300s, of which four have been parked, have an average age of 14.5 years, but the oldest ones have been in service since mid-2004. China Airlines has been looking for some time for a suitable replacement. Whereas Airbus has been successful in securing deals for the A350 and A321neo (through ALC), it is now Boeing that is the preferred airframer for replacement of the medium-haul fleet. According to Reuters, the order is valued at $4.6 billion at list prices.
To what extent the decision has been influenced by political motives is unclear. The US-Taiwan relationship has always been strong but improved when House Speaker Nancy Pelosi paid a highly controversial visit to the country that is regarded by China as one of its republics. The visit caused political and military tensions when Beijing ordered its troops to hold extensive training exercises in close proximity to Taiwan.
In the latest financial information on its investor's website, China Airlines says that it carried 296.100 passengers in the first seven months of 2022, up from 117.000 in the same period of last year. Operating revenues increased to NTD 82 million from NTD 63.7 million, of which NTD 74.2 million came from cargo. This reflects the still difficult situation in the region, which has been confronted with long Covid travel restrictions.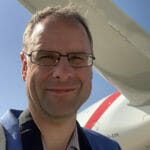 Active as a journalist since 1987, with a background in newspapers, magazines, and a regional news station, Richard has been covering commercial aviation on a freelance basis since late 2016.
Richard is contributing to AirInsight since December 2018. He also writes for Airliner World, Aviation News, Piloot & Vliegtuig, and Luchtvaartnieuws Magazine. Twitter: @rschuur_aero.