Last week, the Panamanian carrier Copa Airlines released its first-quarter results. Let's take a look at them to see how the Tocumen-based operator is currently doing and what we can expect going forward. 
Copa Airlines results in the first quarter
Copa Holdings reported a net profit of US$19.8 million for the quarter. It is the third consecutive quarter with positive numbers for the Panamanian carrier. Nonetheless, if we were to exclude special items (that is, unrealized mark-to-market losses related to Copa's convertible notes), the airline would have had a US$29.5 million net profit.  

The holding (composed of Copa Airlines and Colombia's Wingo) reported an operating profit of US$44.8 million for the quarter. In comparison, Copa Holdings had an operating profit of US$112.9 million in 2019's first quarter.

During the quarter, Copa had revenues at US$571.6 million, reaching 85% of the pre-pandemic levels. 

Capacity for the quarter, measured in terms of available seat miles, was 87.6% of the capacity flown in 2019. Copa flew 3.4 million passengers during the quarter, still 9.2% below pre-pandemic traffic levels. 

Copa Holdings took delivery of two Boeing 737 MAX 9 aircraft. The airline closed the quarter with a fleet of 93 aircraft, compared to a fleet of 102 prior to the COVID-19 pandemic. 
What does Copa think about the Abra Group?
Last week, Avianca and GOL surprised everyone by announcing they would launch Abra Group Limited. This new holding would own these two carriers plus Viva Colombia, Viva Perú, and a small investment in Chile's Sky Airline. 
Constantino de Oliveira Junior, Abra Group's CEO, said: "This agreement places Abra's airlines in a position to lead air travel within the region – serving a population of over one billion and GDP of nearly three trillion US dollars – providing significant opportunities for capacity and revenue growth."
When asked about the launch of the new Abra Group, Copa Holding's CEO, Pedro Heilbron, said:
So that's a good question to answer. Well, the first thing I would say is that the news came out yesterday. I don't think anybody knew before yesterday. But I'll say a few things. One, we have faced many challenges and consolidations and a bunch of stuff in the last 20 years, and we usually have a good answer. And unusually, our answer is doing more of the same but just in a better, more effective, and more efficient way. Because at the end of the day, we have a very, very solid and resilient business model, which from what I read, is not really losing its strength or its uniqueness.
He continued:
As a matter of fact, we might be the only carrier with the right product for the business traveler in our part of the world, and that's a plus. It was not like that before the pandemic, but the way some of our competitors are going, that might be the case. But even if it's not, we have a unique, very strong hub model. Not only with low cost, but we've shown the ability to keep costs lower — low and put them lower when needed. We have efficient pains. We have a strong product and a strong network, so we're actually confident that we're in a good position. And I won't talk about if we have to react or not. I think if we choose to stay focused on our business model, I think we can continue to be very successful doing it that way.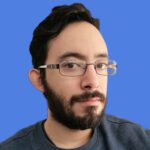 Daniel Martínez Garbuno is a Mexican journalist. He has specialized in the air industry working mainly for A21, a Mexican media outlet focused entirely on the aviation world. He has also published on other sites like Simple Flying, Roads & Kingdoms, Proceso, El Economista, Buzos de la Noticia, Contenido, and Notimex.