Dassault's Falcon 8X recently set a new coast-to-coast speed record, flying from Santa Monica, California to Teterboro, New Jersey in 4 hours 28 minutes. The flight, which carried four passengers, beat the previous speed record by 24 minutes.
Santa Monica airport presents a particular challenge for large cabin aircraft, as the runway has been reduced to 3,500 feet from its former length of 5,000. The Falcon 8X has strong short-runway performance and was able to meet both the runway length and noise abatement procedures in place.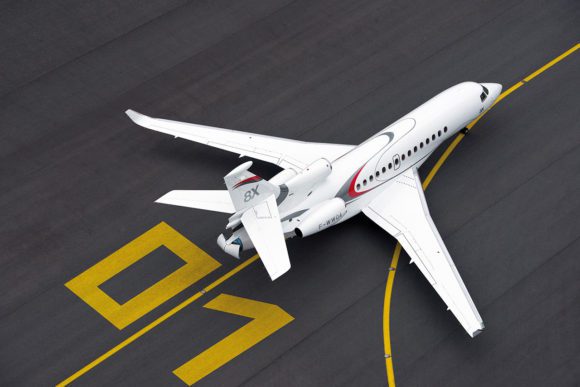 Eric Trappier, Chairman and CEO of Dassault, said "business aviation is about flying precisely where you need to be. Today's flight on the Falcon 8X embodied everything that advanced design can accomplish: unparalleled airport performance, a quiet noise footprint, and extended capability, all in a large-cabin business jet. This is not possible in any other business jet in the ultra-long range class."
The Falcon 8X is powered by three Pratt & Whitney 307D engines producing 6,722 pounds of thrust, and has a range of 6,450nm while having outstanding short-field performance. This enables the 8X to access 500 more airports in the United States than similarly sized competitors. One of the key differentiating points for the Falcon 8X is its ability to land at airports that are quite challenging for other ultra-long range business jets, including Lugano, Aspen and Gstaad, among others.
The Falcon 8X also set a speed record from London City airport to Beverly, Massachusetts in 6 hours and 44 minutes in 2018. The Falcon 8X is one of very few aircraft certified for the steep approach, short runway, and stringent noise rules at London City.