Embraer has revised its full-year 2018 guidance, lowering expected net earning from $5.4-5.9bln to $5.1bln, the OEM announced on January 16 during Embraer Day with investors in New York.
Lower deliveries of executive jets (91 down from 105-125) and one-off costs associated to the KC-390 military transport landing incident in May negatively have impacted earnings.
Guidance for Embraer's commercial aircraft division is unchanged, with 85-95 deliveries. Investments for 2018 have been $300m, down from $550m announced earlier.
Embraer has also provided guidance for this year and 2020. Commercial deliveries are expected te remain unchanged at 85-95, with more E2s coming up. Executive jet deliveries should be in 90-110 range, with KC-390s  expected to be delivered plus ten Super Tucano trainers. Consolidated revenues should be $5.3-5.7bln and a net cash position in 2020 of $1bln.
For  2020. so after the integration of the commercial aircraft activities within Embraer's and Boeing's 20/80% joint-venture, net earnings are expected to be between $2.5-2.8bln.
Embraer will announce its full 2018 results later on.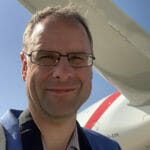 Active as a journalist since 1987, with a background in newspapers, magazines, and a regional news station, Richard has been covering commercial aviation on a freelance basis since late 2016.
Richard is contributing to AirInsight since December 2018. He also writes for Airliner World, Aviation News, Piloot & Vliegtuig, and Luchtvaartnieuws Magazine. Twitter: @rschuur_aero.