Etihad reported its best-ever result in years by posting a $-0.87 billion loss over 2019, an improvement from a $ -1.28 billion loss in 2018 and -1.52 billion in 2017, the airline announced on March 5. In 2016, the loss was $-1,87 billion, a full billion more than last year. "The major improvement in 2019 demonstrates we're clearly on the right track", CEO Tony Douglas said.
The United Arab Emirates flag carrier started a transformation plan in 2017 to improve on its losses, rationalizing passenger routes at the end of 2018 to boost revenues. It improved the operating result by 11 percent or $ 0.65 billion as strict cost controls were applied, but not all signals are showing green.
Passenger revenues were down 0.2 billion to $ 4.8 billion, cargo revenues 0.13 billion to $0.70 billion, leading to combined operating revenues of $ 5.6 billion versus 5.9 billion the previous year.
Passenger numbers were lower to 17.5 million versus 17.8 million in 2018, while capacity (ASKs) was down from 110.3 to 104 billion kilometers. This partly reflects the drop in traffic to India, although Etihad added seats to this market following the demise of Etihad's partner airline Jet Airways.
At the same time, Etihad succeeded in improving yield by 1 percent with better route profitability and higher load factors to 78.7 percent.
Cargo tonnage was down from 682.1 to 635 tonnes, the result of adverse market conditions and move from full freighter to more belly-hold cargo.
Etihad reduced its fleet from 106 to 101 aircraft. It retired all of its Airbus A330s and sold them to KKR and Altavair in December, at the same time doing a sale-and-leaseback of its Boeing 777-300ERs. The airline added eight Boeing 787-9s and three -10s to the fleet.
"There's still some way to go but progress made in 2019, and cumulatively since 2017, has instilled in us a renewed vigor and determination to push ahead and implement the changes needed to continue this positive trajectory", Douglas said in a statement.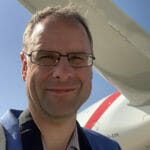 Active as a journalist since 1987, with a background in newspapers, magazines, and a regional news station, Richard has been covering commercial aviation on a freelance basis since late 2016.
Richard is contributing to AirInsight since December 2018. He also writes for Airliner World, Aviation News, Piloot & Vliegtuig, and Luchtvaartnieuws Magazine. Twitter: @rschuur_aero.