UK-regional airline Flybe has ceased all operations and filed for administration on March 5. It is the first airline to fail since the outbreak of Covid-19, with a drastic drop in traffic resulting in a cash shortage the airline was unable to overcome. Some 2.000 jobs are at risk.
Both Flybe and Stobart Air have canceled their operations but franchise partners Eastern Airways and Blue Islands are still active, although the Civil Aviation Authority advises passengers to confirm their travel plans with them. The same applies to passengers with a codeshare ticket with an international airline.
While the current situation certainly contributes to its demise, Flybe's troubles go back to late 2018. High fuel costs and the negative effects of a weak Pound sterling brought the airline on the verge of collapse, resulting in a cost restructuring plan that included selling aircraft and slots.
On January 11, 2019, Flybe announced a rescue plan as it was bought by the Connect Airways consortium that consisted of Virgin Travel Group (30 percent), Stobart Aviation (30 percent), and DLP Holdings of Cyrus Capital Partners (40 percent).
The plan was to rebrand Flybe into Virgin Connect this year and make it a feeder airline to Virgin's long-haul operations, with a new European network to be created in the coming years.
The transformation has taken much longer to execute. By December, Flybe was in big trouble again. It sought assistance from the UK government and was to be granted exemption of the Air Passenger Duty-tax scheme worth GBP 100 million, a move much critized by IAG and Ryanair's Michael O'Leary citing unfair competition. The consortium was willing to invest GBP 30 million, but Flybe kept losing money.
On March 4 there were indications that airports were unwilling to fuel the airline's fleet until they had been paid for. Some aircraft were not fueled at all, confirming rumors early evening that a collapse was due any time. Flybe operated a fleet of 19 Embraer E175/195s, five ATR 72-600s, and 54 De Havilland Canada Dash 8-400s.
UK Transport secretary Grant Shapps said he is 'absolutely gutted' by the failure of Flybe, whose history dates back to 1979. He called on others to assist with bringing stranded passengers to their destinations. Passengers are advised on Flybe's website not to come to the airport as the airline is unfortunately not able to arrange alternative flights for passengers.
ERA asks for EU261 waiver
While Flybe is the first prominent failure, airline executives said on Tuesday at the Airlines 4 Europe Aviation Summit in Brussels they expect a few weak airlines to go bust over the coronavirus crisis. IATA called for a waiver from the slot rule that obliges airlines to use 80 percent of their slots at a given airport or risk losing them the next year. This request was supported by the European Regional Airline association ERA on Wednesday. ERA also called for exemption of EU261, the rule that give passenger the right for financial compensation in case a flight is delayed or canceled. ERA wants The European Commission to wave EU261 as the current situation is force majeur, as Director General Montserrat Barragi said: "Drastic times call for drastic measures. The Covid-19 crisis has had a significant impact on the aviation industry, and this must be recognised by regulators in temporarily lowering the burden for airlines. We are without question dealing with exceptional circumstances and flexibility is essential in order for airlines to react to developments responsibly."
Scottish regional airline Loganair has announced that it will take over 16 routes in the coming three months to safeguard regional connectivity within the UK.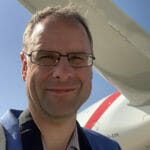 Active as a journalist since 1987, with a background in newspapers, magazines, and a regional news station, Richard has been covering commercial aviation on a freelance basis since late 2016.
Richard is contributing to AirInsight since December 2018. He also writes for Airliner World, Aviation News, Piloot & Vliegtuig, and Luchtvaartnieuws Magazine. Twitter: @rschuur_aero.