Aviation history was written on the evening of December 6, 2022, when the last-ever Boeing 747 rolled out of final assembly in Everett. The 1.574th 'Jumbo Jet', a 747-8F was slowly rolled out of Hall 40-21 and will now be prepared for her life as a full freighter with Atlas Air. Everett closes the book on the Boeing 747 production.
Building 40-21 has seen each and every 747 being born. The 98 acres facility, for long the largest assembly facility building in the world, was constructed in 1967, the same year when parts of the first aircraft were commissioned. That came a year after Pan Am confirmed its historical, $525.000.000 order in April 1966 to buy 23 747-100 passenger aircraft and two 747 freighters. Few, probably not even the 747's 'father' Joe Sutter, would have believed it when you would tell them that the lifespan of the aircraft would cover until 2022 and include various types and sub-types, like the 747-100, -200, -SP, -300, the refreshed -400, and the further refreshed -8I and -8F.
Boeing 747 #1574 is gently rolled out of Building 40-21 in Everett. (Boeing/Paul Weatherman)
The last passenger 747, an -8I for Korean Air, was delivered already over five years ago in July 2017, but production of the 747-8F kept going for a few more years. It was in July 2020 that Boeing announced the end of the program by the end of 2022 as demand for the quad-freighter was dwindling and customers preferred the more economical 777F. It didn't prevent Atlas Air from placing an order for the last four -8Fs in January 2021, taking delivery of the penultimate aircraft in November which will be operated for Kuehne + Nagel. Tier 1 supplier Spirit AeroSystems delivered the final parts from Wichita to Everett five months ago.
"For more than half a century, tens of thousands of dedicated Boeing employees have designed and built this magnificent airplane that has truly changed the world. We are proud that this plane will continue to fly across the globe for years to come," Kim Smith, Boeing Vice President and general manager, 747 and 767 Programs, said in a media statement.
Everett's tallest assembly hall now stands almost empty, as work is in progress to remove the tooling for an aircraft that is no longer produced. So if CEO David Calhoun finds the rabbit in the hat that might be Boeing's next commercial airplane, he will have plenty of space to build it…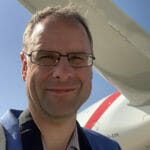 Active as a journalist since 1987, with a background in newspapers, magazines, and a regional news station, Richard has been covering commercial aviation on a freelance basis since late 2016.
Richard is contributing to AirInsight since December 2018. He also writes for Airliner World, Aviation News, Piloot & Vliegtuig, and Luchtvaartnieuws Magazine. Twitter: @rschuur_aero.