Supply chain constraints make it impossible for Airbus to maintain its guidance for 700 aircraft deliveries in 2022, the airframer confirmed on December 6. Including November deliveries, 563 aircraft have been delivered this year. This would leave 137 to go to reach 700, which is unrealistic in the current circumstances. The ramp-up of the A320neo family rate to 65 per month will also be "adjusted". Airbus confirms 700 deliveries are out of reach.
"Based on its November deliveries of 68 commercial aircraft and the complex operating environment, Airbus considers its target to achieve "around 700" commercial aircraft deliveries in 2022 to now be out of reach. The final figure is not expected to fall materially short of the "around 700" delivery target", the OEM says in a media statement.
CEO Guillaume Faury already said in an interview last week that reaching 700 would be difficult, as the supply chain is some six months behind where it is supposed to be. Critical items include engines from CFM and Pratt & Whitney but also some elements of the interior.
During last week's Airbus Summit in Munich, Chief Operating Officer, Alberto Gutiérrez, said: "When we launched our delivery plan last year, we thought that the supply chain would be in a different situation compared to how it is today. During the year, we discovered several issues that were having an impact, not just on Airbus but the entire supply chain. We have been building resilience in the company to be able to sort out the things that are popping up. We were not looking just at the tier 1 suppliers, but also tier 2, tier 3, and tier 4 and we were able to sort it out. I use to say now that we used to be 'just in time', but now we are 'just in case'. So we have buffers, we have more resilience."
The original delivery target was 720
Airbus started the year predicting to reach 720 aircraft deliveries, although Faury admitted in February that reaching this number would be extremely difficult. In the HY1 earnings release, the airframer reduced its target to 700 aircraft. In October and the Q3 earnings release, Airbus maintained this number and said that the final quarter would be backloaded again, as has been the case in recent years. 
Although the 68 deliveries in November have been the highest this year (March came the closest at 63), delivering 137 aircraft in December is unrealistic. In December 2021, 93 aircraft were delivered. Until December 6, Airbus has delivered 21 aircraft this month with 25 days to go this year, but this includes Christmas. Despite fewer deliveries, Airbus maintains its guidance for FY22 of an Adjusted EBIT of €5.5 billion and €4.5 billion in free cash flow before mergers and acquisitions. Airbus will report its 2022 deliveries on January 10.
A320neo family ramp up
The six-month delay in the full recovery of the supply chain will have an effect on 2023 deliveries too. "Taking into account the fact that this complex environment will persist longer than previously expected, Airbus will be adjusting the speed of the A320 Family ramp-up to rate 65 for 2023 and 2024. Airbus maintains the objective of reaching rate 75 by the middle of the decade," it says in today's statement. Faury announced in July that rate 65 would be delayed from late 2023 to early 2024, but the latest comments are an indication that this will take longer into 2024. Rate 75 in 2025 is an 'objective' that needs confirmation from its key suppliers, although engine makers P&W and Safran have said recently that they are committed to these rates as is Spirit AeroSystems. However, lessors like BOC Aviation, AerCap, and ALC have questioned the ambitious ramp-up plans.
For the record, Airbus' number of 563 deliveries excludes two A350-900s for Aeroflot that were contractually delivered in December 2021 but not physically delivered to the airline, because EU sanctions on Russia became effective before this was possible.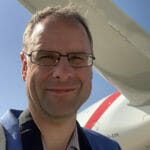 Active as a journalist since 1987, with a background in newspapers, magazines, and a regional news station, Richard has been covering commercial aviation on a freelance basis since late 2016.
Richard is contributing to AirInsight since December 2018. He also writes for Airliner World, Aviation News, Piloot & Vliegtuig, and Luchtvaartnieuws Magazine. Twitter: @rschuur_aero.