Airbus has announced a significant shake-up of its Executive Committee that sees some familiar faces leave the company and reduce the size of the leadership team. The restructuring should also make the company more agile.
The most visible changes are the departure of Dirk Höke as CEO Defence and Space and that of Grazia Vittadini as Chief Technical Officer from Airbus. Höke joined Airbus in 2016 from Siemens and quickly moved into his role at D&S. On LinkedIn, he says he made his decision to leave Airbus about a year ago. Vittadini has served with Airbus in various roles since 2002, starting as a design engineer on the A380 program and other positions, before moving to Defence and Space as Executive Vice President and Head of Engineering. She became CTO in May 2018.
Höke will be succeeded at D&C by Michael Schoellhorn, who has been Chief Operating Officer at Commercial Aircraft since February 2019. He joined with experience at Stratasys and previously Bosch. In his role as COO, Schoellhorn was immediately tasked with streamlining and ramping up the commercial aircraft production, especially that of the A320neo-family. This changed dramatically after Airbus reduced its rates following the effects of the Covid-crisis.
The new COO will be Alberto Gutierrez, who up to now was EVP Military Aircraft and head of Airbus Spain and served as CEO of Eurofighter between 2013 and 2016. His position at Military Aircraft will be taken up by Jean-Brice Dumont, currently involved at Airbus as EVP Engineering since January 2018 and before that at Helicopters.
Vittadini's role as Chief Technical Officer will be taken up by Sabine Klauke, who is now EVP Engineering at Defence and Space. Her position here will be left unfilled until further notice.
The departure of Vittadini and the transfer of Dumont to Military Aircraft are major changes at the helm of the team that is behind Airbus' digitalization and decarbonization strategy, with the focus on hydrogen. Both have formulated the roadmap to a series of hydrogen-based airliners, for which they presented three concepts in September last year.
This aren't just changes on a personnel level: the shake-up also reflects a change between the previous separate position of engineering functions within the 13-strong Executive Committee. In the new structure, these are merged to a new level that should simplify decision-making.
In a media release, Airbus President and CEO Guillaume Faury said: "These changes will allow us to further address our challenges and deliver on our ambitions, as well as increasing the "Team Airbus" dynamic with deeper collaboration between our different businesses and functions across borders."
Picture: Jean-Brice Dumont and Grazia Vittadini during the 2019 Airbus Innovation Days. (Richard Schurman)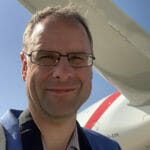 Active as a journalist since 1987, with a background in newspapers, magazines, and a regional news station, Richard has been covering commercial aviation on a freelance basis since late 2016.
Richard is contributing to AirInsight since December 2018. He also writes for Airliner World, Aviation News, Piloot & Vliegtuig, and Luchtvaartnieuws Magazine. Twitter: @rschuur_aero.