Is there a market for another supersonic airliner, next to Boom Supersonic and Aerion Supersonic? The answer is a firm 'yes' if you talk to Norris Tie, co-founder and CEO of California-based start-up Exosonic. Tie and his partner Tim MacDonald have carefully treaded the waters by presenting their initiative in recent months, with Tie looking for sponsors at the World Aviation Festival in London early September. Airinsight caught up with him.
While Boom is busy assembling its XB-1 testbed for its first flight somewhere next year as a precursor to developing the actual Overture-airliner and Aerion despite support from Boeing tries to get started, Exosonic finds itself in a very early – almost embryonic – stage.
Norris Tie (27) graduated from Stanford University as an MBA graduate only this year but can look back at a pre-MBA as propulsion engineer with Lockheed Martin Skunk Works. MacDonald is the company's Chief Technical Officer, still busy completing his Ph.D. at Stanford's Alonso's Aerospace Design Lab and has had an internship at Boeing Airplanes. Some real start-ups here then, but with some fresh ideas.
At Lockheed Martin, Tie worked on the X-59 Quiet Supersonic Demonstrator for which NASA selected LM in 2018 to build a prototype that currently is under construction and should be ready for first flight in 2021. The X59 QueSST's can fly Mach 1.4 supersonically over-land as its shape smoothens the profound waves that usually come with crossing the sound barrier. "I worked on vehciles ranging from Mach 5 missiles to rocket-based propulsion systems and back to supersonics at Lockheed Martin. From that experience, I realized that supersonic transportation, especially with this low-boom or muted sonic boom feature, is the most near-term, technically feasible way to move people around the world faster".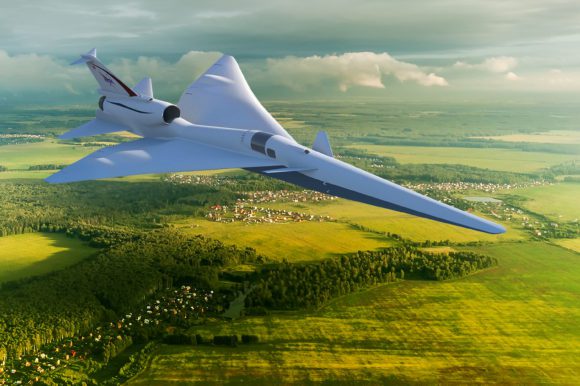 Artist impression of NASA/Lockheed Martin X59 QueSST demonstrator, currently under construction. (NASA)
While X59 will be just a demonstrator, Tie and MacDonald have been thinking how to covert this muted sonic boom-concept into a proper supersonic transport passenger jet. Bring on Exosonic, a 200 feet/60m long, slender aircraft, 82 feet/24m wide. It has a needle-shape, fixed nose that is using augmented vision for a high angle-of-attack approach. The cabin has eight single lie-flat class seats at the front, followed by thirteen rows in a 2-by-2 layout. That makes 60, but 50 to 70 seats is the range Tie and MacDonald are looking at. Galleys and lavatories are at the front and back, where there is also a cargo bay.
Elongated fuselage and delta wings
The cabin is part of an elongated fuselage that flows into the delta wings, with a kind-of beaver tail at the back with two V-shaped vertical fins. The two engines are positioned under the wings, in contrast to the tail-mounted engine on the X59. Its shape is different but not entirely dissimilar from Lockheed Martin's prototype, but the result should be the same. "We have a muted sonic boom. None of the competitors out there that we know of that is developing an airline-sized aircraft are doing that. For example, Boom is not trying to eliminate the boom", says Norris Tie.
In its market research, Exosonic identified 340 overwater routes that can be flown supersonically, mostly between the US and Europe or between the US and East Asia. An aircraft with a muted sonic-boom opens up another seventy percent more routes, or some 1200 in total, as it is capable of flying supersonic overland. That opens up US-transcontinental traffic or routes from Europe to the Far East via Russia.
According to the company's research, there is a market for 325 SST's worth $ 81 billion of market value, with each aircraft costing $250 million. "Our outlook is definitely less optimistic than that of our competitors, who say there is a market for 1.000 aircraft in ten years or so. Our claim isn't conservative either. We know it is a niche market, but of course, it is hard to predict the future".
Operating an aircraft for 335 days a year for 18 hours a day at flat premium ticket levels, each plane would make a $21.2 million profit per year.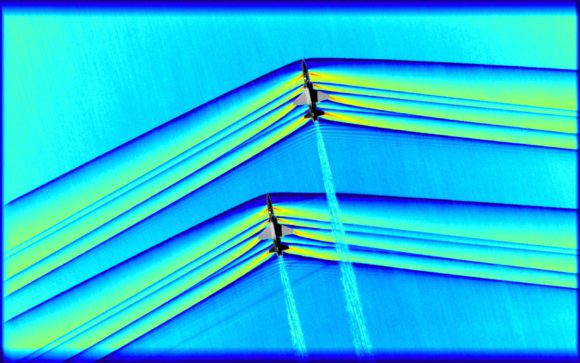 Earlier this year, NASA succeeded in visualizing the supersonic shockwaves of two T38s flying in close formation. (NASA)  
Flying supersonically overland is of course not allowed under current legislation, something that has hurt Concorde from Day 1. This situation could change, says Norris Tie: "The FAA and NASA are going to work on regulations that remove the supersonic overland flight-ban as there is no longer a speed-limit but a noise-limit. What we do is really 'shape' the sonic boom and turn the thunderclap of a sonic boom into more of a thump, like a car door slamming. NASA in Jackson has done studies on the noise levels and has determined that this level of noise of 75 Perceived Level decibel (PLdB) is ok".
Exosonic most likely will use off-the-shelf engines without re-heat but with variable inlets. "To develop a new engine is another billion-plus endeavor, so we'd like to work with existing engines". Engines and aerodynamic shape allow Exosonic to fly Mach 1.8 for 5.000 nautical miles/9.250 km, using one-third of fuel Concorde used to need. "We are definitely looking at climate and get ahead of that issue because it is something that will impact the industry and we certainly don't want to add to that".
Tie is aware of the debate on climate change but says: "From talking to business travelers and some airlines they want to see faster travel. People don't like 12-hour flights, so there needs to be some solution. The challenge is what can you use with existing or near-term futuristic technology to reduce carbon emissions, whether that is biofuels, engine efficiency or some other propulsion system".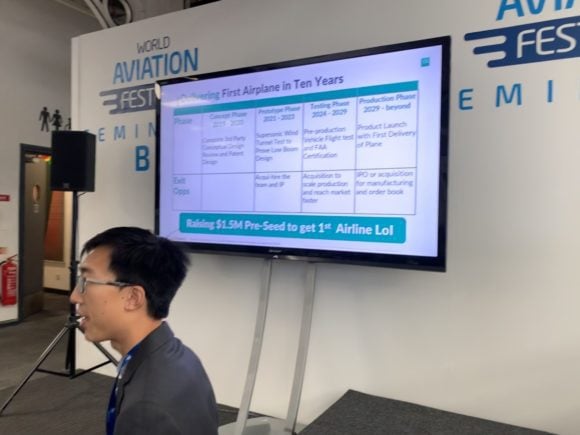 Norris Tie during a quick presentation at Aviation Festival. (Richard Schuurman)
While the X59 has backing from Lockheed Martin and NASA, Aerion from Boeing, and Boom from investors and airlines like Virgin Atlantic and Japan Airlines, Exosonic is still nothing but a 'paper plane'. Tie was in London to show Exosonic is serious, but Aviation Festival might not have been the appropriate event to pitch an SST. He and MacDonald have set a 10-year plan that defines the concept phase until late 2020, moves on to the prototype phase in 2021-2023 that flows into a pre-production and certification phase between 2024-2029. Delivery of the first production aircraft should happen in 2029 or beyond.
The start-up hopes to raise $1.5 million of funds to get to the next stage. "We are reaching out to customers and hoping to get a letter of intent from an airline. Secondly, we want to raise funding for the company. So far we have been boot-strapped and we have done a lot for very little money, but we need some legs under ourselves so we can actually hire a team, become more legitimate and work with partners like engine OEMs or the government".
If Tie has any doubts about Exosonic ever getting beyond the current stage, at least he isn't showing: "If you want to move people around the world faster I think this is the most realistic solution to that. But because there are many challenges like the market and the environment. And like any technology revolution, you face push-back and you have to deal with that".
Edit: Exosonic revised the number of potential routes from 130 to 340 overwater and from 220 to 1200 overland since the first version of this story was published.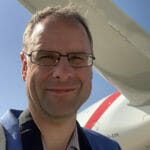 Active as a journalist since 1987, with a background in newspapers, magazines, and a regional news station, Richard has been covering commercial aviation on a freelance basis since late 2016.
Richard is contributing to AirInsight since December 2018. He also writes for Airliner World, Aviation News, Piloot & Vliegtuig, and Luchtvaartnieuws Magazine. Twitter: @rschuur_aero.