Delivery of the first Boeing 777-9 will slip a year from 2022 to late 2023, the airframer announced on January 27 at the presentation of its 2020 results. Boeing has also taken a $6.5 billion pre-tax charge on the program to offset costs and setbacks.
Boeing says a number of factors come into play when it decided on the deferral of the first delivery, most likely still to Emirates. "Among the factors contributing to the revised first delivery schedule and reach-forward loss are an updated assessment of certification requirements based on ongoing communication with civil aviation authorities." These changes are in response to stringent guidelines around certifcation following the MAX crashes, when regulators as well as Boeing itself concluded that lessons should be learned for the design and certification process of Boeing's biggest twinjet. CEO David Calhoun said that Boeing is making "prudent design modifications" on the 777X that include firmware and hardware changes to actuator control electronics that will need extra time.
Charge also result of assessment of market demand
Boeing also refers to an "updated assessment of market demand based on continued dialogue with customers, resulting adjustments to production rates and the program accounting quantity from 400 to 350 aircraft, increased change incorporation costs, and associated customer and supply chain impacts." "This combination has caused signifcant pressure on the 777X revenues and costs estimates resulting in the reach forward loss for the program. We still expect peak use of cash for the 777X this year. The changes in the program timeline will result in some cash headwinds in 2021 and 2022", CFO Greg Smith explained. The program should be cash flow positive one to two years after initial deliveries.
While the 777X backlog still shows 309 aircraft as of January 1, it's no secret that some orders are at least dubious. Long before the Covid-crisis, airlines like Etihad said they would reduce its original order. Whereas the order book still shows 25, the Abu Dhabi airline has confirmed back in 2019 it has an appetite for only six 777-9s.
Emirates backlog of 115 is also in doubt, as the airline is constantly reviewing its needs. Sir Tim Clark has said Emirates still wants the smaller 777-8, but its is doubtful if Boeing will continue with this variant after it has already stopped development in 2019. Cathay, ANA, and Singapore have asked for deferral of deliveries as the long-haul market is expected to remain weak and the airlines are not in a position to take delivery of a combined 61 777X on order. For now, the production rate for the combined 777/777X program remains at two per month this year and depends significantly on expected demand for the 777F.
Group loss $-11.9 billion
Boeing reported a $-11.941 billion Group loss for 2020, down from $-636 million in 2019. Revenues were $58.158 billion, down from $76.599 billion the year before.
Commercial Airplanes recorded a $-13.847 billion loss compared to $-6.657 billion in 2019. Revenues dropped to $16.162 billion from $32.255 billion, resulting in a net margin of -85.7 percent.
Net cashflow was deep red at $-18.410 billion versus $-2.446 billion the previous year. By late December, Boeing had $25.6 billion in cash and marketable securities available while debt is at $62 billion.
In Q4, Boeing reported a $-7.648 billion net loss versus $-2.844 billion in 2019. Revenues were $4.729 billion. Net cashflow was $-4.009 billion. As reported, the OEM delivered 157 aircraft against 380 in 2019.
More abnormal costs for MAX
Except for the pre-tax charge on the 777X, Boeing took another $468 million in abnormal production costs on the MAX whose return to service has been granted by Europe's EASA today. These costs were partly offset by a lower customer consideration charge. So far, abnormal costs on the MAX stand at $2.6 billion but CFO Greg Smith expects a total $5.0 billion to be incurred by Commercial Airplanes this year. Production rate of the MAX will reach 31 per month in 2022 but this will be 'dynamic' in the current pandemic situation. Higher delivery volumes will have a positive effect on unit cash margins from 2022 when the MAX inventory should have been dealt with.
No details have been announced about specific charges on the 787, not long ago Boeing's major cash cow but troubled now with production/carbonfibre quality issues. For this reason, no Dreamliners have been delivered since October. 787 Production will transfer to the North Charleston plant in South Carolina in March where five Dreamliners will be built each month. Boeing has some eighty Dreamliners in inventory in North Charleston en Everett that need extra quality inspections and modifications. Deliveries are expected to pick up from Q2, although they will be backloaded. These 787 inventories wil result in a challenging first quarter of 2021 as far as cash burn in concerned. Higher quality standards have been imposed that should make the issues something of the past. In a seperate update, Boeing reported that deferred production costs on the 787 have come down to $14.976 billion from $18.716 billion a year ago. Program margins on a unit base have held up relatively well even at the current lower production rates.
With many aircraft on ground following the Covid-crisis, maintenance and services took at hit at Global Services. Full-year earnings were down by 83 percent to $450 million, revenues by 16 percent to $15.543 billion. This includes contracts from Defense programs.
New aircraft will have conventional powerplants
Asked about the development of a new generation of airliner, Calhoun said that Boeing is "really, really progressing well" with its engineering on the development of a future concept but will take its time. But it will be launched only when advanced (engine) technologies are ready and available. It will be a conventional powered engine with sustainable fuels, but hydrogen has a long way to go, Calhoun thinks: "This is the only answer between now and 2050." At the same time, there is no pressure now from airlines to push for this new airliner.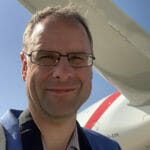 Active as a journalist since 1987, with a background in newspapers, magazines, and a regional news station, Richard has been covering commercial aviation on a freelance basis since late 2016.
Richard is contributing to AirInsight since December 2018. He also writes for Airliner World, Aviation News, Piloot & Vliegtuig, and Luchtvaartnieuws Magazine. Twitter: @rschuur_aero.