MauiNow reports that Mokulele Airlines plans to retrofit of a Cessna 337 (Skymaster) aircraft with hybrid electric power. Ampaire will retrofit the Cessna by removing the rear motor, and the installation of an electric motor. It will still have one traditional piston engine. The Skymaster seats six.
Test flights will operate between Kahului Airport in Central Maui and H?na Airport on the East side, a 28 mile route that takes about 15 minutes to complete.
Mokulele Airlines President, Rob McKinney, said he's excited about the potential for this technology on several levels. "We believe that it will dramatically decrease our cost of doing business by reducing maintenance cost on the engines. This will allow us to increase frequency, serve new combinations of cities, and in some cases reduce fares," said McKinney in an email communication to Maui Now. "Additionally it benefits Hawai?i and Maui due to it being much more friendly to the environment as opposed to burning jet fuel. These motors will also be considerably quieter when operating so our operations will have less impact on our airport neighbors," said McKinney.  According to McKinney, the test airplane, while branded "Mokulele Airlines," will be owned by Ampaire, with a target for testing to start in September.
"We're focused on retrofitting aircraft, which means we take an existing air frame, and we put our solution into that aircraft, versus building a completely new one. A new aircraft would take a longer time to certify with the FAA; however, there's a much clearer path for certification for the retrofit route. That's why we've decided–and there are a lot of airplanes out there with aircraft operators like Mokulele Airlines–that have these kinds of airplanes that we would retrofit," said Ampaire CEO Brice Nzeukou.  "So we're using kind of the same kind of batteries. These batteries actually have been flown before on aircraft such as the 787 and have been well regulated and certified. So in terms of the length of time for those components and the life, it's actually really long. So the maintenance aspect of the batteries and of the overall system is much better than combustion engines are today. We're looking at a ton of different options–whether it's battery swapping, whether it's charging–to make sure that the aircraft operators and our customers have fresh batteries and batteries that they can use for a long time" he added.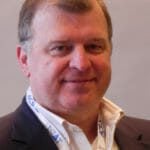 Co-Founder AirInsight. My previous life includes stints at Shell South Africa, CIC Research, and PA Consulting. Got bitten by the aviation bug and ended up an Avgeek. Then the data bug got me, making me a curious Avgeek seeking data-driven logic. Also, I appreciate conversations with smart people from whom I learn so much. Summary: I am very fortunate to work with and converse with great people.