International Airlines Group (IAG) has pulled the plug on its European short-haul low-cost airline LEVEL Europe, formerly known as Anisec Luftfahrt. The airline has filed for insolvency and has ceased trading with immediate effect from June 18.
LEVEL cites the unprecedented crisis caused by Covid-19 as the reason for its situation. The Vienna-based airline has been grounded since March 17 except for some repatriation flights. While Austrian Airlines has resumed operations last Monday, others like Ryanair-subsidiary Laudamotion have been hit hard by the forced grounding. Some 200 staff are affected by the insolvency of LEVEL Europe. An Austrian court will appoint an administrator. LEVEL Europe should not be confused with the long-haul operations run out of Barcelona and Paris, which seem unaffected by the insolvency.
The low-cost started operations out of Vienna on July 17, 2018. It was formed late 2017 in just 3,5 months when IAG used Anisec as a vehicle to operate the Austrian subsidiary of its Spanish low-cost subsidiary Vueling. LEVEL Europe was formed in response to Ryanair's and Laudamotion's initiative to develop Vienna Schwechat as an LCC-hub, while at the same time easyjet and Wizz launched an attack from the Austrian capital.
LEVEL Europe started with four Airbus A321s, later adding two A320s to the fleet. Its network included London, Paris, Barcelona, Ibiza, Milan, Dubrovnik, and Hamburg. In April 2019, the airline positioned three A321s at Amsterdam Schiphol to offer routes to London Luton, Vienna, and Rome. It planned to add Barcelona to its schedule from July.
Testbed for IAG
In April 2019, Airinsight spoke to the-CEO Vincent Hodder. He explained the thinking behind LEVEL, which has been a kind of testbed for IAG: "What we are doing at LEVEL is in the creation of the future, taking elements that have been proven with other airlines at other parts of the world and putting those together in a new configuration which has never existed before. This way of separating the production from the commercial operations and from making the customer truly central to the structure of the airline makes it a huge difference. (…) Our business model gives us the flexibility that traditional airlines just don't have. By setting up separate operations focused on different types of flying, what we are able to do is make sure that each of those operations serves the specific needs of its markets, its routes, and its customers."
As IAG never disclosed separate results of either LEVEL and LEVEL Europe, it is difficult to judge their success. During the FY19 presentation last February, IAG CEO Willie Walsh said LEVEL's new CEO Fernando Candela had completely reviewed the airline's model and suggested some tweaks, but the review confirmed the original model is still correct. Barcelona had been producing good results in its first year in 2017, but since has suffered from the weaker market in Argentina. Paris is disappointing as the market was not responding so that the market was 'under review'. Walsh didn't go into details of the Vienna and Amsterdam markets.
With Covid-19 having a huge impact on all its brands, it seems LEVEL Europe was an airline one too many in IAG portfolio and could easily be replaced by Vueling again. Remember LEVEL Europe used Vueling slots in Amsterdam for its operations. The airline unlikely has been the one with the lowest costs as claimed by Hodder last year.
LEVEL Europe had huge plans for the future, which included the renewal of its Airbus-fleet by replacing them with an unspecified number of Boeing MAX that is part of the Letter of Intent for 200 signed at last year's Paris Airshow. IAG has not confirmed this LoI and in the current financial state will be unwilling to buy any new airliners in the foreseeable future.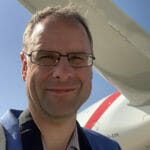 Active as a journalist since 1987, with a background in newspapers, magazines, and a regional news station, Richard has been covering commercial aviation on a freelance basis since late 2016.
Richard is contributing to AirInsight since December 2018. He also writes for Airliner World, Aviation News, Piloot & Vliegtuig, and Luchtvaartnieuws Magazine. Twitter: @rschuur_aero.