US low-cost airline Jetblue hasn't decided yet on which airport in London it will operate to in 2021, but doesn't rule out flying to multiple airports there, president and Chief Operating Officer Joanna Geraghty said on September 5 at the Aviation Festival in London.
Jetblue announced last April it will cross The Pond to London from New York and Boston in 2021, once it gets the Airbus A321LR that have the range to do it. While operating to Heathrow or Gatwick seems the most obvious way to go, Geraghty told Airinsight that Luton and Stansted are all on the list: "We haven't made our mind up. All four airports are on our list. We are optimistic that any number of airports in London can work together really well with what we intend to launch", Geraghty said before rushing off for an appointment likely to be at one of those four.
Operations from multiple airports are nothing unusual for Jetblue, the COO says: "We operate from all the airports in New York as well as in other cities such as Los Angeles, so that could be an option".
Jetblue has been having a good look at Transatlantic routes for some time. Geraghty repeated that the London-route has been dominated by three operators for way too long. "We think we will be able to disrupt this market with better pricing and an attractive product".
Key to that succes is the introduction of Airbus A321neo-family aircraft. The first of thirteen standard neo's will enter service within weeks, but Airbus confirmed to Jetblue that deliveries are some five months behind schedule, Geraghty said. This year another five should join the fleet.
For the London-route, Jetblue will need the A321LR. They wil arrive in 2021 if Airbus will gets its production issues right, something that Airbus president Guillaume Faury has made one of his priorities for HY2.
At the Paris Air Show, Jetblue converted options on 13 A321neo's into the latest version, the 7.400 kilometer-capable A321XLR to be delivered from 2025. This could open up routes to Paris, Amsterdam, and Germany, Geraghty said: "We haven't announced which markets beyond London we are looking at, but obviously the XLR gives us range to places into  Germany. We are currently studying the performance data, the range, and things like that".
Jetblue has 85 A321neo-family aircraft on order, plus 70 A220-300s.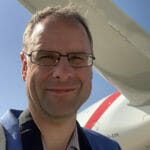 Active as a journalist since 1987, with a background in newspapers, magazines, and a regional news station, Richard has been covering commercial aviation on a freelance basis since late 2016.
Richard is contributing to AirInsight since December 2018. He also writes for Airliner World, Aviation News, Piloot & Vliegtuig, and Luchtvaartnieuws Magazine. Twitter: @rschuur_aero.