KLM Royal Dutch Airlines generated a lot of attention on social media when it unveiled the futuristic Flying-V airliner concept last June at the IATA Annual General Meeting in Seoul. It repeated this feat last week when it had a flyable scale model demonstrator airplane and cabin mock-up on show at its 100th birthday party at Hangar 10 at Schiphol Oost in Amsterdam.
"KLM will not be building the aircraft, but we are fully behind this initiative", CEO Pieter Elbers said. The airline supports (also financially, with a budget it is unwilling to disclose) a study concept by the Technical University of Delft in The Netherlands, one of the best aerospace universities in the world.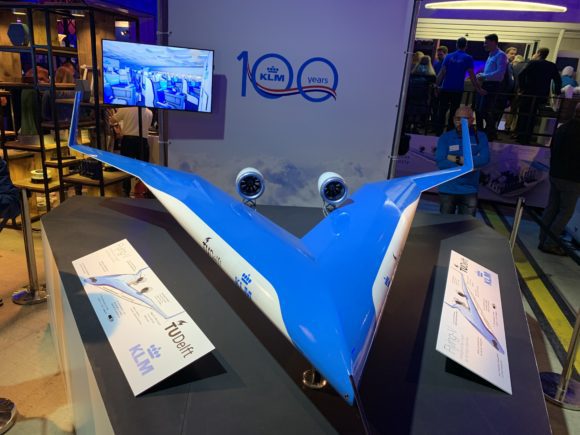 The 3-meter model will be flight-tested in Germany. (Richard Schuurman)
A team led by prof.dr. Henri Werij since 2017 has conceived an all-new concept for a civil aircraft of the future. Instead of using the 'tube-concept' with wings we know since the early days of aviation, Flying-V has a V-shaped fuselage, with passengers sitting in both sections of the V. The two-class cabin seats 314 passengers (48 Business, 266 Economy) and has room for 24 LD-4 containers. Two conventional turbofans are centrally positioned inside the V, which also features two winglets that act as vertical tail fins and rudders.
Span is 65 meters, length 55 meters, height 17 meters. By working on the size of the V, the aircraft can become bigger or smaller.
The Flying-V should be 20 percent more fuel-efficient than the Airbus A350, which is seen as the benchmark.
Initially seen as just a 'paper plane', TU Delft has produced a scale model with a 3.06-meter span, 2.76-meter length, 24.8-kilogram weight and powered by two 4KW electrical 'ducted fan' engines. The composite fuselage is full of sensors and with a reason: the model aircraft is going to fly. "We expect to do the first test flight in November", chief engineer Malcom Brown of TU Delft told Airinsight at KLM Experience. "Initially we want to make sure that this aircraft can fly, secondly what are the flight characteristics. We then will analyze the data and see how we should adapt the design concept".
The Flying-V has been partly tested inside a wind tunnel, but Brown is eager to see how the shape performs in real flight and if it is stable enough to fly passengers. The team of engineers is especially interested in the take-off and landing performance. "The Flying-V has to take-off and land with a very steep angle, almost as steep as Concorde did at 20 degrees. It is a kind of delta wing, which has a higher angle of attack. Compared to a conventional design our aircraft has no high-lift devices like slats and dedicated flaps but only spoilers for roll and pitch control."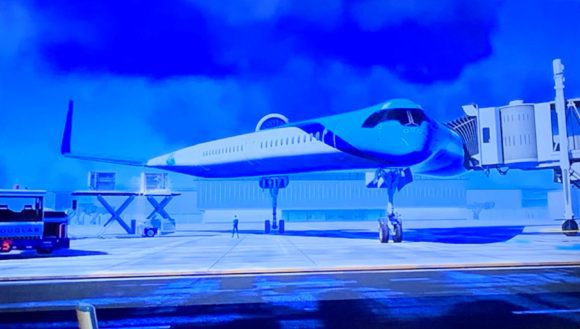 TU Delft has got the support of Airbus for the test flights, which will depart from the Airbus Finkenwerder-plant in Hamburg through controlled airspace all the way south to Hannover and back. "Airbus is supporting us to make this flight possible and provide expertise such as ground handling and systems. Hopefully, in the future this support will grow to a higher level", South African Brown explains.
The real Flying-V is foreseen to use current-technology turbofans. "They are the same as on the A350, so Rolls-Royce XWB. For the moment, that's purely done so we can do calculations that we can compare. The final propulsion concept isn't frozen yet. We explore other technologies that could be added. If these technologies mature we can integrate them in the design, but for the moment the development of the aircraft and the engines are done separately to make it easier for us."
The scale model has no A350-like cockpit windows as seen on the Flying-V artist impressions. If the real aircraft will fly, it will most likely be a piloted aircraft. "Autonomous flight is very difficult. Aircraft have always been ahead of cars, but which way it goes depends on regulations and jurisdiction."
Mock-up of the Economy cabin of the Flying-V. (Richard Schuurman)
TU Delft showed a cabin mock-up of a section of the right-side V at Schiphol. The six meters wide cabin includes diner-style forward and aft-facing seating arrangements, sleep bunks and a few rows of Economy seats. They are at an angle in a staggered position. While providing ample space that way, the project team learned there is also a downside to this configuration. "One remark we got is that by seating passengers this way, you get people having their legs in the aisle, which is not ideal." It is on this that KLM provides its experience in how to design a cabin that is practical for both passengers and crew.
After the November flights, the project teams want to continue developing the Flying-V at a high pace, says Malcom Brown: "We start building this model aircraft in February and want to keep up the pace, analyzing data and come up with a modified design." Which, he hopes, will be adopted by an OEM someday in the not too distant future.
As KLM's Pieter Elbers says about the project: "We use the knowledge of the university as it comes to aerodynamics, they use our knowledge as to how to run an airliner. It is working together in order to make sure that the speeding-up of sustainability goes faster."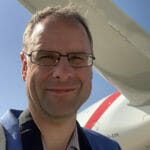 Active as a journalist since 1987, with a background in newspapers, magazines, and a regional news station, Richard has been covering commercial aviation on a freelance basis since late 2016.
Richard is contributing to AirInsight since December 2018. He also writes for Airliner World, Aviation News, Piloot & Vliegtuig, and Luchtvaartnieuws Magazine. Twitter: @rschuur_aero.