It is not often you see wide-spread support from the staff of an airline for its boss to keep him on his post. But exactly that's the situation right now around KLM's president-director Pieter Elbers. A petition to nominate Elbers for a new 5-year term at the helm of the Dutch airline has been signed by 25.196, before being presented to the supervisory board on February 15. The aim was to get 30.000 signatures.
The petition is a spontaneous action by KLM-staff, as they feel not only the position of Elbers is at stake, but that of KLM as an independent airline within Air France-KLM. The one that gets the blame is the company's new CEO Benjamin Smith, who started his job last September.
Smith joined with a clear task: create rest and stability at the Franco-Dutch airline and reinforce its position amongst fierce competitors, in and outside Europe. Over the last few months, the former Air Canada COO has been able to sign agreements and social contracts that indeed should bring stability to Air France after three years of social and industrial unrest, numerous strikes and the resignation of two CEO's. Out will go Joon, while regional airline HOP! has been rebranded as Air France Hop. A fleet renewal plan is next on his agenda, but Smith seems to have restored order in the much troubled French family.
So now it seems to be the moment to have a look at KLM, the Royal Dutch airline that joined forces with Air France in 2005 as an independent airline within the Air France-KLM Group. While the internal battle raged within Air France, KLM has seen year-on-year growth, outperformed the French, strengthened its financial position and renewed its medium to long-haul fleet. This all under the leadership of Pieter Elbers, who through internal promotion within KLM became president in 2014. After five years his term is up for renewal.
Renewal looked like a formality. Until Smith has come along. His attempt to get on KLM's supervisory board was a first sign that the group CEO wants to get a better grip on the Dutch airline. Then he told analysts last October that he wishes to integrate Air France and KLM more, describing the current situation as inefficient for such a big company. Smith' remarks were seen as a signal that KLM will have to surrender its strategic and financial independence. Not the least of all, Smith' and Elbers' characters don't seem to match.
It's for these reasons staff have stepped in and organized their petition on February 1, which can be seen as a cry for help. Not that they have always liked Elbers, as over the last three years KLM too had its internal conflicts with pilots, cabin crew and ground staff over productivity, costs, and salaries. But with those conflicts settled, the 'blue family' has become aware that losing Elbers almost certainly means losing KLM as we know it, a strong independent brand that celebrates 100 years of operations this October.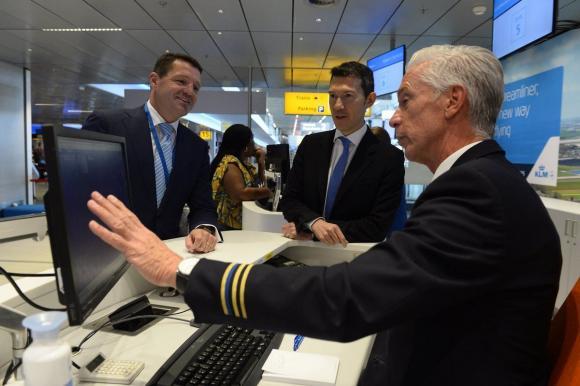 KLM president-director Pieter Elbers showed Air France-KLM CEO Benjamin Smith (centre) around during a visit to Amsterdam Schiphol Airport in September 2018. (Air France-KLM)
The petition formulates it like this: "This year KLM will celebrate her 100th birthday and would most likely not have happened without Pieter taking over control of the company four years ago. The company KLM is today is with full credit to Pieter and KLM's employees are very grateful to Pieter for these achievements and his relentless contributions!
KLM's employees wish to see no one else but Pieter Elbers to be reappointed as their CEO for the coming term. Therefore this call to the Air France – KLM board; Re-appoint Pieter Elbers unconditionally for a new and complete term as CEO of KLM!"
The Dutch secretary of Finance, Wopke Hoekstra, recently sent his own letter to support Elbers to Smith, who in January discussed his plans during a visit to the Dutch government and again on February 15. The fact is that, in contrast to the French government which has a 14.3% stake in Air France-KLM, the Dutch government has no shares in the holding and only 5.92% in KLM. Within the 19-strong Group Board of Directors, there are only five Dutch representatives. The 12-strong Group Executive Committee has four Dutch members, including Elbers.
While Ben Smith can't be blamed for his initiative to restructure the Group in order to generate maximum benefits for minimum costs, he has hit a nerve in Franco-Dutch relations. For years KLM was internally seen by staff as the one that kept Air France-KLM going and growing when disorder reined in Paris. They expect a bit more gratitude for this.
Stay tuned for more, as the day before the presentation of the AF-KLM 2018 results on February 20 the topic is on the agenda of the group's supervisory board.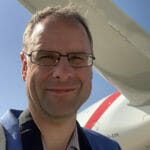 Active as a journalist since 1987, with a background in newspapers, magazines, and a regional news station, Richard has been covering commercial aviation on a freelance basis since late 2016.
Richard is contributing to AirInsight since December 2018. He also writes for Airliner World, Aviation News, Piloot & Vliegtuig, and Luchtvaartnieuws Magazine. Twitter: @rschuur_aero.