China's three biggest airlines have all reported continued and often even deepening losses for 2021. Air China, China Eastern Airlines, and China Southern Airlines continued to suffer from the country's strict zero-tolerance Covid policy. As the year progressed, rising fuel costs added an extra burden. Losses China's Big Three airlines continue in Covid-ruled 2021.
Air China:
Air China reported a net loss of RMB 18.8 billion compared to RMB -15.8 billion in 2020. The operating loss was RMB 16.9 billion versus RMB -11.2 billion. Expenses were ten billion higher, of which some RMB 6 billion were caused by higher fuel costs to RMB 20.7 billion.
The airline benefitted from higher revenues, up to RMB 74.5 billion from RMB 69.5 billion. Of this, RMB 58.3 billion was from passenger revenues (up from 55.7 billion). Cargo revenues grew to RMB 11.1 billion from 8.6 billion as Air China operated 16.000 cargo flights with passenger aircraft. It carried 1.2 billion kilograms of cargo and mail, up 6.6 percent. Air China's current and non-current liabilities increased to RMB 232.6 billion, up from RMB 200.3 billion.  
Of its revenues, RMB 60.8 billion came from mainland China and just RMB 12.6 billion from international operations. Total capacity in available seat kilometers (ASK) was down 2.3 percent to 152.4 million, with domestic capacity up by 7.7 percent to 146 million kilometers but international down by 77.7 percent to 4.2 million. Combined revenue passenger kilometers (RPK) were down 4.74 percent to 104.6 million. Air China carried 69 million passengers, almost on par with 68.7 million in 2020. Its international services saw only 301.000 passengers.
On December 31, 2021, Air China's fleet consisted of 746 aircraft. Its fleet plan includes the introduction of 27 Airbus A321neo's and nine A350-900s this year and one A321neo plus five A350s in 2023. The carrier will also take delivery of ten COMAC ARJ21s this year and nine each in 2023 and 2024.
Interestingly, the plan doesn't include the Boeing MAX 8, of which the carrier has parked sixteen and another 21 on order. It is expected that the MAX will be cleared to re-enter commercial service soon after China's regulatory agency CAAC indicated last December that it was willing to recertify the type.   
The airline will retire 22 aircraft this year, fifteen in 2023, and eleven in 2024.
China Eastern Airlines:
China Eastern Airlines ended 2021 with a net loss of RMB 13.3 billion compared to RMB 12.6 billion in 2020. The operating loss was RMB 13.5 billion, almost on par with RMB -13.8 billion in the previous year. Expenses were RMB 8.5 billion higher, of which almost RMB 7 billion was caused by higher fuel costs to RMB 20.6 billion. Total liabilities stood at RMB 231.6 billion.
The carrier grew its revenues to RMB 67.1 billion from RMB 58.7 billion. Of this, RMB 54.1 billion came from passengers (2020: RMB 49.2 billion) and RMB 8.3 billion from cargo and mail (RMB 4.9 billion). China Eastern actually increased its ASKs by 5.7 percent to 160.7 million, with domestic capacity up by 15.9 percent to 156 million but international capacity down by 76.1 percent to 39.1 million. RPKs were up 1.4 percent to 108.8 million. The airline carried 79.9 million passengers in 2021, up six percent, of which 267.200 on its limited international network. Freight carried was up 29.3 percent to 920 million kilograms.
China Eastern ended the year with 758 aircraft, excluding its five grounded MAX 8s. Capital expenditure on aircraft and engines will be RMB 24.9 billion from 2022-2024. The airline expects to take delivery this year of five Boeing 787s, six A350s, 22 A320neo-family aircraft, ten ARJ21s, and three COMAC C919s, which were originally expected before the end of 2021. In 2023, the schedule includes four 787s, three A350s, thirteen A320neo family, nine ARJ21 (for its subsidiary OneTwoThree Airlines), and two C919s. Another nine ARJ21s are slated for 2024. Like Air China, new deliveries exclude those of the MAX, of which China Eastern has another fifteen on order. China Eastern will retire twelve aircraft this year, sixteen in 2023, 23 in 2024, and 37 in 2025.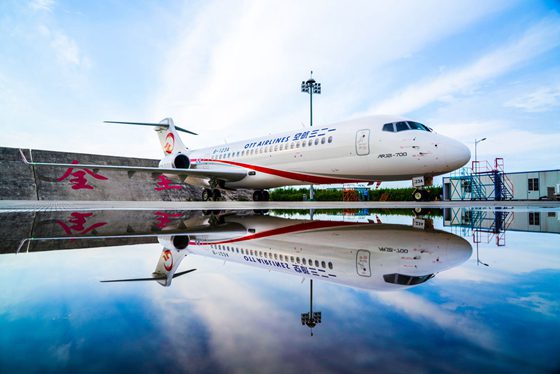 China Eastern-subsidiary OneTwoThree Airlines will take delivery of another 29 COMAC ARJ21s through 2024. (COMAC)
China Southern Airlines:
China Southern Airlines is the only airline of the Big Three to have reduced its loss in 2021, although only just, to RMB 11 billion from RMB 11.8 billion. The operating loss also improved to RMB 9.9 billion from RMB 11.9 billion. Expenses were some RMB 7 billion up, mostly consisting of fuel costs to RMB 25.5 billion. Current and non-current liabilities stood at RMB 238.7 billion.
The airline, which embarked on a restructuring course, improved its revenues to RMB 101.6 billion from RMB 92.6 billion. Passenger revenues were RMB 75.4 billion (2020: RMB 70.5 billion), cargo revenues RMB 19.9 billion versus RMB 16.5 billion. China Southern grew capacity/ASKs by only 0.4 percent to 213.9 million, with domestic up 5.4 percent but international down by 60.4 percent. It carried 98.5 million passengers, up 1.7 percent, of which 97.7 on its domestic network and only 640.000 on international flights. Cargo carried was 1.4 billion kilograms, up 1.3 percent.
China Southern had a fleet of 878 aircraft on December 31. The annual report doesn't specify planned deliveries for the next three years, but the carrier says elsewhere it has commitments for RMB 54.7 billion for new aircraft and engines and hopes to take delivery of 39 Boeing MAX 8s this year.
Outlook
In their outlook for 2022, all three airlines make reservations as the recovery remains uncertain. The recent surge in Covid-infections in China has resulted in many lockdowns that have immediately affected demand and impacted economic growth. Following the fatal accident of a China Eastern Boeing 737-800 on March 21, the carrier continues to ground the type, significantly affecting capacity on its domestic network.
"The short-term volatility of the epidemic will have a certain impact on service consumption and even domestic economy. The market shows a "slow recovery" trend", says China Eastern, which adds that it will enter a new development stage this year to improve operational efficiency and quality and "continuously enhance reform and innovation."
Still, Air China remains optimistic: "Civil aviation demand in China will continue to rise and market potential will remain immense. The aviation market in China will continue its recovery. In the long run, the demand for air travel will remain strong with huge market potential. As the pandemic is brought under control, business travel and holiday tours continue to be growth drivers of the aviation industry, and air travel demand will become increasingly customized and popular."
China Southern says recovery will come with further reforms: "The Group will deeply promote the reform of systems and mechanisms, to ensure that the critical strategies for high-quality development are implemented gradually, and continue to explore development space."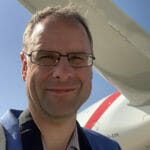 Active as a journalist since 1987, with a background in newspapers, magazines, and a regional news station, Richard has been covering commercial aviation on a freelance basis since late 2016.
Richard is contributing to AirInsight since December 2018. He also writes for Airliner World, Aviation News, Piloot & Vliegtuig, and Luchtvaartnieuws Magazine. Twitter: @rschuur_aero.