According to recent analysis and forecasts, the MRO spend in Latin America will suffer throughout the next decade, said Carlos García Martin, senior principal at Oliver Wyman. The COVID-19 crisis will have long-lasting effects in the region, both in terms of aircraft and maintenance growth. 
How will the MRO spend in Latin America will suffer?
Carlos García Martin offered his insights on the Latin American MRO industry during his presentation at the CCMA & MRO Conference, organized by the Latin American and the Caribbean Air Transport Association (ALTA). 
He said that the COVID-19 had impacted the MRO segment, and it will not be short-term. "We foresee there will be a gap versus pre-COVID projections until 2030", he added. 
So, how has already the COVID-19 impacted the MRO market? 
According to García Martin, worldwide, the MRO segment saw an erosion of US$132 billion in spending. Latin America alone registered a US$15 billion loss between 2019 and 2020. 
In 2019, there was an MRO spending of US$82.9 billion. Oliver Wyman divides it in US$37.3 billion on engine MRO services, US$18.1 billion on airframe spending, US$14.1 on components, and US$12.8 on line services. 
One year later, that number fell nearly 40% to US$50.3 billion in total spending. For 2021, the MRO industry projects a 17% decrease compared to 2019 levels.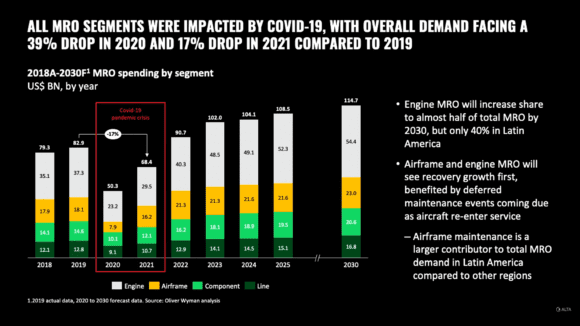 What can we expect going forward?
According to the consultancy group, airframe and engine MRO will be the first to recover its growth compared to pre-pandemic levels. They will benefit from deferred maintenance events coming due as aircraft in the region re-enter commercial service. 
In the years prior to the pandemic, long-term growth in the MRO spend is forecasted to be 3.1%, driven primarily by engines and components. In the meantime, the industry projects airframe MRO services will be stagnant over the next decade. 
Therefore, during the next decade, there will be a 9% gap between what was initially projected to be MRO spending and what the industry will actually see (barring some other once-in-a-lifetime event like this pandemic).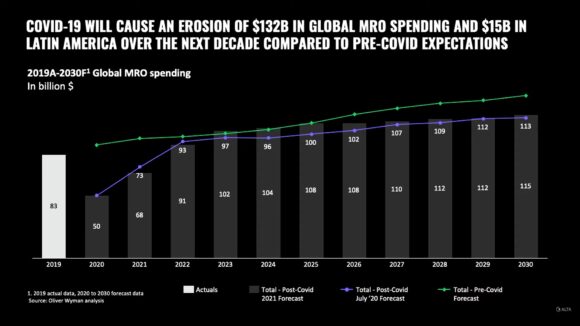 "Because of the replacement of fleet and early retirements, there will be a gap that we weren't expecting when we made our pre-COVID projections," said García Martin. 
Other challenges for the MRO industry 
The MRO industry will face more than the spending challenge in Latin America. Going forward, one of the main issues and questions the industry must ask itself is how to secure aircraft technicians?
The pandemic led many people out of the airline industry, and many of them will never come back. There are a few factors that can explain this behavior, but seemingly lack of stability in this cyclical industry is the most important, according to a poll launched by Oliver Wyman. As Carlos García said, 
"The reason why airlines are forecasting this issue is the lack of stability. It is unclear when the industry will come back. Once a technician goes to another industry, it is challenging to bring him back."
Competition from other industries, lack of qualified applicants, and reduction in the long-term labor supply are other challenges. 
Therefore, the MRO industry must overcome these perceptions. It can do it through several initiatives like apprenticeships, technical schools partnerships, and expanding diversity efforts. These paths can address the labor supply shortage coming to the industry.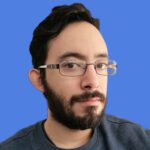 Daniel Martínez Garbuno is a Mexican journalist. He has specialized in the air industry working mainly for A21, a Mexican media outlet focused entirely on the aviation world. He has also published on other sites like Simple Flying, Roads & Kingdoms, Proceso, El Economista, Buzos de la Noticia, Contenido, and Notimex.