On the first day of the Moscow airshow MAKS2021, Irkut Corporation signed orders and leasing agreements for 58 Sukhoi Superjet 100s. It completes a rather quiet day on the commercial aviation side. New leasing arrangements for 58 Superjet SSJ100s.
Rossiya Airlines signed an order for fifteen SSJ100s, which have been leased via PSB Leasing of Promszvyabank. United Aircraft Corporation (UAC) announced last week that the bank secured a financial framework for the production of 59 additional Superjets. The aircraft will be delivered to Rossiya this year. The carrier already operates 36 SSJ100s, which typically seat 87 to 103 passengers and have a range of 2.400 kilometers.
Red Wings Airlines signed a Letter of Intent for the lease of 25 Superjets. This includes "new and previously produced aircraft", says UAC. They are scheduled for delivery this year and in 2022. Together with seven SSJ100s leased since September last year, this brings the Superjet-fleet to 32. The airline is finalizing the order through a financial organization.
The same applies to Rostov-on-Don-based Azimuth Airlines, which plans to expand its Superjet-fleet from 15 to 25. As with most aircraft in Russia, these will be leased. Deliveries are scheduled over the next five years until 2026.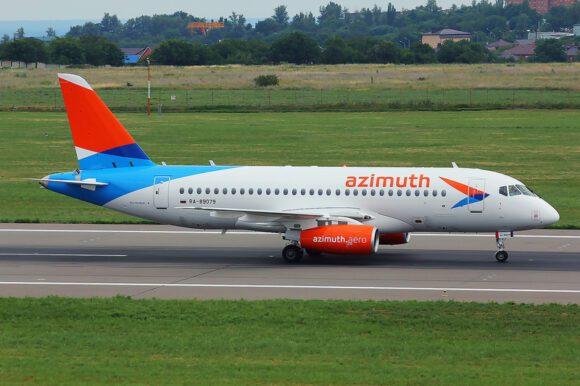 Azimuth Airlines already operates fifteen Superjets. (Azimuth Airlines)
Former Aeroflot subsidiary Aurora Airlines signed an LoI for eight Superjets. They will be leased through state-owned GLTK and accommodated by a dedicated unit of Aurora that will be established with the help of the Far Eastern Federal District. Deliveries are planned for between 2022 and 2024.
Aurora operates a fleet of nine aging Airbus A319s plus five DHC Dash8-400s, one -300, and two -200s. FlightGlobal reported that Aurora has also ordered nineteen Ilyushin Il-114-300 turboprops, quoting UAC President Yuri Slyusar as the source. GTLK confirmed that it will also lease an unspecified number of Ilyushins to Aurora. The airline has not confirmed the order, which would make Aurora the launch customer of the revamped turboprop.
"The agreements signed today for the transfer of Superjets (…) confirm that the SSJ-100 is a popular machine," said Denis Manutrov, Russian Minister of Industry and Trade. "The fleet of civil aircraft in Russian airlines is being updated, and it is right that this is due to domestically produced airliners. According to a poll among passengers, there is now an obvious request to expand the route network in Russia bypassing Moscow, and it is the SSJ-100, with its characteristics, that can cover this need."
The new leasing arrangements for 58 Superjet SSJ100s are for the existing version with SaM146 engines, not the new Aviadvigatel PD-8 still under development. United Engine Corporation (UEC) expects to certify the new engine in 2023, it said during the airshow on July 21.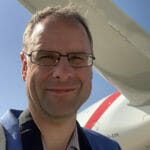 Active as a journalist since 1987, with a background in newspapers, magazines, and a regional news station, Richard has been covering commercial aviation on a freelance basis since late 2016.
Richard is contributing to AirInsight since December 2018. He also writes for Airliner World, Aviation News, Piloot & Vliegtuig, and Luchtvaartnieuws Magazine. Twitter: @rschuur_aero.