Norse Atlantic is preparing for a challenging winter period, with high fuel costs and inflation, and consequently uncertain customer behavior likely to impact results in the coming months. The airline will therefore take a careful approach to its network by likely reducing services and at least thinking twice before starting new ones, Norse says in its HY1 2022 results on September 22. Norse Atlantic takes cautious approach to the coming winter.
Norway's newest long-haul, low-cost airline that was established in March 2021 finally commenced operations on June 14, having delayed the launch a number of times from late 2021 to April 2022 and then June. The first flight was between Oslo and New York JFK. Four days later, it followed this up with Oslo-Fort Lauderdale.
So the carrier has had just two weeks to earn its first revenues in HY1, which closed on June 30. This is reflected in the results, with a net loss for January-June of $-51.3 million, an operating loss of $-43.3 million, EBITDAR of $-17.5 million, and total revenues of $3.0 million, of which $975 million from other income streams including cargo. Operating expenses totaled $20.4 million, of which $11.4 million are personnel costs. Comparing results with the previous year that covers February-June 2021 is useless, as the airline wasn't operational at that time.
In the two weeks since the launch, Norse carried just 6.683 passengers at an 82 percent load factor. This has grown to over 100.000 until the end of August, after the opening of more routes. On July 5, Oslo-Orlando was launched, followed on August 9 by Oslo-Los Angeles, and on August 12 with Oslo-London Gatwick and Gatwick-JFK. On August 17, Norse launched Berlin Brandenburg-JFK, a day later adding Berlin-LAX to the schedule. July saw 31.842 passengers, August 58.702. The average load factor dropped to 69 percent.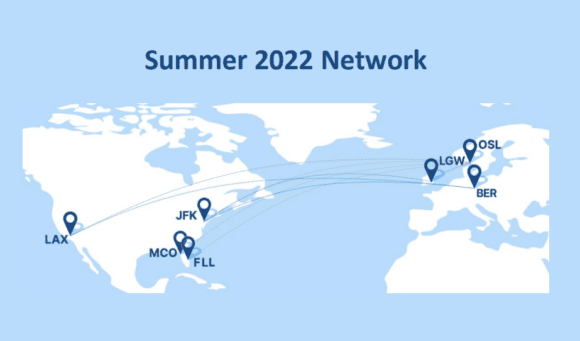 Operations produced a negative free cash flow of $-17.8 million in HY1. Norse ended the period with $76.1 million in cash and cash equivalents, down $58.1 million from 2021 after incurring a currency loss and an investment in inflation-protected facilities. Total liquidity stood at $105.6 million. The airline has capitalized its Gatwick-based subsidiary Norse Atlantic UK with $41 million.
Norse Atlantic has steadily grown to 468 employees, of which 323 are pilots and cabin crew. It has grown its fleet of leased Boeing 787-8s and -9s to eleven aircraft by the end of June and to thirteen by the end of August, with two more available via AerCap and BOC Aviation. Four Dreamliners have been sub-leased to Air Europa for eighteen months until the end of 202, possibly followed by a fifth aircraft from Q4. Subleasing will generate $40 million in lease revenues which help to partly compensate for the $908 million in total lease liabilities. The remaining two aircraft will join Norse in Q4.
Evaluating all routes
As said, the carrier seems to be looking at the winter period with some anxiety. "With the backdrop of high inflation in Europe and the US, continued high fuel prices and a reduction in the pent-up travel demand post-Covid, the coming months are expected to be challenging for the global aviation industry", it says in its results presentation. "Norse will be cautious with regards to its winter 2022 program and is continuously evaluating all routes. The Company is well positioned to take a careful approach to activating more aircraft as it continues to enjoy the benefits of flexible aircraft lease terms, including power by the hour and low lease rates."
For summer 2023, Norse expects to take advantage of an expected strong period, but it is too early to tell how the carrier will grow. The new airline expects to benefit from the partnerships with Norwegian, easyJet, and Spirit Airlines that were announced at the end of July. With the three airlines offering 600 weekly connections to Norse's network, this should generate a welcome stream of additional passengers.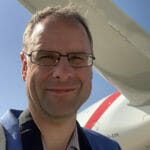 Active as a journalist since 1987, with a background in newspapers, magazines, and a regional news station, Richard has been covering commercial aviation on a freelance basis since late 2016.
Richard is contributing to AirInsight since December 2018. He also writes for Airliner World, Aviation News, Piloot & Vliegtuig, and Luchtvaartnieuws Magazine. Twitter: @rschuur_aero.