Norwegian has filed for bankruptcy protection for its Ireland-based subsidiaries and assets in Ireland in an attempt to restructure, attract new capital, and survive the Covid crisis, the airline announced on November 18. The move follows the refusal from the Norwegian government to back the airline with additional funding.
Parent airline Norwegian Air Shuttle (NAS) said it has sought an examinership process in Dublin for its Irish subsidiary Norwegian Air International (NAI) as well as its wholly-owned asset company Artic Aviation Assets DAC, which in turn is the parent of a number of its asset platform.
NAI used to operate a fleet of 24 Boeing 737-800s and has two MAX 8s. It started transatlantic operations from Scotland and Ireland in June 2017 until September 2019, when all operations were discontinued. Since then, NAI operated on behalf of the parent NAS.
In a press statement, CEO Jacob Schramm said: "Seeking protection to reorganize under Irish law is a decision that we have taken to secure the future of Norwegian for the benefit of our employees, customers, and investors. Our aim is to find solutions with our stakeholders that will allow us to emerge as a financially stronger and secure airline." For this to succeed, Norwegian targets "financially sustainable businesses to address elements of the business which require restructuring with the aim of protecting jobs and preserving the core value of the business." An Irish court has yet to appoint an examiner that will restructure the airline.
The decision to file for protection comes some two weeks after Norwegian had to swallow a bitter pill when the Norwegian government stated that it wouldn't financially support the airline beyond the NOK 3.0 billion that was provided last Spring. This aid program included government-backed loans, commercial loans, and the conversion of debts into equity which has given lessors a 53.1 percent share into the company.
"The fact that our government has decided to refrain from providing Norwegian with further financial support is very disappointing and feels like a slap in the face for everybody at Norwegian who is fighting for the company when our competitors are receiving billions in funding from their respective governments", Schramm said in a November 9-statement.
The same day Norwegian announced it would furlough another 1.600 employees as it requires the services of only 600 staff during the coming months. It will park fifteen of its 21 Boeing 737NGs that were active this Summer, trying to survive the Winter with a reduced domestic schedule. Prior to the Covid crisis, Norwegian employed 10.000 staff. In April, it closed crew units in Denmark and Sweden which affected 4.705 staff. The airline has a fleet of 140 737NGs and 787s.
Net loss year to date of NOK 6.4 billion
Norwegian reported a NOK -979.6 million Q3 loss, compared to a 1.673 billion profit in 2019. Revenues were down 91 percent to NOK 1.288 billion. In the first nine months, net loss stood at NOK -6.412 billion versus a 263.7 million profit last year, with revenues down by 76 percent to NOK 8.425 billion. A restructuring brought the airline NOK 18.2 billion in equity so far, of which 2.9 billion in Q3 thanks to more sale and leasebacks and power-by-the-hour arrangements.
While the filing only affects the Irish subsidiary of Norwegian, the future of the entire airline is at high risk. Norwegian hasn't flown in earnest since April and had planned to continue in hibernation mode until Spring 2021. It repeated its message from this Summer that it will need additional working capital in Q1 2021 which, if unsuccessful, will impact its ability to continue as a going concern. The November 9 government decision leaves it in an even more challenging situation, it says.
Not helpful is the intention by ultra-low-cost rival Wizz Air to enter the domestic Norwegian market.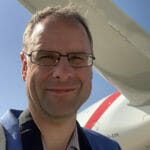 Active as a journalist since 1987, with a background in newspapers, magazines, and a regional news station, Richard has been covering commercial aviation on a freelance basis since late 2016.
Richard is contributing to AirInsight since December 2018. He also writes for Airliner World, Aviation News, Piloot & Vliegtuig, and Luchtvaartnieuws Magazine. Twitter: @rschuur_aero.