On the back of a Ps 73 billion ($1.5 billion) net loss for 2020, Philippine Airlines (PAL) is working on a "comprehensive restructuring" that should bring it back to profitability in the near future. The restructuring could include placing the airline under Chapter 11 bankruptcy protection, although the management of PAL Holdings was unwilling to disclose details when it presented its FY20-results on June 17.
The net loss of Ps 73 billion compares to a Ps 9.7 billion loss for the previous year. Gross revenues were down to Ps 55.263 billion from Ps 154.536 billion. Passenger revenues were down by 69 percent to Ps 41.860 billion as the airline was confronted with the suspension of services between March and May 2020 and many travel restrictions since then. It has resumed flights on most of its pre-pandemic routes.
Cargo revenues slightly improved by 0.4 percent to Ps 9.413 billion as PAL tries to capture a bigger part of the market. Expenses were down to Ps 81.840 billion from Ps 151.663 billion.
PAL's cash position severely deteriorated during the year, with cash and cash equivalents down from Ps 15.1 billion at the start to just Ps 2.4 billion at the year ending on December 31. To stop the bleeding, the airline needs to restructure and strengthen its capital structure and balance sheet. Its current solvency ratio of assets versus liabilities weakened from 1.02 to 0.77 percent while its debt ratio went up.
While not announcing any details of the restructuring plan except that they will once they are finalized, discussions are ongoing with shareholders and stakeholders. PAL Holdings is owned 76.9 percent by Manila-based LT Group, while All Nippon Airways (ANA) owns 9.5 percent. Chairman Lucio Tan has a 3.26 percent share in the airline.
Reduction of long-haul fleet imminent
Part of the comprehensive restructuring is a reduction of the fleet, which includes seventy aircraft including 39 single-aisle aircraft. PAL has currently parked 37. The newest are six Airbus A350-900s and eight A321neos. The fleet is a mix of owned and leased aircraft.
Bloomberg reported earlier that PAL is in talks with lessors to reduce the number of Airbus A350s by two to four. They have joined the airline since June 2018 and are all leased, with two each from SMBC, Avolon, and Goshawk Aviation. Four of them are parked.

PAL also wants to reduce the number of ten Boeing 777-300ERs from ten to six. Currently, seven are parked. The 777s were delivered between January 2010 and December 2017, with six sourced from lessors GECAS, Castlelake, Voyager, or AVAP.
As a leaner airline, Philippine Airlines intends to reduce its workforce by some 2.300 employees.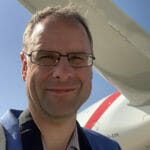 Active as a journalist since 1987, with a background in newspapers, magazines, and a regional news station, Richard has been covering commercial aviation on a freelance basis since late 2016.
Richard is contributing to AirInsight since December 2018. He also writes for Airliner World, Aviation News, Piloot & Vliegtuig, and Luchtvaartnieuws Magazine. Twitter: @rschuur_aero.