Landing on short, unconventional runways, such as motorways, is one of the skills that Swiss Air Force pilots traditionally practiced for.  Being, thus, ingrained in the country's air defence doctrine, STOL capabilities are something Swiss airmen are very familiar with.
And, while no one expects the latest product of the Swiss aerospace industry to make regular use of roads and motorways, the ability to land on very short runways and even on grass or dirt airfields is one of the most remarkable features of the new Pilatus PC-24 executive jet.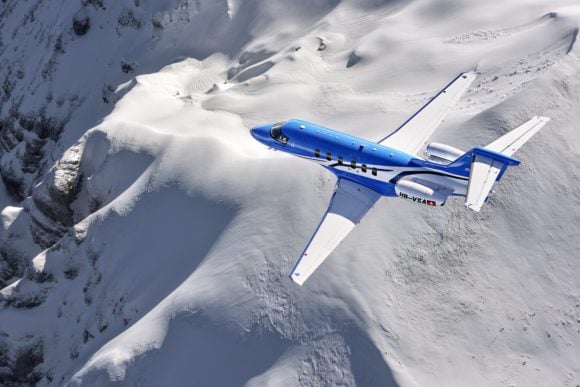 These were already some of the features of the Pilatus PC-12, a successful aircraft that has sold more than 1,500 units since its introduction in 1994.
In many ways, the PC-24 could be considered a conceptual and technical evolution from the PC-12, but unlike the former, it combines the ruggedness of a turboprop with the comfort and speed of a jet aircraft.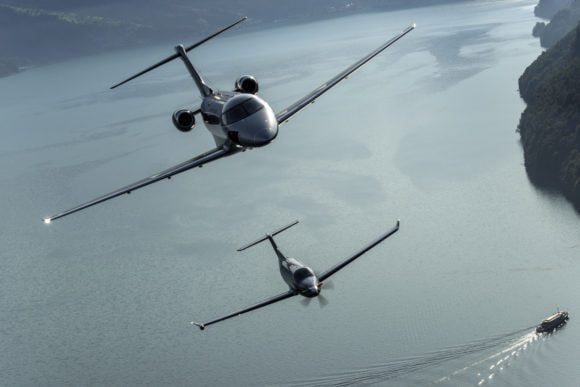 Getting into the jet market is quite a big step for a relatively small firm (by aircraft manufacturing volume, that is). So you better have a good unique selling point. And Pilatus seems to have found it.
The Swiss manufacturer has, in fact, redefined the market to create its very own category: the SVJ or Super Versatile Jet.  We had a chance to converse with Tom Aniello, Pilatus VP Marketing.
But what are the SVJ claims based on?
The rationale here is that with the PC-24 you can land in many more places than "traditional" business jets. Pilatus claims on its website that just by being able to land on a runway as short as 2,380ft (instead of the more typical 3,500ft), the PC-24 would give you access to some 1,000 additional airports around the World. Add in the capability to land on unpaved runways and this figure soars to 20,000.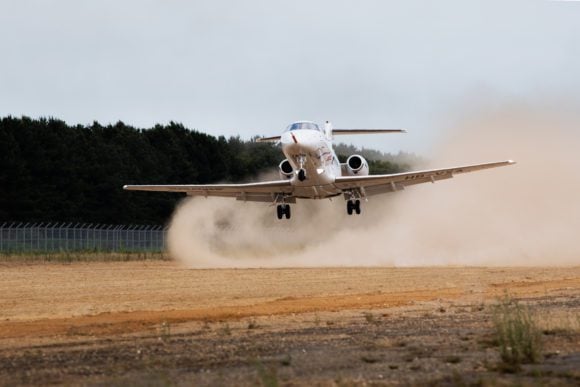 In fact, for some of the operators, these capabilities may even be essential.
"Australia's Royal Flying Doctor Service, for example, will able to accomplish many the same missions they use their PC-12s for today:  operating from dirt runways and sometimes even roads in the Outback.  Launch customer PlaneSense, the fractional provider based in Portsmouth, New Hampshire also plans to use the PC-24 to offer clients access to several grass runways which are much closer to popular destinations than traditional commercial or paved runway airports" explains Aniello.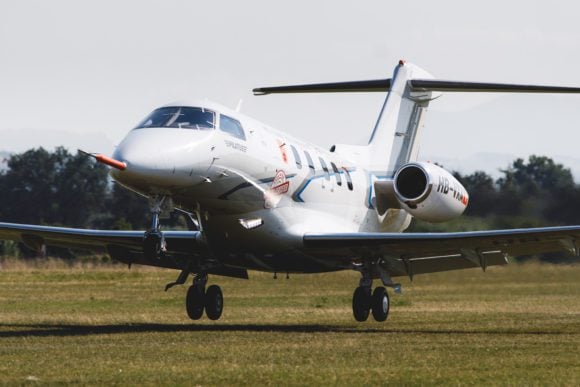 And how is this achieved?
The PC-24 wing, that integrates and blends five custom airfoil sections from centerline to wingtip, allows it to achieve a very low stall speed of just 81 KTAS, enabling low approach and landing speeds.
When it comes to operating safely in unpaved runways, there a number of issues that need to be taken into consideration:
One of them is the non-smooth surfaces you may find on the landing strip. In this regard, the PC-24 has a long-stroke trailing link landing gear that helps smooth out bumpy and uneven surfaces and lessen the forces which are transmitted into the aircraft structure.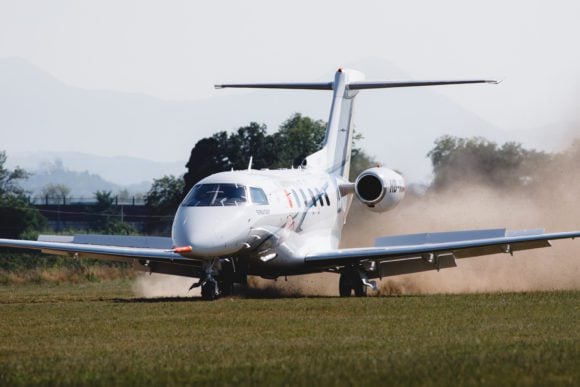 Loose debris is also a source of concern, as this can be kicked up by the aircraft's tires during takeoff or landing and ingested by the engines. The PC-24's engines are mounted high on the aft fuselage, with wing flaps helping shield the engines from any debris that might get kicked up by the main landing gear. The flap surfaces are themselves made of an abradable material that can easily be replaced in the field in case of damage.
The main wheels have, in turn, a dual-wheel design and operate with just 70 psi of pressure. This provides a measure of redundancy while preventing the aircraft from sinking into soft surfaces. The nose wheel is equipped with a chine, which directs water, dirt, gravel, and other debris to the side, for additional protection.
One more element that contributes to making dirt runway landings possible is the PC-24's low approach and landing speed, as it provides extra reaction time during approach and has, this way, less energy to dissipate when touching down, as well as a wider safety margin.
Some of these capabilities are more typical of turboprops, such as the PC-12, but this provides access to 1,000 additional airports compared to other aircraft of similar size, but if you count that it can land on unpaved roads, you rise the number of suitable airports to over 20,000.
While some of these capabilities are found in turboprops, the PC-24 is, of course, a jet aircraft and it can cruise at much higher speeds. It is, for example, at a cruise speed of 506mph is 50% faster than its PC-12 relative.
But it is not just about landing in difficult places.
The PC-24 has other interesting features, such as the fact it is certified to be flown by just one pilot (Pilatus takes pride in the simplified panel displays, that gather all relevant information in just four easy-to-monitor screens)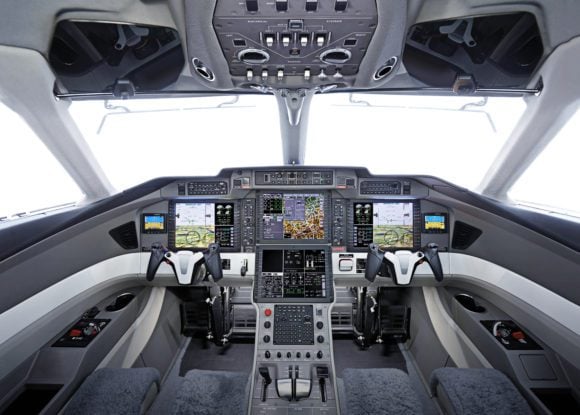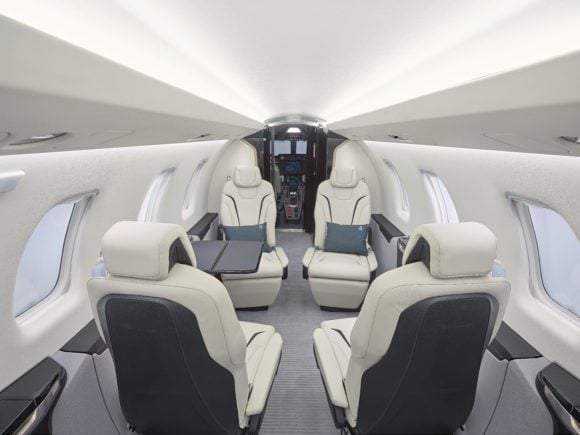 The cabin, for up to 11 passengers, is also designed with versatility in mind. The interior is the work of BMW Designworks, although it can be customized.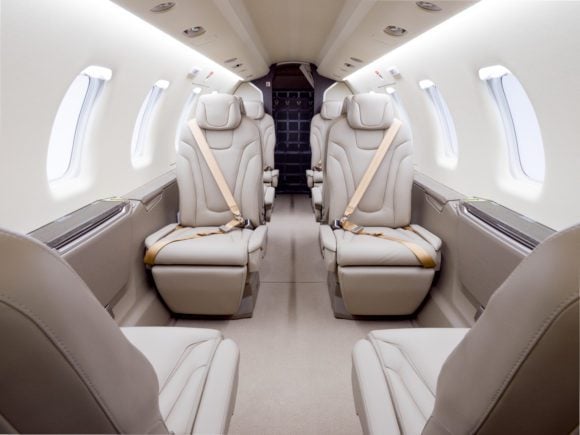 For example, Philippe Stark designed both the cabin interior and the exterior (below) of the first PC-24 delivered to Luxembourg-based Jetfly, the first European operator of the type.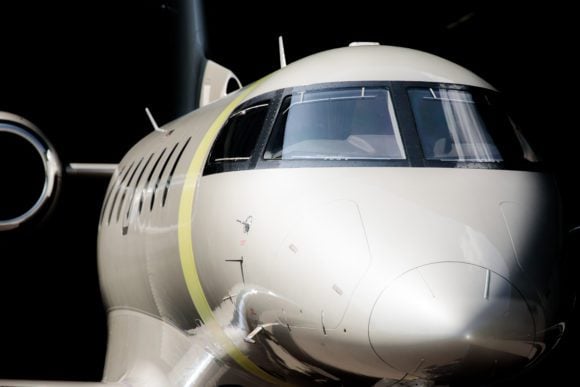 Although it may be a niche product, the PC-24 sales seem to be in line with the expectation the new model created. Pilatus is currently working to deliver the first production batch, of 84 aircraft, that sold out within 36 hours of the aircraft being present at EBACE 2014, in Geneva (that is 3 years worth of production!). The order book will not reopen until 2019 when Pilatus will start taking new orders. The catalog price tag? Around $8.9M.
The expectation is to produce 40 to 50 aircraft per year, as Pilatus prefers to smooth out production over many years, rather than rushing to serve peaks of demand. All aircraft are assembled in Stans, Canton Nidwalden, Switzerland, but those destined to clients in the North and South America are then flown to Pilatus' facility in Broomfield, Colorado, for interiors completion and customization and getting the final layer of paint.