Qantas will reduce costs in the next three years by $15 billion, including the reduction of 6.000 jobs and parking of some 100 aircraft for the coming twelve months. All twelve Airbus A380s will enter deep storage until at least mid-2023, the airline announced on June 25.
Qantas has seen the effects of Covid-19 worsen over the last two months. What was hoped to be a short but deep cut in demand pans out to be a prolonged crisis that especially hurts its long-haul business. Last week, media reported long-haul traffic was to be remain suspended until October. Today, CEO Alan Joyce said he expects long-haul to be virtually non-existent until at least mid-2021 and remain at 50 percent capacity for 2021-2022. Domestic traffic has slowly opened up in the last few weeks again as states have opened their borders. Domestic accounted for two-thirds in revenues before Covid-19.
International has surplus capacity
This means Qantas International business has surplus capacity. Most of the 28 Airbus A330s and 11 new and efficient Boeing 787-9s will return to service as soon as demand picks up. The Dreamliners will be used more and more on non-stop services.
This leaves the airline with some 100 aircraft that will remain grounded for the next year. Some aircraft will be returned to lessors as contracts expire.
All remaining six Boeing 747-400s have been retired immediately, but actually they did their last services late March.
Deliveries of the final three 787-9s on order and all 64 Airbus A321neo's have been renegotiated and deferred until further notice. Qantas doesn't mention the 45 A320neo's that are also on order.
The Airbus A380 is too big for Qantas' needs, so all twelve aircraft will go into deep storage in the Mojave desert in the US until at least mid-2023. The speed at which long-haul recovers will determine their fate, but Joyce doesn't rule out that six A380s that still need a cabin refurbishment might not return to service at all. One (OQI) currently is in Dresden for modifications.
Qantas will take a $1.25 to 1.4 billion charge on the value of the A380s, spares, and engines in its FY20-results.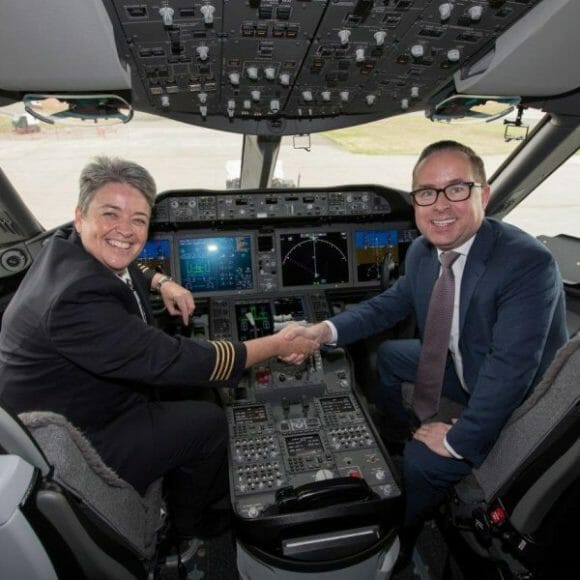 Alan Joyce (right) on board a 787-9: the type will form the backbone of limited long-haul services. (Qantas)
Huge impact on staff
The cost saving-plan has a huge impact on Qantas' 29.000 staff. Of them, 8.000 are expected to have returned to work in July and to 15.000 by the end of the year and 21.000 by June 2022. The airline expects 15.000 staff to stand down, take up unpaid leave, or annual leave.
In total 6.000 staff will be made redundant across all divisions of Qantas and subsidiary Jetstar: 1.450 in non-operational positions, 1.500 ground staff, 1.050 cabin crew, 220 pilots, and 630 in engineering. This includes staff who have worked on the 747-fleet. Some 6.900 cabin crew and 2.900 pilots will be on stand down from July. More jobs will be lost with contractors.
Restructuring costs this year are expected to be $600-700 million, almost as much as the $550-600 million in inefficient fuel hedging this year as fuel was contracted for flights that haven't operated. Total restructuring costs for FY20 are expected to be $2.8 billion, with another $1 billion for 2021.
In total, Qantas expects to save $1 billion from 2023 and beyond.
"We have to position ourselves for several years where revenue will be much lower. And that means becoming a smaller airline in the short term. Adapting to this new reality means some very painful decisions. The job losses we're announcing today are confronting. So is the fact thousands more of our people on stand-down will face a long interruption to their airline careers until this work returns", said Alan Joyce. "What makes this even harder is that right before this crisis hit, we were actively recruiting pilots, cabin crew, and ground staff. We're now facing a sudden reversal of fortune that is no one's fault, but is very hard to accept."
Qantas also announced a recapitalization plan and intends to be $1.360 billion in fully underwritten placements to institutional investors plus $500 million in non-underwritten shares offered in a shares purchase plan to interested shareholders in Australia and New Zealand until July 22. Proceeds will be used to strengthen Qantas' balance sheet. After placement of the underwritten shares, Qantas will have strengthened its liquidity position to $4.6 billion, including $1 billion in undrawn facilities.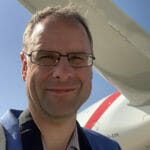 Active as a journalist since 1987, with a background in newspapers, magazines, and a regional news station, Richard has been covering commercial aviation on a freelance basis since late 2016.
Richard is contributing to AirInsight since December 2018. He also writes for Airliner World, Aviation News, Piloot & Vliegtuig, and Luchtvaartnieuws Magazine. Twitter: @rschuur_aero.