The recovery of air travel in Europe is still a long way off 2019 levels. It could take until 2024 or even 2025 before it returns to pre-Covid levels. On May 21, Eurocontrol has provided an updated forecast which is more pessimistic than the last one of November. 
Eurocontrol has taken a look at domestic and international traffic in Europe. Between January and April this year, there were 65 percent fewer flights compared to the same period of 2019. This is worse compared to the three scenarios of last November. Assuming vaccinations would have rolled out successfully by this summer, traffic was expected to be at -59 percent. The actual number of -65 percent falls between two other scenarios of -66 and -60 percent, depending on the level and time of vaccination rollout.
Taking into account a set of factors like the effectiveness of vaccines, mutations, herd immunity, travel restrictions, and green lists, Eurocontrol has come up with four scenarios for air travel recovery in Europe.

1 – The first scenario counts on a successful and rapid vaccination this summer in Europe and elsewhere. The low-cost airlines are likely the first to notice pent-up demand and will respond swiftly, while some long-haul traffic will resume. In this scenario, full recovery to pre-crisis levels will happen in 2024.
2 – In the second scenario, vaccination will take longer and travel restrictions will not be lifted until summer 2022. Traffic will reach 95 percent of 2019 levels in 2024, with a full recovery only in 2025. This is the most likely scenario given the current state of vaccinations.
3 – The third scenario takes low vaccination and lingering infections into account, resulting in low passenger confidence and traffic that stops at 74 percent in 2024. It could take ten years to 2029 before the 2019 levels are met.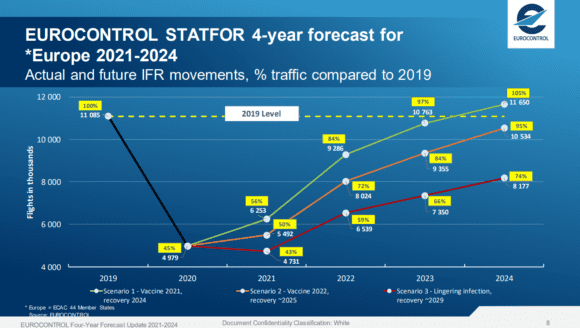 While domestic travel in the US has recovered since April, the situation in Europe remains uncertain. Low-cost airlines Ryanair and easyjet both said this week that they had difficulty in reading the situation beyond June. They hope traffic levels will improve, but made very conservative capacity projections of twenty percent (Ryanair) and fifteen percent (easyjet) for the June to September period. At the same time, airlines see strong demand for traveling which could get a boost when EU citizens can use the digital passport from July 1 that has been approved by member states this week.  
Eurocontrol Director General Eamonn Brennan remains cautious when looking ahead: "We're heading into summer 2021 and most restrictions are still in place despite encouraging progress on the vaccination front. So while we are anticipating an uptick in summer traffic, our most likely medium-term scenario envisages a coordinated lifting of restrictions by Q1 2022 between regions, which facilitates more long-haul travel. We'll probably have around fifty percent of 2019 traffic for all of 2021 (5.5 million flights). By the end of next year, traffic will only have recovered to 72 percent of 2019 levels, and will only get back to close to where we were pre-pandemic by 2025."
In April, IATA forecasted that airlines would suffer combined losses of $47.7 billion in 2021. The association counted on the recovery of short-haul/domestic travel in 2023 and long-haul in 2024. On many times, IATA has called on governments to reopen borders, offer pre-departure testing, and the introduction of digital travel passes.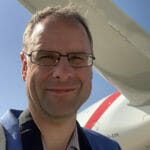 Active as a journalist since 1987, with a background in newspapers, magazines, and a regional news station, Richard has been covering commercial aviation on a freelance basis since late 2016.
Richard is contributing to AirInsight since December 2018. He also writes for Airliner World, Aviation News, Piloot & Vliegtuig, and Luchtvaartnieuws Magazine. Twitter: @rschuur_aero.