Open up the world to unrestricted air travel with reliable pre-flight Covid-testing and facilitate travelers by offering them the latest and easy to use app-technology. Already in the last few months, this has been the message of IATA, but it has also been the central theme of this week's Annual General Meeting (AGM). Borders should reopen quickly and with the right set of tools available, there is no reason to keep them closed until a vaccine becomes available.
After last year's optimistic AGM in Seoul – where the airline industry celebrated the first decade with a profit -, IATA has scheduled the meeting for June in Amsterdam. But then Covid interfered, causing the 76th AGM to be postponed to this week and into a virtual event only. "Let's hope this will be the only virtual AGM in the history of IATA", Director General and CEO Alexandre de Juniac stated.
Airlines face $-118.5 billion loss in 2020
Since Covid developed from a Chinese/Asian issue into a global pandemic, IATA has continuously updated its forecast on the impact the resulting travel restrictions and outright lockdowns would have on the industry. From a projected $-29.3 billion loss in revenues in February and a $-84.3 billion net loss in June, Chief Economist Brian Pearce said today the industry is set for a $-118.5 billion net loss in 2020 or $66 per passenger.
The loss should improve to a combined $-38.7 billion next year but that is conditional on testing and the availability of vaccines. Passenger numbers will drop from 4.5 billion in 2019 to 1.8 billion this year, bringing the industry back to 2003 levels. The forecast for 2021 is for 2.8 billion passengers.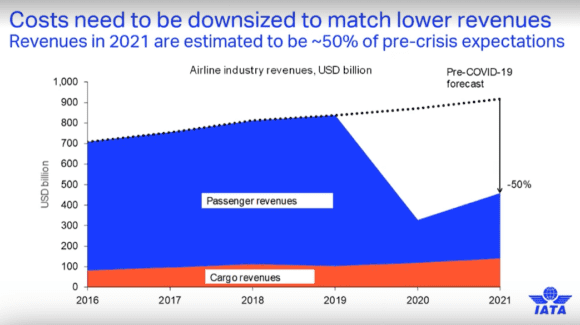 Revenues will be down from $838 billion to $328 billion this year and are expected to recover to $459 million in 2021, which still is 50 percent below pre-Covid levels. Revenues per Kilometres will be down 66 percent this year, with business travel not expected to resume any time soon, hurting airline yields. Cargo will be a driver of revenues as capacity lags behind, driving yields up.
Cash burn is expected to become cash positive by Q4 2021 but in the coming Winter, airlines will still burn some $80 billion in cash. On average, airlines have $8.5 billion in cash reserves, but Pearce warned of airline failures if the current difficult situation continues, especially in regions with limited government aid like Latin America. He expects more consolidation within the next two years to happen, both through airline failures and mergers. "The next twelve months will be all about generating cash positive flights", Pearce said.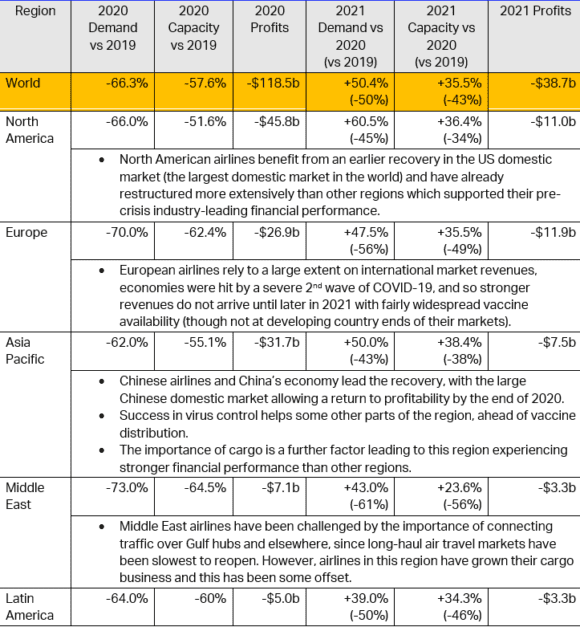 IATA's projections for 2020 and 2021 per region.
Since July, there has been a recovery in traffic and capacity, notably in domestic China and Russia, but most regions and notably Europe have suffered from second or even third Covid-waves and lockdowns. International traffic has stalled during Q4, knocking down any recovery realized up to then. IATA Chairman Carsten Spohr remarked that 221 countries have applied travel restrictions: "I didn't know there were so many. And we as an industry have to operate in this environment."
Full-year traffic is expected to be at just 33 percent of 2019 levels, De Juniac said, with a recovery to 50-60 percent forecasted for 2021. A full recovery to 2019 RPK-levels won't happen until 2024, depending on the success and distribution of vaccines. North American airlines, by tradition the strongest financially, will be able to recover the quickest already 2021.
So far, airlines have received $173 billion in direct or indirect state aid but De Juniac stated that the industry needs another $80 billion to survive the coming months, which by tradition are the weakest for carriers in the northern hemisphere. Brian Pearce explained that government aid and cash raised through capital markets have increased airline debts by $220 billion to $651 billion, which will take years to be repaid hurting their ability to invest in fleet renewal. In a resolution, IATA urged for government relief for airlines.
Bring on the vaccines
The industry is excited by the progress that has been made with vaccines, which IATA hopes will have become available at a large scale before next Summer. The world is eager to have them work, but waiting for everyone to have been vaccinated will take too long for the airline industry to survive. "The good news from vaccines should not distract from the need to activate testing fast. We can't afford to wait for a majority of people to receive a vaccine before we reopen our borders. We must start reopening now without delay", De Juniac said, adding that people wish to travel.
Hence IATA's renewed call on systematic pre-flight testing to open borders without quarantine, which De Juniac has been advocating since September. Recovery in some Latin American countries confirms that testing has boosted traffic.
While Qantas' CEO Alan Joyce said earlier this week that his airline will most likely require proof of vaccination from passengers once it restarts international services from mid-2021, IATA says that for now reliable testing already reduces risks of further spreading the virus. To prevent travelers from boarding an aircraft with fake test results, the lobby organization supports the development of a digital Travel Pass that provides travelers and authorities with reliable and checked information.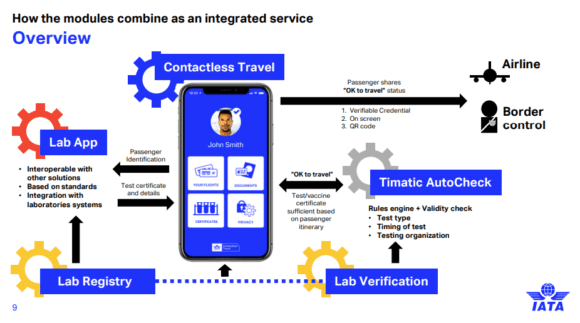 A graphic explaining the Travel Pass concept. (IATA)
The Travel Pass presented on Monday is a much-enhanced version of the VeriFLY app recently announced by American Airlines. Before traveling, passengers will be able to find all information on requirements specific to their journey. With this information, they can find a laboratory for testing or vaccination. Authorized laboratories will securely share certificates with passengers inside the digital passport, which can be used for contactless traveling at airports.
The pass, which uses experience gained with IATA's Timatic (for travel documents) and One ID apps, will be further tested before the end of this year. In Q1 2021, a trial will be done in cooperation with International Airlines Group (IAG), which includes British Airways, Aer Lingus, Iberia, Vueling, and LEVEL. The Travel Pass will play a key role in regaining confidence with the flying public. In any case, IATA says passengers should be wearing face masks on board wherever they go.
7.000 747s needed to distribute vaccines
And then there is another aspect to the crisis IATA is eager to address: the distribution of millions of vaccines across the world. It will take some 7.000 Boeing 747s to do this job done, Pearce said. As they aren't available, all belly cargo capacity should be put to use to do the job.
In conjunction with ICAO, freight, and pharmaceutical organizations, a guide has been released to ensure that the air cargo industry is ready for what De Juniac called "probably the biggest airlift in history." Not only this calls on cargo operators to provide the necessary aircraft but also on distributors to have sufficient temperature-controlled storage facilities, as vaccines like that supplied by Pfizer require -70 degrees Celsius storage.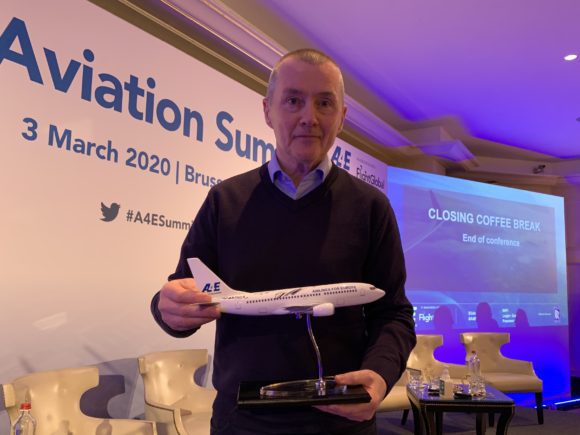 IATA's new Director-General, Willie Walsh. (Richard Schuurman)
Apart from Covid, the AGM accepted a resolution that reaffirms the industry's objectives of meeting environmental and sustainability targets. This includes a reduction of CO2 by 50 percent of 2005 levels in 2050 and the transition to sustainable aviation fuels at competitive prices. This should remain a top priority, Spohr said, especially as the industry continues to be criticized for not doing enough to meet emission issues. In order to succeed, governments should avoid imposing taxes and charges.
Willie Walsh succeeds De Juniac as Director-General
This year's AGM has been the last for Alexandre de Juniac as Director General and CEO. Already earlier this year, he expressed his wish to step down from his position which he has held since joining IATA from Air France-KLM in September 2015. The AGM unanimously approved the recommendation of Willie Walsh as his successor from April next year.
Walsh has been CEO at Aer Lingus and British Airways before and led IAG since its formation in 2011. He was supposed to retire last May but continued to offer his experience during the Covid crisis until stepping down at September's AGM. At last March's Airlines 4 Europe Aviation Summit in Brussels, he stressed he would no longer seek any role within the aviation industry. Indeed he joined Car Trawler the same month but the former airline pilot has now been called by his former colleagues to fight on their behalf again once more. "We need a strong aviation body", he said in a short acceptance message. "We must be relevant and we must add value to you. (…) Those who know me should judge me by my actions."
While De Juniac has worked effortlessly and hard to make IATA stronger, there seems no denying that Walsh will be the better communicator of the two as he never shied away from outspoken one-liners.
Although De Juniac went out with a nice one too: "Our industry is on fire and we need every ounce to quench the fire."
The next AGM is scheduled in Boston on 27-29 June 2021.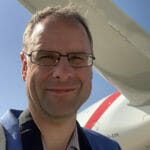 Active as a journalist since 1987, with a background in newspapers, magazines, and a regional news station, Richard has been covering commercial aviation on a freelance basis since late 2016.
Richard is contributing to AirInsight since December 2018. He also writes for Airliner World, Aviation News, Piloot & Vliegtuig, and Luchtvaartnieuws Magazine. Twitter: @rschuur_aero.