The international airline industry is set for a combined net loss this year of $-47.7 billion. While that's an 'improvement of last year's $-126.4 billion, it is a clear demonstration of the continued difficulties within the airline market, IATA said on April 21 in its latest financial outlook. In short: IATA is expecting more gloom for airlines.
Airlines are expected to burn another $81 billion in cash this year, on top of $149 billion last year. "This crisis is longer and deeper than anyone could have expected. Losses will be reduced from 2020, but the pain of the crisis increases", says IATA's new Director-General, Willie Walsh, who started his role on March 1 as successor to Alexandre de Juniac. Passenger revenues should be $231 billion, an improvement of last year's $189 billion but far down from the $607 billion in 2019.
As previously confirmed by Chinese airlines and is reflected in the latest Q1-results from some leading US carriers, the recovery is most evident in the domestic segment. IATA is expecting traffic measured in Passenger Revenu Kilometers (RPK) to almost fully recover to pre-Covid levels at 96 percent, which is a 48 percent improvement over last year.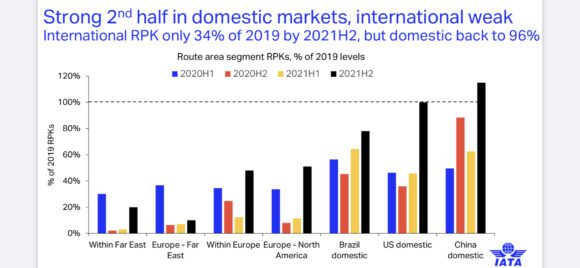 Forecast for the recovery of international and domestic air travel. (IATA)
For the second half of 2021, IATA is projecting full recovery of domestic air travel in the US and even a surge in China to 110 percent. That might be optimistic, as China domestic dropped to 60 percent in the first months after hitting over 80 percent in the second half of 2020. Brazil could see a recovery to some 80 percent, but this depends on the outcome of the current and very aggressive wave of Covid. Europe is lagging behind and will remain at only 50 percent of 2019 levels as restrictions continue. This will also hurt transatlantic traffic, which was expected to reopen last December but is now looking at May at the earliest.
Recovery international traffic lags behind
For international traffic, IATA expects more gloom. In the first two months, it was 86.6 percent below 2019 levels. With more vaccinations and the lifting of restrictions, this should recover to -66 percent of pre-crisis levels or 34 percent but this means there will be zero growth over 2020. Summer flying will be more limited than anticipated. "At this stage, we have not written off 2021, as the vaccination forecasts suggest some advanced economy markets should be able to open and anticipate a strong fourth quarter as a result", IATA says in its analysis. RPKs for the full year are expected to end at 43 percent instead of the previously expected 51 percent.
Cargo is at a different level. Until passenger traffic fully recovers – especially long-haul – and cargo capacity is limited, it will push rates up and produce higher yields. Revenues are expected to reach a record-high $152 billion, up from $128 billion last year. This accounts for one-third of all airline revenues. As Air France-KLM's Ben Smith and Emirates Tim Clark confirmed at this week's online World Aviation Festival, their airlines have been able to continue some passenger services only because they were cash positive thanks to cargo.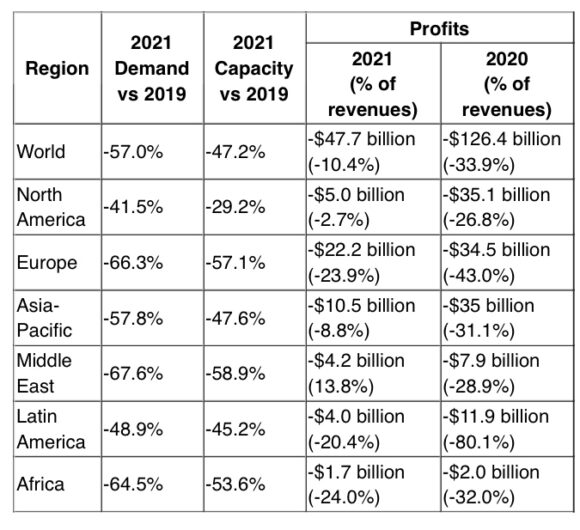 Financial outlook showing what to expect in which region. (IATA) 
Looking again by region, financial losses will be the highest in Europe ($-22.2 billion), followed by Asia Pacific ($-10.5 billion), North America ($-5.0 billion), the Middle East ($-4.2 billion), Latin America ($-4.0 billion), and Africa ($-1.7 billion).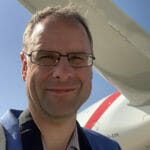 Active as a journalist since 1987, with a background in newspapers, magazines, and a regional news station, Richard has been covering commercial aviation on a freelance basis since late 2016.
Richard is contributing to AirInsight since December 2018. He also writes for Airliner World, Aviation News, Piloot & Vliegtuig, and Luchtvaartnieuws Magazine. Twitter: @rschuur_aero.