Despite a €57 million second-quarter operating profit, results of Wizz Air remain under pressure. The ultra-low-cost airline expects current market conditions with low fares and yields to result in a third-quarter loss of around €200 million that will most likely extend into the fourth quarter, it reported on November 4. Results Wizz Air under pressure despite strong Q2.
While Wizz Air returned to 2019 pre-Covid levels and flew close to ten million passengers at 98 percent capacity and an 84 percent load factor in August, the continued impact of the virus and travel restrictions dictate the market situation. Demand for the peak holiday season is strong but weak in the off-season. Like its competitor Ryanair said earlier this week, demand needs price stimulation by offering extra-low ticket fares. Especially premium and commodity markets are volatile and are impacting the airline's financial performance and unit costs, CEO Jozsef Varadi said.
HY1 loss of 120.9 million
The Central European carrier reported a €120.9 million net loss for its first six months of the financial year 2022, compared to €-243.1 million between March and September last year. The operating loss was €51.9 million compared to €-245.6 million. Revenues increased to €880.4 million versus €471.2 million. Ancillary revenues were actually higher at €466.6 million than passenger revenues, confirming a trend since FY21. The average revenue per passenger was €70.5, a decrease of 3.1 percent. Wizz and Wizz Air Abu Dhabi flew 12.5 million passengers in HY1, of which 9.5 million alone in Q2. In Q1, Wizz reported a €114.4 million loss.
Rising fuel prices didn't have an impact on Wizz in the first six months. On the contrary, the airline benefitted from a gain of €4.3 million on discontinued hedges. Its fuel bill was 3.2 percent lower to €256.9 million compared to the previous year. Wizz hasn't hedged fuel anymore after deciding in June to adopt a 'no hedge' policy against the US Dollar and jet fuel prices after evaluating costs and benefits. This could be a risk if fuel prices remain high.
Wizz's financial position remains strong, with €1.7 billion in total cash by the end of September, up 3.3 percent over March. Total borrowings stand at €3.4 billion.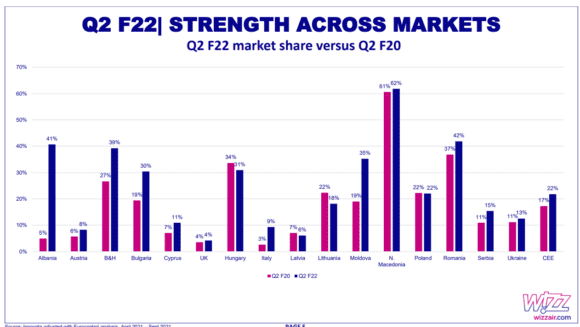 Wizz has strengthened its market share in most markets it is serving.
Wizz Air continues its unabated growth strategy. In the past six months, it opened new bases in Italy and has positioned four aircraft in Rome and two each in Naples and Venice. This helped to grow its market share in Italy from three to nine percent.

Despite foregoing its attempts to enter the Norwegian domestic market, it continues to base four aircraft in Oslo. Basis in Tirana, Sarajevo, Skopje, and Vilnius will be reinforced with one additional aircraft at each base, bringing the total number of aircraft in this region to sixteen. The UK will also be further developed but this depends on getting slots at London Gatwick.
Wizz Air will have 44 bases next summer and operate 1.155 routes, chasing opportunities as other carriers reduce the capacity for next year.
Abu Dhabi is now coming into full swing as the Gulf region has relaxed travel restrictions, finally allowing its subsidiary to grow its potential since the delayed start last year. Wizz has announced the launch of seven new routes out of Abu Dhabi for the coming weeks to Sarajevo, Odesa, Muscat, Almaty, Sohag, Baku, and Kutaisi. In the coming months, Alexandria, Belgrade, Kyiv, and Tirana will be added while flights out of Hungary will connect via Abu Dhabi instead of via Dubai from next April.
Ukraine to be the next big market
The next battleground will be Ukraine. Thanks to the new Open Skies agreement between the EU and Ukraine that was signed in October, the market is now open for more competition. Wizz will use this opportunity to base another seven aircraft there from summer 2022. Five additional aircraft in Kyiv bring the fleet there to eight, while Lviv will get two extra Airbus A321neo's to get to three based aircraft. That Ukraine will become a battleground was confirmed by Ryanair's Michael O'Leary on November 1, when he announced that the Irish carrier will also reinforce its presence here.
Wizz Air ended the second quarter with a fleet of 144 Airbus A320ceo and neo-family aircraft, having taken delivery of thirteen A321neo's in this first half year and redelivered six A320neo's that had been in storage. The fleet will grow to 170 aircraft by September next year as it has advanced deliveries of new ones and has extended the short-term lease of existing aircraft. The average seat count will grow to 216 next summer as more A321neo's come in and to 225 in FY24.

Long-term, Varadi repeated his remarks from June that Wizz plans to grow its fleet to some 500 aircraft by the end of the decade. Half of them will be based in its Central East European markets, which will require further growth in this region. 
Wizz to recruit 2.700 new staff to prepare for growth
To prevent any short-staffing issues in Q1 and Q2 from happening again and to prepare for growth, the carrier has started rehiring cockpit and cabin crew after laying of twenty percent in March 2020. It wants to bring its workforce to 6.700 next summer, more than the 5.000 it had at the high point in 2019 and 4.000 at the low point during the pandemic.

Varadi said that it is more difficult to attract cabin crew than pilots as they have more options elsewhere, but the carrier succeeded in hiring 800 cabin crew in the past months. It has reinstated seventy percent of the 300 pilots that were laid off at the start of the pandemic. Wizz continues to organize its workforce through its own contract model instead of through union representation as it thinks this suits it best.
Despite a strong Q2, Wizz's results will remain under pressure in HY2. The expected Q3 loss of €200 million, which compares to €-142 million last year, is driven by three factors, said CFO Jourik Hooghe. First, the overall trading environment with very short bookings requires price stimulation but lowers revenues per seat kilometer. Second, a headwind in a volatile commodity market. And third, the suboptimal productivity of its fleet and crew with higher crew costs per kilometer. This makes the current FY22 a year of transition, but from spring 2022 (FY23), Wizz should be fully ramped up and operate at peak levels "to make sure we deliver fifty percent growth compared to pre-pandemic levels", said Varadi.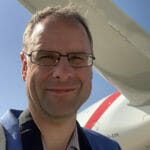 Active as a journalist since 1987, with a background in newspapers, magazines, and a regional news station, Richard has been covering commercial aviation on a freelance basis since late 2016.
Richard is contributing to AirInsight since December 2018. He also writes for Airliner World, Aviation News, Piloot & Vliegtuig, and Luchtvaartnieuws Magazine. Twitter: @rschuur_aero.