Spirit AeroSystems has started preparing for higher production rates of the Boeing 737/MAX and Airbus A320neo family programs. It is working towards a rate 42 per month in October for the 737/MAX, although Boeing currently keeps its own production at 31 per month for the time being. Rates for the Airbus A320neo will also go up, the Tier 1-supplier said on February 7 during its FY22 earnings call. Spirit AeroSystems prepares Boeing 737/MAX production for rate 42.
Spirit expects to produce about 420 shipsets for the Boeing 737/MAX this year, which compares to 281 in 2022. This year's number includes twenty shipsets that were behind schedule in 2022 due to parts shortages. Spirit maintains a buffer of around ninety fuselages, but this will come down in the next year.
Production of the Airbus A320neo should be between 650 and 680, up from 591 last year, and that for A220s of around eighty. The target for the A350 is about sixty units, which compares to between forty and 45 for the Boeing 787.
The higher rates should be feasible despite volatilities in the supply chain. Although they are not gone, CEO Tom Gentile noted that Spirit and the industry have made progress last year. "Part shortages are still higher than what they should be, but are less than half of what they were in 2022. But we have to stay laser-focused on that." Spirit produced forty 737/MAX in December and 33 again in January, so it makes Gentile confident that sustainable rates are possible.  
Realizing higher rates is one of three priorities of Spirit AeroSystems which also includes improving quality and maintaining safety, and reducing structural costs. Higher rates will help to reduce structural costs and get the 737/MAX to break even, but with fixed-priced contracts in place until 2033, it needs to find savings elsewhere. Gentile admitted that costs currently are putting pressure on the program due to high due to overstaffing, but once stability is brought back to the factory, this will result in breaking even.
A third priority is to re-energize the workforce. The company is accelerating the hiring of new staff that was started in Q4, especially for the 737/MAX, which resulted in higher expenses. This is done now so that they are trained for two rate breaks, the first to 38 in August and another one to 42 in October. These incremental rates should prepare Spirit for rate 52 that Boeing has planned for 2025. To some concern, Gentile noted higher than expected attrition rates of new staff. At the same time, Spirit has taken initiatives to reduce headcount by some 1.000 in indirect positions through a combination of reductions, attrition, and closing hiring acquisitions.
FY22 results
The fourth quarter of 2022 saw revenues grow to $1.320 billion from $1.070 billion. This is thanks to higher production and more deliveries of shipsets. The number of Boeing 737/MAX fuselage barrels deliveries grew to 81 from 51 in Q4 2021. The 767 saw eight deliveries (2021: seven), the 777 seven deliveries (five), and the 787 seven (six). Deliveries to Airbus included 144 A320neo-family shipsets (136), fourteen A220s (thirteen), eleven A350s (ten), and eight A330s (five). Including 63 deliveries to Bombardier, this brought Q4 deliveries to a combined 343 versus 277 the year before.
For the full year, Spirit AeroSystems delivered 282 737/MAX shipsets compared to 162. This also includes higher production for the P-8A. 2022 saw the delivery of the final 747 shipset compared to six in 2021. Spirit delivered 31 767 shipsets (34), 26 777s (23), and twenty 787s (37). Airbus took delivery of 591 A320neo-family sets (467), sixty A220s (fifty), 27 A330s (twenty), and 48 A350s (42). Total deliveries for last year were 1.297 versus 1.022.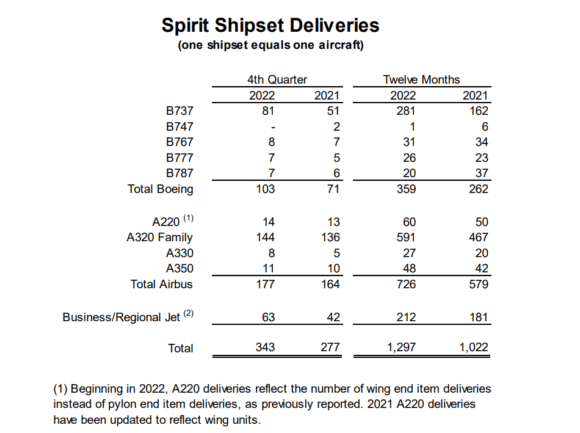 Higher deliveries pushed full-year revenues to $5.030 billion from $3.953 billion. The operating loss was $-281.2 million, an improvement over $-459.6 million in the previous year. The net loss was $-545.7 million versus $ -540.8 million. Not just Commercial performed better, so did Defense & Space and Aftermarket. Commercial produced $4.068 billion in annual revenues ($3.128 billion) and a net loss of $-82.9 million ($-220.6 million). The consolidated order backlog grew to $37 billion.
In Q4, the operating loss of $-138.8 million versus $-79 million in 2021 includes higher changes in estimates and the absence of income from the Aviation Manufacturing Jobs Protection program that was available during the Covid crisis. Consolidated excess capacity costs were $31.2 million, of which $29.7 million at Commercial, or $157.3 million for the full year ($217.5 million).
Forward losses on the A350 and 787
In Q4, Spirit booked $113.7 million in net forward losses related to the A350 and 787 programs as both suffered of some problems. Of this, $67 million was on the A350, which reflects additional costs "related to labor, freight, and rework resulting from production and manufacturing quality issues as well as parts shortages." The transfer of parts from an external supplier to Spirits' own facilities and the ramp-up of production put the program behind schedule. "We have initiated our recovery plan, however, recovery costs included expediting components to support our customer's production, resulting in an additional forward loss", Gentile said.
The forward loss on the Boeing 787 program was driven by increased cost estimates related to production and rework requirements. The 787 is now produced according to Boeing's new build process to address the fit and finish requirements for all partners on the program. Gentile said that Spirit identified that newly produced sections require more labor per unit than was expected, which drove the forward loss in Q4. It is also taking longer to rework the 100 stored 787s.
Unfavorable cumulative catch-up adjustments of $58.7 million relate primarily driven by the 737/MAX (supply chain disruptions and costs related to higher rates) and A320 programs (operational and supply chain disruptions and increased material, freight, and labor costs). Full-year, the net forward loss charges totaled $250.3 million and also include rework costs on the 787 and quality issues on the A350. Unfavorable cumulative catch-up adjustments were $27.7 million.
Free cash flow was $-516 million compared to -214 million. While cash used in operations in Q4 was lower ($27 million, down from $77 million), full-year cash use was $395 million ($63 million). This includes $123 million in repayment to Boeing of advanced payments Spirit received in 2019. The company ended the year with $659 million in cash, down from $1.479 billion twelve months earlier. Total debt was slightly up to $3.869 billion from $3.792 billion.   
Thanks to higher production rates, and a benefit from a pension plan, Spirit AeroSystems targets free cash flow to break even in 2023. The first quarter will be the weakest, but Chief Financial Officer Mark Suchinski remarked that several key factors have improved over the past two years to bodes well for this year.
In closing remarks, Tom Gentile said that he is actually happy that Boeing said it will not launch a new aircraft until the mid-2030s. "This is good news for Spirit since the MAX and all the other Boeing programs will continue for many years to come. Boeing's announcement that they will start a fourth 737/MAX line in Everett highlights their commitment to increasing rates of the MAX, Spirit's biggest and most profitable program."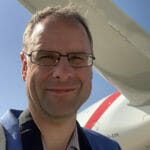 Active as a journalist since 1987, with a background in newspapers, magazines, and a regional news station, Richard has been covering commercial aviation on a freelance basis since late 2016.
Richard is contributing to AirInsight since December 2018. He also writes for Airliner World, Aviation News, Piloot & Vliegtuig, and Luchtvaartnieuws Magazine. Twitter: @rschuur_aero.