Norwegian is being watched closely by the entire OEM, leasing and airline industry.  IAG sold off its stake in the airline after it rebuffed a takeover deal. Norwegian recently had to enter an emergency rights issue to avoid breaching a bond covenant.  The share price chart tells its own story.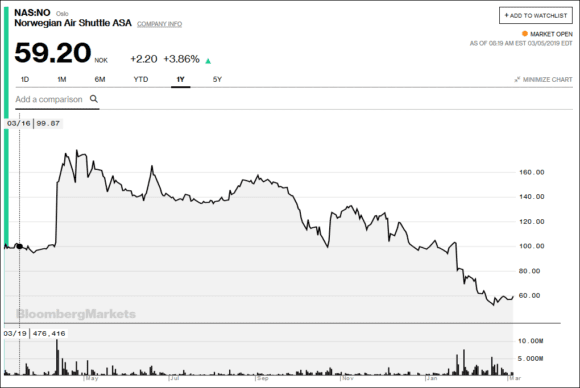 With all the uncertainty, there is one thing the airline unquestionably did right. And that was ordering 100 Airbus single-aisle aircraft in 2012.   Those were heady days when Norwegian seemed to do everything right. The first A320neo was due to be delivered in 2016. In 2016 the airline decided to convert some of those Airbus orders to the A321LR. If the initial A320neo order was smart, then the A321LR selection was positively prescient.
The market today wants any A320neo it can get. And it wants the A321LR even more. Norwegian's order slots are hot properties now. "We have 90 neos [60 A320s and 30 A321s] from Airbus on order. All of the A320neos are for all practical purposes for sale. We have started a process where we will try to find a new home for these planes," the airline's CFO, Geir Karlsen, told Reuters last year. The year-end came and no deal was announced.
In Norwegian's fourth-quarter earnings call transcript, CFO Geir Magne Karlsen confirmed they are in talks to spin off the Airbus order book to an unnamed "very strong" Asian company and an LOI has been signed. "It's a kind of a 3-part discussion we are having. It's Norwegian, it's the partner, and it's the aircraft manufacturer, mainly Airbus, but we might also include aircraft from Boeing," Karlsen said. CEO Bjorn Kjos noted on the call that: "So, there's a huge demand out of Asia for narrowbodies. And if you order a narrowbody today, you will get it in 2024, and that's outside of 5-years' plan. So, you can imagine there's a huge interest for the order book that we have"
The lack of a quick buyer stepping up so far leads one to wonder just how strong the LOI is. After all, we have noted transactions softened last year and continue to do so this year. That the market wants the A320neo and A321LR is not the question.  The sticking point will be the price – Airbus would be happy to offer any customer great pricing.  But Airbus does not have the same delivery slots to offer as Norwegian does.  The big question then becomes if the LOI deal falls through (and each day nothing happens that looks more likely), market watchers will wonder about market sentiment. Norwegian's need for cash to bolster its balance sheet is another item to watch – the potential buyers out there wanting those Airbus delivery slots are playing poker.  Who blinks first? Given Airbus' ability to juggle delivery slots to accommodate big orders, we would suggest Norwegian should blink, and do it quickly.