Russia's United Aircraft Corporation (UAC) has used the Dubai Air Show to pitch its commercial aircraft projects for closer cooperation with Arabian and international partners, the company said in a post-show press release on November 21.
Talks involved Russia's latest airliner, the Irkut MC-21, which currently is in the midst of its certification program with both the Russian and European EASA-authorities. While mainly a national program, the MC-21 includes international partners such as Pratt & Whitney for the PW-1400G Geared Turbofan as well as suppliers for carbon composite parts including the wings. Especially the latter activity has felt the impact of US and European economic sanctions, restricting the import of sophisticated products.
The UAC-release doesn't specify if the talks in Dubai involved composites, but it quoted UAC's CEO Yuri Slyusar as saying that "we are particularly considering possibilities of new variants of cooperation for MC-21 production. This is a mass serial production airplane, and international cooperation could increase its planned production rates from 70 to 120 airplanes per year, and it would also enhance its competitiveness."
Earlier this week, Airinsight specifically put the question of cooperation with UAC to CEO Ismail Abdulla of Al Ain-based Strata Manufacturing, referring to an announcement by Rostec at the 2017 Dubai Air Show that it was exploring cooperation with the UAE on a stretched version of the MC-21-300 known as the -400. In the interview, Abdulla said Strata was not involved in any discussions concerning the Irkut-project.
However, the press release states that UAC has been in talks with Strata's parent company, Abu Dhabi-based Mubadala Investment Company: "Discussions with Mubadala Investment Company proved fruitful with many areas identified for potential collaboration. Various areas of cooperation, including possible industrial ones, were discussed with the leadership of Alsalam company in the framework of joint marketing efforts to supply civil aircraft to the Middle East."
Russians also in talks over CR929
Slyusar has also held presentations to Rolls-Royce and General Electric on potentially providing powerplants for the Chino-Russian widebody airliner CRAIC CR929. These followed similar presentations done by Chinese company Comac, who partners with UAC in the project. After the first tender for engines, the UK and US manufacturers have been short-selected. GE has offered a version of the GEnx, while Rolls-Royce is in the race with either the Trent 7000 or 1000. At a presentation in Dubai, Chief Engineer Civil Engines Future Programmes Phil Curnock ruled out that the UltraFan would be available to the CR929.
Russia's Aviadvigatel is developing its own powerplant that could be used on the CR-929, the PD-35. China has been working on the CJ-2000 engine.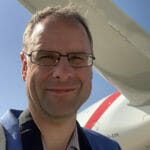 Active as a journalist since 1987, with a background in newspapers, magazines, and a regional news station, Richard has been covering commercial aviation on a freelance basis since late 2016.
Richard is contributing to AirInsight since December 2018. He also writes for Airliner World, Aviation News, Piloot & Vliegtuig, and Luchtvaartnieuws Magazine. Twitter: @rschuur_aero.