Before this year's summer peak French airline Joon will have been fully integrated within Air France, the airline confirms to Airinsight. This comes only 19 months after Air France's 'little sister' started operations on December 1, 2017 and after Joon was given the axe this January 10. What has gone wrong?
The idea
It was Air France Group then-new CEO Jean-Marc Janaillac who four months after his appointment in November 2016 announced plans for a low-cost, long-haul airline next to Air France. The aim: make AF more competitive, give it more leverage within the Air France/KLM partnership, as there was stagnation within the French side of the company. The timing of the initiative was precarious, as Janaillac still had to find his way within a company dominated by continuous battle with the stubborn cockpit, cabin crew and ground staff unions over a pay rise and better social contracts. A battle Janaillac was to lose in May 2018.
The Joon concept
On July 20 2017 the new airline presented itself on Twitter: her catchy name was Joon. Details followed during a September 25 press conference. Joon is a color (electric blue), but also the new generation travel experience within Air France. At first Joon, was projected as a 'millennials airline' targeting 18-35 year old, but soon Air France stressed that of course everyone was welcome.
Joon was to be a "lever for Air France to go on the offensive, a pillar of the 'Trust Together' program, but also an innovation laboratory with ideas that could be deployed within Air France", CEO Frank Terner said. Those ideas could be the use of digital technology, catering, cabin design, services, customer experience and working methods. Joon was also aimed at recovering lost ground on long-haul routes that for AF were not profitable before.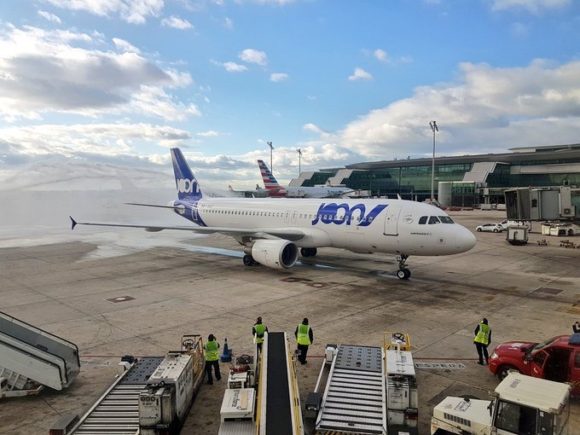 The arrival of the first Joon service to Barcelona on December 1, 2017. (Joon)

Contrary to what Janaillac had in mind, Joon was not to be a low-cost carrier, but a carrier with low costs. Air France pilots (on a volunteer basis) were to fly the fleet, which by 2020 would consist of 18 medium-haul Airbus A320-family aircraft and 10 long-haul aircraft, at first Airbus A340-300s and later A350s. Cabin crew with different (cheaper) contracts was to be sourced externally. Productivity and efficiency tools should improve the cost basis of Joon compared to Air France. Maintenance would be done at AF.
The Joon brand
Wearing trendy white sneakers and 'Joon blue' polo's and uniforms, staff welcomed the first passengers on their A320s on December 1 2017 when Joon started medium-haul services to Berlin, Barcelona, Porto and Lisbon. This was followed by long-haul services from March 2018 to Fortaleza (Brazil) and Mahé (Seychelles). Since then the network has grown to include 15 destinations, with Bergen, Budapest, Istanbul, Naples, Oslo and Rome added to the medium-haul network and Mumbai, Cairo and Cape Town to the long-haul network.
All aircraft feature leather seats, with Business and Economy Class on the medium-haul fleet and Premium Economy additionally to the long-haul A340s. Passengers enjoy free cocktail drinks, organic coffee, à la carte menus (free in Business), YouJoon inflight entertainment with 1.200 hours of entertainment and access to their own personal devices via a dedicated app, USB-power sockets, wifi (from 2019) and flat-beds in Business. Only in November Cosy Joon was launched, seats that can transform into bed and are ideal for families with young children. Joon also offers a raft of extra services, like the Paperplane gift scheme. And all this for competitive prices, lower than offered by its big sister.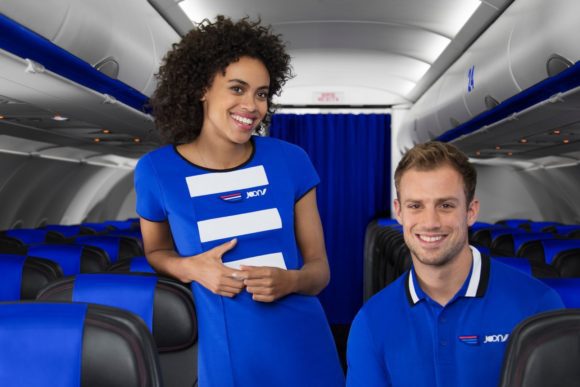 Casual uniforms and white sneakers in Joon blue: the airline wants to reflect a young image. Joon started recruitment of more cabin crew only last October. (Joon)
The Joon confusion
Even before the press conference closed on September 25 2017, confusion had already entered journalists minds. Was Joon going to compete with Air France, was Air France to disappear from the popular routes? No, stressed Terner and Joon's CEO Jean Michel Mathieu, Joon was not to compete with AF, but to complement. Passengers on medium-haul Joon flights were given a new AF product and their flights would seamlessly feed the Air France network at Paris Charles de Gaulle: "It is the Air France brand marketed on a Joon aircraft", said Mathieu when a Spanish journalist asked if AF was to give up Barcelona now. Reporters left confused.
Some sixteen months later it shows they were not the only ones. "Despite the many positive impacts of Joon, in particular the invaluable contribution of the teams at Joon who launched the company and worked with passion and dedication, the brand was difficult to understand from the outset for customers, for employees, for markets and for investors", Air France says in the January 10 press release. "The plurality of brands in the marketplace has created much complexity and unfortunately weakened the power of the Air France brand".
Price must have been a factor too. To popular Barcelona, Joon has been competing for head-on with Transavia France. Compare fares selected at random for a trip mid-February: Transavia from Orly 44 euro, Joon Light 50 or even 280 euro mid-day.
The Joon decision
It appears that from the outset Air France Group's new CEO Benjamin Smith has had his doubts about Joon and whether investing in long-haul fleet renewal plans coming Autumn was beneficial. The decision was communicated on January 10 inside a press release on a new agreement for flight attendants. A project team will now look at how to integrate the airline within Air France. Following consultative steps and approval from the working council and board, the target date for the merger of activities is before the summer peak in June/July, an Air France spokesperson tells Airinsight. All 600 cabin crew and 15 ground staff will be integrated within AF: "This is a merger-absorption which implies that all employment contracts are maintained with seniority and the same level of pay."
The Joon lessons
In its first year from December 2017 to December 2018, Joon carried three million passengers on 20.000 flights, Air France says. The one-millionth was welcomed on May 25, the two-millionth on September 3. The company isn't willing to share Revenue Passenger Kilometers or load factors, which have never been specified within monthly reports anyway.
Those three million passengers flew on 7 A320s, 4 A321s and 4 A340s. Joon has cost "the AFKLM group less than 10 million euro, including brand launch, cabin layout, marketing, etc", a spokesperson says. We are unable to verify this.
What lessons have been learned? "Air France will pursue some initiatives developed for Joon, such as inflight wifi, streaming YouJoon, Paperplane travel kitty or the cocktail offer on board are planned to be offered to customers in 2019", the spokesperson tells Airinsight.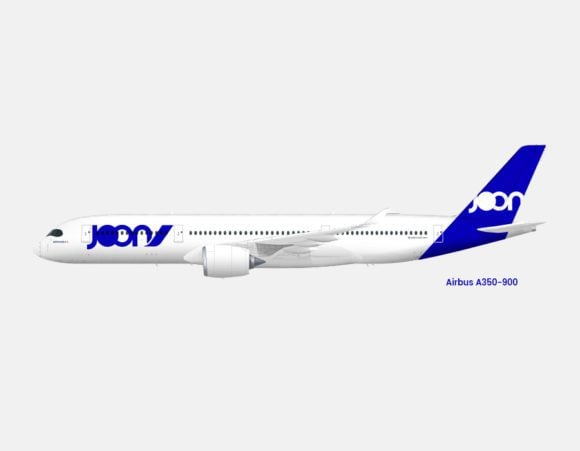 Artist impression of Joon's Airbus A350-900, a view never to be seen for real. (Joon)
Winding down Joon will affect Air France's fleet plans. The A320/A321s can be transferred back to the sister airline and so could the A340s, but all have a specific Joon cabin that is different from the regular AF fleet.
The 10 A350-900s, part of an order for 21, will have to be absorbed elsewhere. "Air France will also be able to ensure a smooth transition of the Airbus A350, currently on order, to the Air France fleet with a more economical cabin configuration." Parts for the first aircraft (MSN349) have already been constructed, with delivery scheduled this Autumn.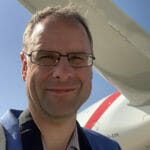 Active as a journalist since 1987, with a background in newspapers, magazines, and a regional news station, Richard has been covering commercial aviation on a freelance basis since late 2016.
Richard is contributing to AirInsight since December 2018. He also writes for Airliner World, Aviation News, Piloot & Vliegtuig, and Luchtvaartnieuws Magazine. Twitter: @rschuur_aero.