The Air France–KLM Group, signed an MoU for 60 A220-300 aircraft to modernize its fleet.  The aircraft will be operated by Air France. It is expected these aircraft will replace the airline's A319s (33) and A318s (18). Interestingly, Air France describes this deal as "Firm order for 60 A220-300s, with 30 options and 30 acquisition rights".  So the deal is 60+30+30 for a total of 120.  Very close to the original order size made by Delta.
The selection was telegraphed about a week ago.  Just as KLM stayed with Embraer with its recent E195-E2 order, Air France stayed with Airbus with this MoU. Both parties within the group have stayed loyal to their brands. For the Air France/KLM Group this is an effective way to de-risk fleet selection and keep the OEMs sharp.
The biggest impact from the A220 order is that Air France will be switching from a fleet powered by the CFM56 to a fleet powered by the Pratt & Whitney GTF.  This is a big win for Pratt & Whitney.  It has been a very long time since Air France bought from Pratt & Whitney.  Probably not since 1982 when the airline bought 737-200s.  After ~37 years, Pratt & Whitney is back at Air France.
The selection of the A220-300 focuses on the larger A319 size replacement.  Neither the A318 or A319 economics are a match for those of the A220.  Replacing 51 aircraft with 60 indicates a decision to grow this fleet segment.  Air France, like Lufthansa and British Airways, have to acquire more efficient aircraft at the smaller sizes because the LCCs are diverting traffic and market share.
With the A220 Air France has the ability to "right-size" and also have an aircraft with long-range.  Almost certainly the A220's performance at AirBaltic caught the attention of the EU majors.  At the Paris show KLM also spoke of the effective range the E195-E2 offers.  These new-generation aircraft are proving to be as disruptive as predicted.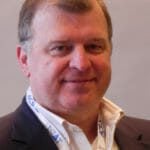 Co-Founder AirInsight. My previous life includes stints at Shell South Africa, CIC Research, and PA Consulting. Got bitten by the aviation bug and ended up an Avgeek. Then the data bug got me, making me a curious Avgeek seeking data-driven logic. Also, I appreciate conversations with smart people from whom I learn so much. Summary: I am very fortunate to work with and converse with great people.