Russia's Aeroflot Group recorded a RUB-95.527 billion net loss for the fiscal year 2020, down from a RUB 5.287 billion profit in 2019. This includes the effect of large-scale (fixed) cost reductions, optimization measures, and capacity cuts. Cargo operations partly helped to minimize the negative effects, the airline said on February 4.
Revenues for the year were RUB 229.6 billion, 58.4 percent down compared to the previous year. During the year, the situation improved: while revenues were -85 percent in Q2 compared to 2019 and -67.4 percent in Q3, they were down by 'only' -59.2 percent to RUB 52.8 billion in Q4.
The Group reduced its costs by 38.9 percent to RUB 331.7 billion but exchange rate effects had a negative impact of RUB 14.9 billion.
After a dismal Q2 following the first Covid wave, domestic traffic surged in Q3 but declined again in Q4 as another wave hit Russia. International traffic was down by 99.3 percent in Q2 but recovered in both Q3 and Q4 as more and more international routes were reopened to Turkey, the UAE, Egypt, the Maldives, Belarus, Kazakhstan, and Kyrgyzstan. The number of international flights increased by 93.5 percent in the last quarter compared to Q3.
The Group's airlines carried 30.2 million passengers, -50.3 percent down on 2019. Of this, 24.2 million was domestic, with Aeroflot carrying 10.1 million, Pobeda 8.4 million, Rossiya 4.8 million, and Aurora 722.000.
Aeroflot's number is down by -42.7 percent which can be explained by a drastic drop in transfer traffic between domestic and international services. Pobeda carried 5.7 percent more passengers on domestic routes, the only airline to improve on its 2019 results, but including international traffic, the result is still negative at -11.7 percent.
Cargo played an instrumental role in Aeroflot's fortunes, with Q4 showing a 78 percent increase compared to 2019 and by even 130.7 percent on international routes on both cargo-passenger and cargo-only services.
"Optimization initiatives, equity and debt capital raise, and government support measures ensured the retention of qualified personnel and the production base of PJSC Aeroflot, as well as secured a high level of flight safety in an extremely difficult pandemic environment. Thanks to optimization initiatives and the capacity deployment based on demand and operational and financial efficiency in the second half of 2020, it was possible to secure additional revenues, particularly from cargo transportation, avoid excessive costs, and thus partially minimize the negative impact of the crisis on the financial result of the year."
By the end of 2020, Aeroflot Group operated 364 aircraft, a net increase of five as new Sukhoi SSJ100s were delivered. Aeroflot airlines had a fleet of 241, three less than in 2019 as it phased out SSJ100s. Expect this to be another twenty this year as Aeroflot has sold its share in Aurora on December 25.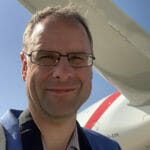 Active as a journalist since 1987, with a background in newspapers, magazines, and a regional news station, Richard has been covering commercial aviation on a freelance basis since late 2016.
Richard is contributing to AirInsight since December 2018. He also writes for Airliner World, Aviation News, Piloot & Vliegtuig, and Luchtvaartnieuws Magazine. Twitter: @rschuur_aero.