If anything is difficult in today's airline market it is predicting how the industry will recover from the Covid-19 crisis and return to growth. Then there are always targets at which to aim for and this is exactly what Russia's Aeroflot Group has done recently. At a shareholders' meeting on July 16, the Board of Directors presented an updated strategy that aims for 130 million passengers in 2028. By comparison, in 2019 Aeroflot Group carried 60.7 million passengers which were a 9 percent increase over 2018.
Aeroflot Group consists of Aeroflot and subsidiaries Rossyia, Pobeda, and Aurora. The Board has clearly defined the specific roles of the three major brands. Aeroflot will focus on developing long-haul routes, Rossyia on the domestic market, whereas Pobeda is to become the budget airline primarily targeted at domestic routes. Regional carrier Aurora, which concentrates on the Far East of the country, is not included in the update.
Only last December, Aeroflot Group presented a strategy on its Capital Markets Day in London that targeted 90-100 passengers (including 10-15 million transit passengers) by 2023 and a fleet of 520 aircraft, including 200 Russian-built airliners by 2026. The revised strategy now mentions a fleet of 600 aircraft in 2028. By comparison: Aeroflot Group had 361 aircraft by Q1.
Aeroflot to focus on international
Last year, Aeroflot's international network saw 6.6 percent growth to 19.4 million passengers, with Domestic producing only 1.4 percent growth to 14.5 million. Net profit was RUB 5.287 billion compared to 2.796 billion the previous year. It flew 37.2 million passengers in 2019 (+4.1 percent over 2018) using 245 aircraft.
That was 2019, with Q1 2020 showing a different picture as Russia encountered the effects of Covid. Aeroflot Group recorded a RUB -22.484 billion loss compared to -15.746 billion. The Group flew 12.3 percent fewer passengers at 11.2 million, with the suspension of international traffic directly affecting the domestic network.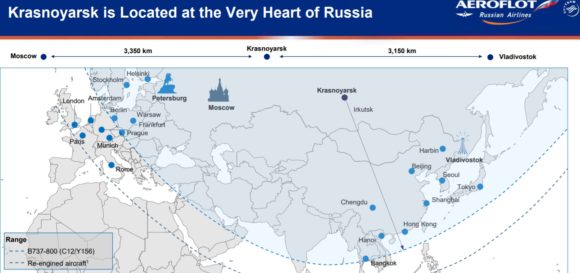 Already at last December's CMD in London, the group said Aeroflot plans to strengthen its international position. For this, a new hub in Krasnoyarsk is planned that offers opportunities for a whole new set of destinations as a transit airport. At the same time, Moscow must become a key transit point for passengers who wish to save time when flying between Europe and Asia. For this, services at Moscow Sheremetyevo must be upgraded and that's one of the reasons Aeroflot will invest heavily in digitalization by offering services to customers via its new distribution capability.
Pobeda is all about low-cost
In a world post-Covid, Pobeda should progressively offer 30 percent cheaper Economy-class tickets that should increase the number of Russian that opt for a holiday within their huge country. While more and more Russians continue to explore the world (look at the popularity of the United Arab Emirates, with flydubai offering many routes into Dubai from Russia and former Sovjet-states), political issues and sanctions have kept many at home. Pobeda aims to carry between 55 and 65 passengers a year in 2028, tapping into new and unexplored markets.
Pobeda operates a Western-built fleet of 30 Boeing 737-800s and last week got approval to add four more -800s coming from Rossiya. The 2023 strategy planned growth to 80-85 aircraft but this certainly will have increased in the 2028 plan.
Pobeda has been active since December 1, 2014, when it operated its first low-cost flight. It is the successor to Dobrolet, which was banned from the EU following sanctions. The airline has seen rapid growth and flew ten million passengers in 2019. In Q1 this year, it flew 2.5 million passengers but was grounded from March until June.
Rossiya to fly Russian
Rossiya is to focus on the domestic market from Moscow and St Petersburg as well by offering flat-fare tickets on important trunk routes within the country. The airline has been active on popular charter routes to Thailand, Bali, Sri Lanka, but also to London. As GDP increases and air travel opens up, there should be an increasing demand for domestic routes. This requires the airport infrastructure to cope with the pace, with 66 airports up for either construction or refurbishment until 2024.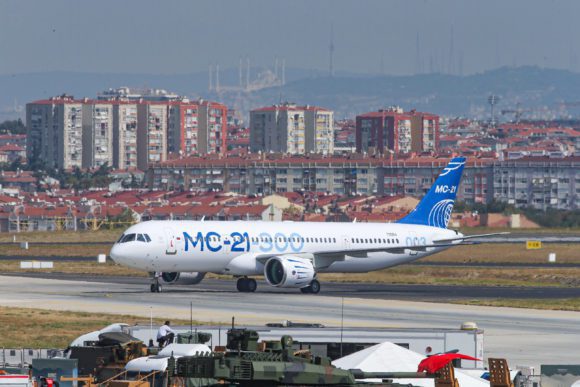 The strategy also ups the number of Russian-built airliners the group intends to purchase from 200 in the 2023 plan to 235 in the latest 2028 plan. It is no surprise these will be Superjets SSJ100s and Irkut MC-21s, of which Aeroflot has 95 and 50 on order respectively.
The strategy specifically mentions Rossiya as the airline to operate more home-made aircraft. Rossiya currently has a fleet of 62 all-Western aircraft, including 21 Airbus A319s, six A320s, 16 Boeing 737-800s, nine 747-400s, and ten 777-300/-300ERs.
Rossiya has twenty Superjets SSJ-100s on order through VEB Leasing. The lessor could help out to offer the Irkut MC-21, of which it has 30 -300s on order plus 30 options. Another option could be that Aeroflot places some or all of its 50 MC-21s with Rossiya as it concentrates on long-haul for which the latest Russian airliner is less suitable.
Aeroflot's long-haul strategy itself is centered around the Airbus A350-900, of which it has taken first delivery only last February with 21 more to follow. It replaces the A330 but complements the Boeing 777-300ER, which will be reconfigured in the next two years.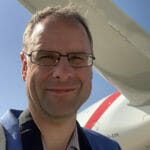 Active as a journalist since 1987, with a background in newspapers, magazines, and a regional news station, Richard has been covering commercial aviation on a freelance basis since late 2016.
Richard is contributing to AirInsight since December 2018. He also writes for Airliner World, Aviation News, Piloot & Vliegtuig, and Luchtvaartnieuws Magazine. Twitter: @rschuur_aero.