It might be a bit early to think of future fleet updates in the current market situation, but Air Canada is certainly looking at options as it prepares to exit from the pandemic in the coming months. While its fleet will be adequate for the time being, the Canadian carrier is looking at how to optimize it further by adding a new type: it has an eye on the Airbus A321LR.
CEO Michael Rousseau was tempted to some forward-thinking when asked about his future fleet plans during the May 7 investor's call conference. Air Canada is currently preparing for the integration of the remaining Boeing MAX and Airbus A220s it has on order. It had taken delivery of 24 MAX 8s before the grounding of the type in March 2019. Then last year, it deferred another sixteen from 2021 to 2023 and also canceled ten -8s. Until the end of this year, three more are expected.
Likewise, the A220-order was also amended, with twelve orders canceled and deliveries of eighteen A220-330s deferred beyond 2022. Eight will join until December to bring the fleet to 27.
"We are basically through our re-fleeting program. We are not far away from getting the 220s and MAX in place. We will have an unbelievably efficient fleet to exit the pandemic. We have options available on MAX and 220s, we can certainly source planes once we see indicators of growth beyond our expectations", Rousseau said.
For the time being and depending on how the market recovers from the pandemic, Air Canada has the flexibility of using its A319s. By the end of March, it had thirteen but will retire six until the end of the year. Or bring them back again if needed. "Our fleet certainly has the ability to cover the majority of our needs. We will probably keep our 319s a little bit longer to provide us additional flexibility. Most of those planes are owned", Rousseau said.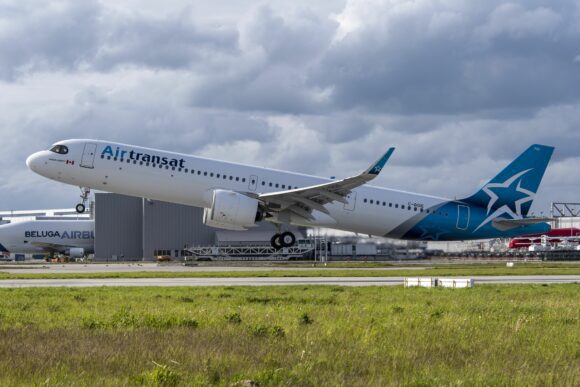 The Airbus A321LR would have become part of the Air Canada group if the proposed merger hadn't been called off. (Airbus)

Rousseau added: "But certainly for fine-tuning, that gives us the opportunity to potentially step into new types of aircraft. Like the A321LR, that we like and certainly have a potential place in Air Canada's fleet as we go forward. Positioning for that flexibility is critical from our perspective and gives us a little bit of time to look carefully at what plane type best fits the evolving business model that we will experience over the next couple of years. (…) We have taken a defensive approach to our fleet and we will search for new planes new or leased to fill gaps if required. So I think we are well-positioned to be flexible on the business side."
The A321LR would have become a part of Air Canada's fleet sooner if its merger plan with Air Transat wouldn't have been blocked by, amongst others, the European Commission as announced on April 2. Air Transat has been operating the long range-version since May 2019 but currently has parked all seven LRs as it has suspended its operations until June 14.
Net loss of 1.3 billion in first-quarter
Air Canada reported a $1.304 billion net first-quarter loss compared to $1.276 billion in the same period last year. The operating loss was $1.049 billion versus $433 million. Total revenues were down to $729 million from $3.722 billion. The first quarter saw improvements until mid-February when new Covid cases followed by lockdowns and restrictions changed the situation in March and April. In Q1, it carried 1.1 million passengers compared to 9.9 million last year, with capacity 82 percent down compared to last year and at minus 84 to 2019 levels. Cargo revenues improved to $281 million from $1.459 million.
The airline burned $14 million in cash per day. It ended the quarter with $6.6 billion in liquidity and entered an agreement with the government on a $5.9 billion package consisting of state-backed loans plus a $500 million equity investment and purchase of warrants. Air Canada will focus on future financing for restructuring debt ahead of seeking more equity.
While the outlook for Q2 remains bleak and capacity will be almost flat at minus 84 percent to 2019, Canada is seeing improvements for the upcoming quarters. "We are confident that the domestic market will lead our recovery and we have seen relative recovery despite interprovincial restrictions and lockdown measures. Specifically, domestic transcontinental long-haul domestic markets continue to see this trend followed by gains in key interest markets. We expect Canada will have similar travel patterns as the US once restrictions ease", Chief Commercial Officer Lucie Guillemette said.
"Our transatlantic markets have been our strongest performing markets outside Canada led by leisure destinations in Europe and visiting friends and relatives traffic. We expect these segments to strengthen as the health situation improves globally, vaccinated travel becomes more widely accepted, and restrictions continue to ease.  We see strong pent-up demand towards the sun markets as Canadians begin to eagerly anticipate their first holidays since the pandemic. Demand is especially strong to Mexico, the Dominican Republic, and Florida."
Quick ramp-up is possible
While a recovery to 100 percent is not foreseeable until at least mid-2022, Air Canada is prepared for a quick ramp-up once Canada reopens, Michael Rousseau said: "We are certainly prepared to deal with a step of that function in capacity increases in fairly short order. We kept all our pilots with rotation, they are still on staff. We keep all our planes fully operational although some are parked in the desert as most airlines have. But we are certainly ready to add capacity fairly quickly. We also spend a lot with our partners like airports and agencies to make sure that they can also step up."
Cabin crew can also be brought back from furlough and will only need a short course. If leisure demand would pick up more quickly than is anticipated now, the carrier could add capacity fairly quickly by modifying the cabin lay-out of its fleet by removing Business seats and adding Premium Economy or Economy seats. Another quick option is to convert the four A330s back from cargo into passenger configuration.
Air Canada ran a strict cost reduction program in 2020. "Although we are no longer reporting on this program, we will seek additional opportunities for cost reductions and cash preservation", Chief Financial Officer Amos Kazzaz said. "A recent example of this capacity purchase agreement with Jazz, which is expected to deliver $400 million in cost reductions over fifteen years. As part of the revised agreement, the operations of the Embraer E175s are transferred to Jazz from Sky Regional and Jazz becomes the exclusive Air Canada Express operator allowing us to achieve operational efficiencies and reduce operating costs and cash burn. Furthermore, we will remove all (eleven) Dash 8-300 aircraft from the Jazz fleet by the end of this year, which will contribute to reducing operating costs."
Post-pandemic, there will certainly remain a place in the market for Air Canada Rouge, Lucie Guillemette said. While it had retired its Boeing 767s, it will retain a fleet of 39 A319s, A320s, and A321s that are suitable for the network in Canada and to Europe.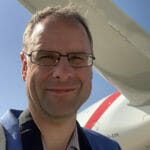 Active as a journalist since 1987, with a background in newspapers, magazines, and a regional news station, Richard has been covering commercial aviation on a freelance basis since late 2016.
Richard is contributing to AirInsight since December 2018. He also writes for Airliner World, Aviation News, Piloot & Vliegtuig, and Luchtvaartnieuws Magazine. Twitter: @rschuur_aero.