For months, Air Canada complained that it had to weather the Covid-storm without the financial support from the government. But after long negotiations, both parties have finally agreed on April 12 on an aid package that improves the liquidity position of Canada's national carrier.
The package includes a number of debt and equity financing agreements of a combined CS$5.879 billion through the Large Employer Emergency Financing Facility. Air Canada will have access to a CS$1.5 billion revolving credit facility secured against the assets of the airline's Aeroplan membership and loyalty program as well as certain assets of Air Canada itself.
CS$2.475 billion is coming from unsecured non-revolving credit facilities in three tranches of CS$825 million each for five, six, and seven years respectively. Another CS$1.4 billion unsecured credit facility will be used to support customer refunds of non-refundable tickets.
The equity investment also includes CS$500 million for Air Canada shares, prices at some CS$23 each. The carrier will also issue over 14.5 million warrants for some CS$27 each under a ten-year term.
The CS$5.8 billion in equity and loans improves Air Canada's cash position and "provides a significant layer of insurance", President and CEO Michael Rousseau said. Without the support of the government, the carrier raised CS$6.8 billion in liquidity through its own sources, but the airline has had to make huge sacrifices last year after Canada imposed strict travel restrictions on a national and international level. In 2020, Air Canada slashed its workforce by almost half or 20.000 staff and suspended numerous regional routes to often remote stations. On December 31, Air Canada had CS$8 billion in unrestricted liquidity. It ended 2020 with a record loss of C$-4.647 billion, compared to a C$1.476 billion profit the previous year. In January, the airline announced the loss of another 1.700 jobs.
As part of the agreement, the carrier has to resume those regional routes either by operating them themselves or through third-party agreements. Also, Air Canada needs to keep its workforce level unchanged at April 1-levels and restrict expenditures, certain dividends, share buybacks, and senior executive compensation. From April 13, customers who bought non-refundable fares but didn't travel after February 2020 are to be offered the option of a refund.
The package is also conditional on Air Canada taking delivery of 33 Airbus A220s, to be produced at the Mirabel factory to safeguard Canadian jobs. Last year, the carrier canceled orders for twelve -300s and deferred deliveries of eighteen to 2022. The same condition applies to the completion of the order for forty Boeing MAX. In Q1 last year, Air Canada canceled orders for eleven MAX 9s and deferred deliveries of the final sixteen aircraft to beyond 2023. The airline currently has 24 MAX 8s.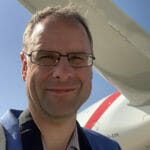 Active as a journalist since 1987, with a background in newspapers, magazines, and a regional news station, Richard has been covering commercial aviation on a freelance basis since late 2016.
Richard is contributing to AirInsight since December 2018. He also writes for Airliner World, Aviation News, Piloot & Vliegtuig, and Luchtvaartnieuws Magazine. Twitter: @rschuur_aero.