Air Canada is not ruling out it has to make deeper cuts in its network and canceling new aircraft orders, including that for the home-built Airbus A220s, as the Covid-crisis continues. Due to strict travel restrictions the airline has been hit hard and flew only four percent of its passengers in Q2 compared to the same period last year, Air Canada said on July 31 during its HY1-results presentation.
CEO Calin Rovinescu referred to the quarter as 'devastating'. Air Canada operated at -92 percent capacity in Q2, flying just 480.000 of them. This represents a drop of -96.3 percent. HY1 shows 10.4 million passengers, 52.4 percent below the 2019 level. "Most commercial aviation in our country has effectively been shut down."
The airline recorded a net loss in Q2 of $ -1.752 billion and an adjusted pre-tax loss of $ -1.438 billion. The operating loss was $ – 1.555 billion, with revenues at only $527 million. For the first time in its history, cargo revenues outperformed those of passenger revenues thanks to over 2.000 cargo-only flights. Net cash burn in Q2 was $1.7 billion or $19 million per day, in line with expectations.
In HY1, net loss was $ -2.801 billion, the adjusted pre-tax loss $ – 1.958 billion, the operating loss $ -1.988 billion and revenues $ $.429 billion.
Fixed costs drastically reduced
Despite these numbers, Rovinescu called the position of his airline "solid". Without state aid, he stressed, Air Canada has increased liquidity to $9.120 billion compared to $7.380 billion on January 1. Since mid-March, it raised $5.5 billion in new equity, debt, and aircraft financing while reducing fixed costs by $1.3 billion. This was done by retiring 79 aircraft from Air Canada's and Rouge's fleet (Boeing 767, Embraer E190, Airbus A319), the indefinite suspension of routes and closure of stations.
These actions have come at a price, as 20.000 employees or over half its workforce of 38.000 have lost their jobs through layoffs, termination of contracts, voluntary separations, early retirements, and special leaves. Air Canada took a $295 million impairment on the fleet and a $76 million provision on its workforce.
Air Canada has called on the government to relax blanket restrictions, which include the extension of the ban for non-Canadians to enter the country, the fourteen-day quarantine, the transborder closure with the US, and interprovincial travel restrictions severely hurt the national carrier. "These are one of the most severe lockdown restrictions in the world", Rovinescu voiced his frustration. "Canada needs to find a way to co-exist with Covid-19 until there is a vaccine." The airline called on a science-based policy, criticizing the government for failing to come up with a review in the same way as has been done in other countries. There is a demand for travel but it is restricted by the government.
Without relaxation, the airline expects to operate at -80 percent capacity in Q3 compared to the previous guidance of -75 percent. Yet, it hopes to build back its network in Q3 based on demand based on customer confidence intertwined with border restrictions and quarantine, optimizing revenue and not load factors, said Rousseau. Air Canada has cautiously started doing so with its partners Lufthansa and United by returning to Germany and Italy but warns that Europeans are still prevented from entering Canada.
Air Canada expects its recovery and restructuring as a smaller airline to take at least three years. "As Air Canada comes out of this, we can be nimble and competitive, with a return of the focus on the hubs as these will be more valuable", says Chief Financial Officer Michael Rousseau.
Order status
Rovinescu didn't back up his order-threat later on in the HY1-webcast. As far as fleet renewal is concerned, Air Canada has firm orders for fifty Boeing MAX 8s plus purchase options for eighteen more but canceled eleven MAX 9s in Q1. It received compensation from Boeing for the groundings last year with the final installment arriving in Q2.
Air Canada has now seven Airbus A220-300 in the fleet out of 45 on order, with options on thirty. Another eight will be delivered this year. In April, the airline concluded a bridge financing of $788 million that covers eighteen A220s.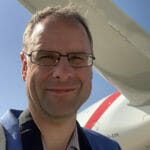 Active as a journalist since 1987, with a background in newspapers, magazines, and a regional news station, Richard has been covering commercial aviation on a freelance basis since late 2016.
Richard is contributing to AirInsight since December 2018. He also writes for Airliner World, Aviation News, Piloot & Vliegtuig, and Luchtvaartnieuws Magazine. Twitter: @rschuur_aero.