Air France-KLM confirms it is in in-depth discussions with the French and Dutch governments and financial institutions about strengthening its liquidity position, the Group said on April 9. The airlines are implementing additional cost-cutting measures but without additional financing, Air France-KLM has a liquidity requirement in Q3.
"It is now clearer than ever that support from our both Dutch and French governments is needed to meet our cash requirements and enable us to continue our operations once the crisis is over", Group CEO Benjamin Smith said in a statement on Thursday night. "Discussions with them and financial partners are ongoing, and I am confident in their willingness to support us and the future of the Air France-KLM Group, a key player for employment and the greater economies of our two nations, whose flags our airlines fly around the world."
Smith doesn't provide a timetable as to when he expects government aid to be finalized except for the reference to a need for liquidity by Q3. State aid is possible since the European Commission released a temporary framework on March 19.
Over the last week, reports emerged that Air France-KLM is discussing French state aid of around EUR 4 billion and EUR 2 billion from the Dutch government. Finance minister Bruno Le Maire said on television on April 8 that the French government will do everything possible to help Air France. His Dutch colleague Wopke Hoekstra has helped KLM with a bridge-measurement that has the government pay 90 percent of the wages of KLM staff, of which most are on leave. This and a similar measure by the French government will compensate the Group in the order of EUR 1.1 billion for salary expenses.
At the FY19-results presentation on February 20, Ben Smith estimated the Covid-19 crisis to impact revenues by EUR 150-200 million this year. Six weeks on, and it is obvious that the impact will be much worse after Air France, KLM, and Transavia have parked 90 percent of their fleets.
Additional measures are required, so the Group is seeking EUR 300 million in extra cost savings over the 200 million previously announced. It is in talks with lessors, airports, and governments about (tax) payment deferrals.
The investment plan is also under review to cut out another EUR 350 million from this year's capital expenditures, doubling the target to 700 million. Originally, AF-KLM expected Capex to be EUR 3.6 billion this year. The decline in third-party work and maintenance investments will be additional.
Also mentioned: early-retirement of 'certain sub-fleets'. Without specifying the types, an obvious victim will almost certainly be the Airbus A380. Air France has planned to retire the type by 2022, with the first already having left the fleet. It could early-retire the remaining nine A380s permanently as from now in a similar way as Lufthansa will do with six aircraft. Another likely candidate for early retirement is KLM's fleet of A330s, while Air France could retire its 25 Canadair Jets or part of the A320ceo-fleet.
Once the government aid package is finalized, Air France-KLM is optimistic it will be able to fully recover from the current crisis: "At this stage, given the various options currently being considered and the quality of the discussions with the two States and financial institutions, the Air France-KLM Group is confident that it will be able to obtain additional financing to meet all its future financial obligations and enable it to ensure the recovery of its activity beyond the current crisis."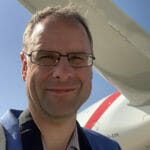 Active as a journalist since 1987, with a background in newspapers, magazines, and a regional news station, Richard has been covering commercial aviation on a freelance basis since late 2016.
Richard is contributing to AirInsight since December 2018. He also writes for Airliner World, Aviation News, Piloot & Vliegtuig, and Luchtvaartnieuws Magazine. Twitter: @rschuur_aero.